Column: Bruce Arena brings a tried and tested formula for success to Revolution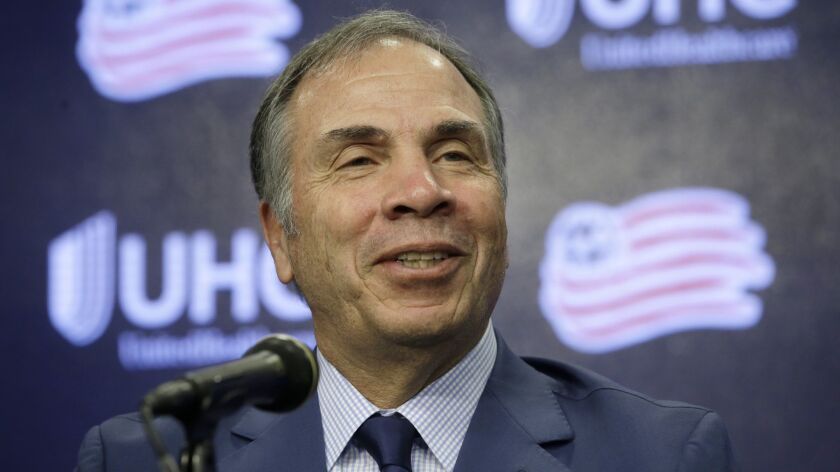 The only thing surprising about Bruce Arena's decision to return to MLS is that it took a year and a half for it to happen. The government may say the retirement age is 66, but when Arena resigned as coach of the U.S. national team three weeks after his 66th birthday, it was clear that was just a detour and not the end of the road.
So Arena finished writing a book, toyed with the idea of starting a podcast and took a job as a studio analyst for Fox Sports. But all those pursuits were just filling time. There could be no second act because it was obvious that Arena, whose heart and soul are both shaped like soccer balls, would return to the stage where he left it: on the sidelines managing a team.
Even before this month's announcement that he was joining the New England Revolution as coach and general manager — a move that could put him on the sidelines at Dignity Health Sports Park next weekend — Arena had talked with at least three other MLS clubs. In December, he thought he had a job with the Columbus Crew.
Instead, the lifelong New York Yankee fan wound up in New England, in the shadow of Fenway Park. And it looks to be a perfect fit.
"We can go only go in one direction and that's positive," he said. "This is such a great sports town and we want to try to elevate the Revolution on par with these other great championship teams in Boston. It's a big challenge."
But it's not anything Arena hasn't done before. When he was hired by the University of Virginia he took over a program that had played one NCAA playoff game in its history. He took it to five national titles and 16 tournament appearances in 18 seasons.
He gave birth to D.C. United, then coached it to two MLS titles, a U.S. Open Cup crown, a Supporters' Shield and the CONCACAF Champions Cup in the league's first three seasons. Next, he took over a U.S. national team that had won one World Cup game in 47 seasons and guided it to the quarterfinals in 2002.
However, his best work came with the Galaxy. The team was in the home stretch of a third straight losing season in the summer of 2008 when Arena flew out to interview for a job he was so sure he was going to turn down that he spent the flight working on the lesson plan for the graduate-level college course he was preparing to teach.
The title? Sports Leadership.
But instead of preaching that gospel, Arena wound up practicing it, taking the job and then taking the sad-sack Galaxy to the MLS Cup final in his first full season. He won three league titles in the next five years.
The situation he's stepping into in New England is eerily similar: a once-proud franchise with a deep-pocketed owner and five MLS Cup appearances on its resume stuck in reverse. And once again Arena is convinced he can change gears.
Sign up for our weekly soccer newsletter »
"It's not going to happen in the next two weeks. But I'm confident over the next couple of years that we can make very good progress and make this team much more competitive," Arena said. "Everything will be here to be successful."
With the Galaxy, Arena began by fixing a clubhouse culture that had grown toxic because of the rivalry between Landon Donovan and David Beckham. He also remade the ill-constructed roster, shipping out more than 20 players and replacing them with parts that fit together.
Revolution president Brian Bilello wants Arena to take the same approach in New England.
"The most important thing is setting up a culture of winning," he said. "If within your locker room there's a feeling that maybe you can't win or don't know how to win, that can be infectious in a very bad way. When you have a culture of winning and a desire and expectation to do that on an everyday basis, that can be infectious as well."
Arena's hiring came together quickly. Bilello fired coach Brad Friedel 2½ weeks ago, promoting assistant Mike Lapper to coach the team on an interim basis. Hours later he began quiet negotiations with Arena.
The following Monday the Revolution fired general manager Mike Burns, then announced the next day that Arena would fill both vacancies, with Lapper continuing as the interim coach until his replacement gets up to speed.
It's unlikely Arena would have accepted anything less. Robert Kraft, owner of both the Revolution and the New England Patriots, made Bill Belichick the coach and GM of his football team in 2000 and he's won six Super Bowls since then.
Like Belichick, Arena has a well-earned reputation for manipulating the rule book. He's also, like Belichick, an inspiring leader that mplayers want to play for, which should stop an exodus that has seen Lee Nguyen and Jermaine Jones, among others, depart since the Revolution's last MLS Cup appearance in 2014.
Arena's hiring is also a sign that Kraft is prepared to spend big to fund a turnaround, much as the Galaxy's Phil Anschutz did a decade ago. In fact the Revolution is already spending: It will soon cut the ribbon on a $35-million training complex and Kraft is reportedly ready to invest a league-record $400 million in a soccer-specific stadium, allowing the team to leave the hulking 68,000-seat artificial-turf venue it shares with the Patriots.
Rebuilding the roster won't be Arena's biggest challenge, though; proving he hasn't lost the tactical acumen to win in a rapidly evolving MLS will be. The Galaxy didn't make it past the conference semifinals in Arena's last two years in MLS. And the national team, under Arena, missed the World Cup in 2018 for the first time since 1986 when it failed to earn at least a draw with Trinidad & Tobago in the last game he coached.
Arena has been spending most of his time in the general manager's office, familiarizing himself with the team, its structure and its finances. But he hasn't ruled out making his coaching debut next Sunday when the Revolution visit the Galaxy at the stadium where he had some of his biggest wins.
"Did I have to do this? No," Arena said. "But I love coaching. I love the sport. It's something I've done for 40 years and it's not easy to walk away from.
"It's something that's very important to me and that's why I'm here."
Retirement, after all, is for old people.
kevin.baxter@latimes.com | Twitter: @kbaxter11
---
Get our high school sports newsletter
Prep Rally is devoted to the SoCal high school sports experience, bringing you scores, stories and a behind-the-scenes look at what makes prep sports so popular.
You may occasionally receive promotional content from the Los Angeles Times.