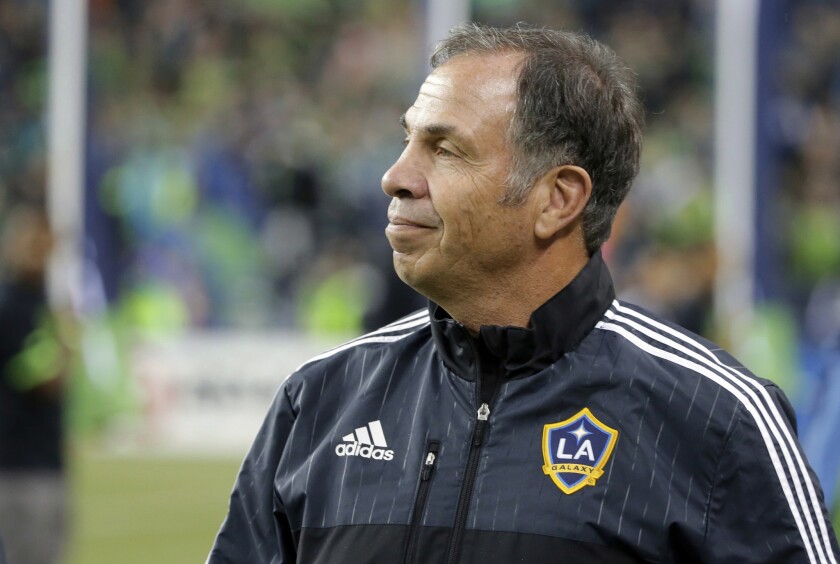 Bruce Arena is taking his top four Galaxy assistant coaches with him to the U.S. national team, naming former Associate Head Coach Dave Sarachan, assistants Pat Noonan and Kenny Arena — the coach's son — and goalkeeper coach Matt Reis to the U.S. team staff Wednesday, a move that had been expected for more than a month.
In addition, Arena has selected former U.S. U-20 national team coach Thomas Rongen to be the senior team's chief scout.
"With the need to hit the ground running, it's even more critical that we have a staff that knows the player pool, shares a philosophy on how we approach the game and has a knowledge and experience in the international arena," Arena said in a statement. "In different ways this group all ticks the boxes."
During their combined coaching and playing careers, the four assistants, plus Rongen, have combined for 24 domestic championships in either MLS or the U.S. Open Cup.
Sarachan has been at Arena's side for much of his coaching career, first at the University of Virginia, then with the U.S. national team and later with the Galaxy, where he and Arena won three MLS Cups in eight full seasons. Sarachan also won an MLS Cup as an assistant to Rongen with D.C. United. Sarachan also won two U.S. Open Cups as manager of the Chicago Fire.
Noonan, a former MLS all-star who also played for Arena on the national team, finished his career with the Galaxy before joining the coaching staff four years ago.
Kenny Arena spent the last two years on the Galaxy staff after coaching at the college level, assisting at Virginia, George Mason and UCLA before being named head coach at Florida International. He also coached at the Galaxy academy.
Reis, a former Galaxy keeper, played 16 years in MLS and appeared in 293 regular-season games, fifth-most all-time among keepers. A UCLA product, he also played for Arena with the national team before joining the Galaxy staff two years ago.
kevin.baxter@latimes.com Twitter: kbaxter11
---