FIFA ethics court bans Sepp Blatter and Michel Platini for 8 years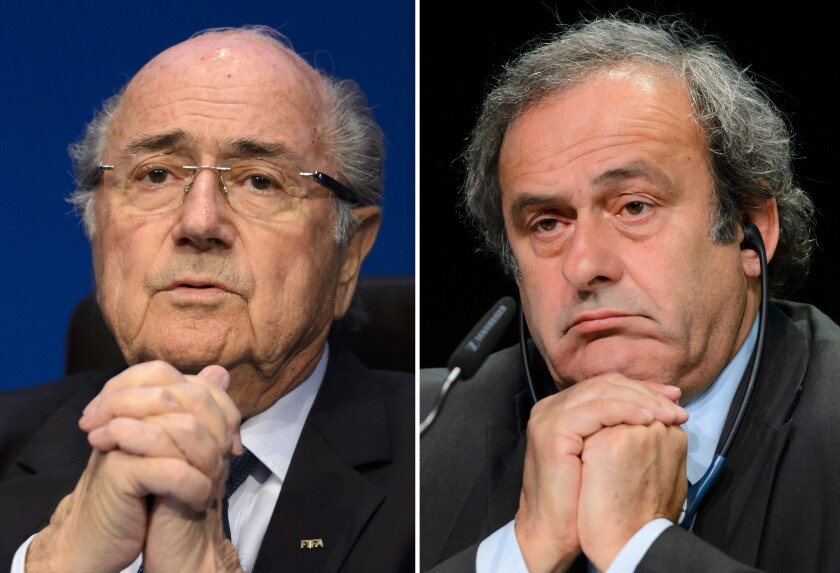 reporting from zurich, Switzerland —
Sepp Blatter and Michel Platini were each banned for eight years by the FIFA ethics committee on Monday in a stunning takedown of world soccer's most powerful leaders.
FIFA President Blatter and his onetime protege Platini were kicked out of the sport for conflict of interest and disloyalty to FIFA in a $2-million payment deal that is also the subject of a criminal investigation in Switzerland.
Blatter's FIFA career is ending in disgrace after more than 17 years as president and 40 years in total with the scandal-hit governing body.
Platini's bid to succeed his former mentor in the Feb. 26 presidential election is now likely over, though both are expected to appeal at the FIFA appeals committee and the Court of Arbitration for Sport.
Blatter has suggested that he could pursue a lengthier appeal to Switzerland's highest court, the federal tribunal, which can intervene if it is found that the legal process was abused.
Ethics judges decided that Blatter and Platini broke FIFA Code of Ethics rules on conflicts of interest, breach of loyalty and offering or receiving gifts.
Both have denied wrongdoing in connection with the 2011 incident in which Platini took $2 million of FIFA money approved by Blatter as uncontracted salary for work as a presidential advisor from 1999 to 2002.
The panel fined Blatter 50,000 Swiss francs ($50,250), and Platini, a FIFA vice president and head of European soccer's governing body, UEFA, was fined 80,000 Swiss francs ($80,400).
"Neither in his written statement nor in his personal hearing was Mr. Blatter able to demonstrate another legal basis for this payment," the judges said. "By failing to place FIFA's interests first and abstain from doing anything which could be contrary to FIFA's interests, Mr. Blatter violated his fiduciary duty to FIFA.
"His [Blatter's] assertion of an oral agreement was determined as not convincing and was rejected by the chamber."
Platini, the judges said, "failed to act with complete credibility and integrity, showing unawareness of the importance of his duties and concomitant obligations and responsibilities."
Blatter and Platini have strong motivation to fight the bans in fast-track appeal cases.
Blatter, who turns 80 in March, wants a FIFA swansong by hosting the election congress in Zurich and being made honorary president by the 209 member federations.
The 60-year-old Platini wants to clear his name, pass a FIFA integrity check and be declared an official candidate in the election he had been favored to win.
Platini's campaign has stalled since being quizzed on Sept. 25 in a Swiss federal investigation of suspected criminal mismanagement at FIFA.
Switzerland's attorney general has opened criminal proceedings against Blatter for the suspected "disloyal payment" of FIFA money to Platini and selling undervalued World Cup TV rights for the Caribbean.
Platini's status in the criminal case is "between a witness and an accused person," Atty. Gen. Michael Lauber said in October.
In recent media interviews, both men have said Platini asked Blatter for a salary of 1 million Swiss francs. He got a contract for 300,000 Swiss francs annually, in line with FIFA's wage structure at the time, plus a "gentleman's agreement" to get the rest later. Swiss law obliged FIFA only to pay the deferred money within five years.
Platini was paid in February 2011, just before Blatter began campaigning for reelection against Mohamed bin Hammam of Qatar. Platini's UEFA urged its members weeks before the June 2011 poll to back Blatter, who was elected unopposed when Bin Hammam was implicated in bribery.
Few FIFA officials knew of the Platini payment, which emerged during a wider Swiss probe of the governing body's business affairs, including suspected money laundering in the 2018 and 2022 World Cup bidding contests.
The agreement was "a classic conflict of interest" between two executive committee members, FIFA audit panel chairman Domenico Scala said in October.
ALSO
Cam Newton rescues Panthers from near disaster
If Chargers bolt, fans will have bittersweet memories of perhaps the last game in San Diego
---
All about the beautiful game
Go inside the L.A. pro soccer scene and beyond in Kevin Baxter's weekly newsletter.
You may occasionally receive promotional content from the Los Angeles Times.