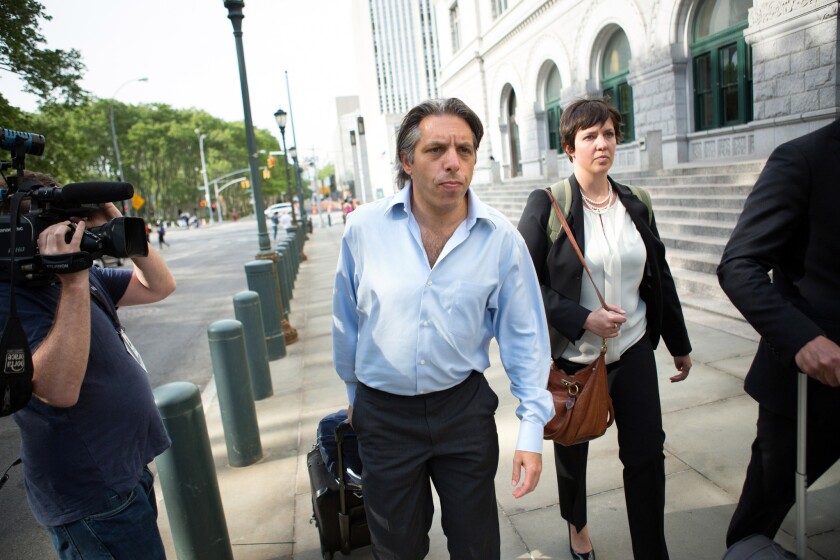 In the spring of 2014, international soccer officials made a historic announcement — Copa America, one of the world's oldest and most-prestigious tournaments, was coming to the U.S. for the first time.
American officials saw the choice as validation of the game's continued growth in this country. The Rose Bowl and other California venues quickly jumped in line to serve as hosts.
"Absolutely amazing," said Cobi Jones, a former U.S. national team player who serves as a television analyst. "The first time to have a tournament like that in the U.S. — that's a pretty significant step for us."
But now federal prosecutors in a much-publicized investigation of FIFA, the sport's governing body worldwide, have charged Copa America organizers with receiving tens of millions of dollars in a long-standing pattern of bribery.
That, in turn, has raised doubts about whether the 2016 edition of the quadrennial tournament will actually reach American shores.
"Given everything that's happened, it's premature to say what the final result on that will be," said Sunil Gulati, president of U.S. Soccer.
Copa America is run by one of the six continental confederations under the FIFA umbrella.
Traditionally, the event has brought together national teams from across soccer-mad South America. With powerhouses such as Brazil and Argentina in the field, it arguably ranks below only the World Cup and UEFA European Championship in prestige.
To celebrate the tournament's 100th anniversary, the South American confederation known as CONMEBOL decided to hold a special edition in the U.S. and include teams from throughout the Western Hemisphere.
U.S. Soccer narrowed the list of potential host cities to 24 earlier this year. The finalists included Los Angeles, San Diego and San Francisco.
Copa America was one of a dozen eye-opening examples of corruption detailed by the U.S. Justice Department in the 161-page indictment that was made public last week, along with records from related cases. So far, the investigation has resulted in the indictment of 14 high-ranking soccer officials and businessmen charged with participating in bribery and kickback schemes totaling more than $150 million.
Allegations surrounding Copa America focus largely on Aaron Davidson and Jose Hawilla, executives with an international sports marketing conglomerate known as the Traffic Group.
Hawilla and two branches of the conglomerate have already pleaded guilty in December to racketeering, money laundering and wire fraud, agreeing to forfeit $151 million. Davidson, who faces similar charges, pleaded not guilty last week.
Traffic said it will "continue to cooperate fully with authorities" and operate as normal. An attorney for Hawilla and the conglomerate did not respond to a request for further comment; neither did Davidson's attorney.
Traffic's involvement with the 2016 tournament dates back five years, when the company sued CONMEBOL and a rival sports marketer — Full Play Group — for breach of contract. Traffic executives were fighting to acquire the commercial rights to future Copa America tournaments.
There was a lot of money at stake because sports marketers can take those rights and resell them to corporate sponsors for a profit. According to U.S. prosecutors, the main parties in the lawsuit secretly negotiated a settlement. Traffic would join Full Play and another Argentine company — Torneos y Competencias — in a new venture called Datisa S.A.
CONMEBOL then agreed to sell Datisa the worldwide commercial rights to the 2015, 2016, 2019 and 2023 Copa America tournaments for $318 million.
In addition, prosecutors said, Datisa committed to paying $100 million in bribes, with each of the partners responsible for a third of that total; the money would go to 11 CONMEBOL officials.
The recipients included CONMEBOL President Eugenio Figueredo, who is also a FIFA vice president, and past CONMEBOL President Nicolas Leoz, both of whom were named in last week's indictment.
In mid-2013, Traffic paid the first $13 million of its bribe money in wire transfers, some of which went into Swiss bank accounts and shell companies, court documents said.
At a March 2014 meeting, Davidson and Hawilla discussed their company's business practices in regards to Copa America and other tournaments for which they allegedly paid under the table.
"Is it illegal? It is illegal," Davidson told Hawilla, according to court records. "Is it bad? It is bad."
But Datisa wasn't finished.
The special 2016 U.S. edition of Copa America would be operated in cooperation with CONCACAF, the continental confederation that oversees soccer in North and Central America and the Caribbean.
At an unspecified date, Datisa bought additional commercial rights from CONCACAF for $35 million — and agreed to a "multimillion-dollar" bribe, prosecutors said.
That money was earmarked for another soon-to-be indicted figure, CONCACAF President Jeffrey Webb, according to court documents.
A Full Play executive named Mariano Jinkis called Davidson to brainstorm about getting the bribe to Webb, the indictment said. Davidson, who earned a law degree from Southern Methodist University in 1996, cut Jinkis off, not wanting to discuss the matter over the phone. They agreed to continue their conversation in person the following week.
Prosecutors did not specify how Webb received the bribes.
Soon afterward in May 2014, CONMEBOL and CONCACAF held their celebratory news conference in Miami. The event was recorded and the video was posted online.
"This is an irrefutable message that football is able to carry forward the best purposes," Figueredo said. "We are going, with football, to build 100 years of immortality."
Speaking in a low, even voice, Webb noted that "It's been a lot of hard work going into making this a reality."
Afterward, Hawilla met with his partners from Full Play and Torneos y Competencias to discuss their part in the effort. According to court records, the mood was not upbeat:
"All can get hurt because of this subject," said Alejandro Burzaco of Torneos y Competencias. "All of us go to prison."
Twitter: @ LATimesWharton
Twitter: @nathanfenno
---