Galaxy cruises past New York City FC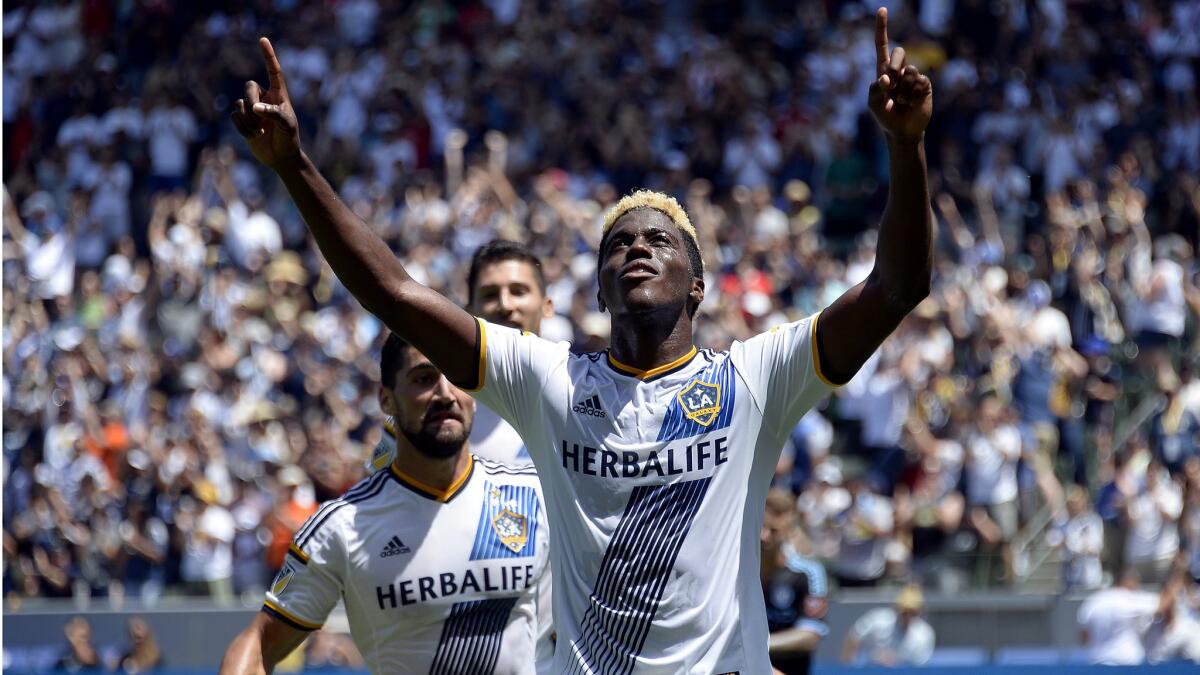 Galaxy defender Omar Gonzalez has played in a World Cup and Bruce Arena has coached in two. Together, they've won three Major League Soccer titles.
The point being, they've been in some big games. Yet, even by their lofty standards, the Galaxy's 5-1 victory over New York City FC on Sunday was special.
"There was a lot of buzz around this game," Gonzalez said. "It did feel like an important game, maybe a little bit more than it was. Because it really is just a regular-season game. "
Actually, it proved to be quite a bit more than that for the Galaxy and the league.
Much of the pregame buzz was about the anticipated reunion of Galaxy midfielder Steven Gerrard, the former Liverpool captain, and New York City's Frank Lampard, perhaps the best player in Chelsea's storied history. That proved to be a bust when Lampard, hobbled by a quadriceps strain, was forced to watch from a suite at StubHub Center.
So what a sellout crowd of 27,000, an international television audience and more than 300 credentialed media — triple the total for a typical Galaxy game — got instead was the most dominant performance this season by the league's best team.
"Any time you're in this kind of environment and you taste success, it's good," Arena said.
The goals came from Gyasi Zardes in the first half and Giovani dos Santos, Sebastian Lletget and two from Robbie Keane in the second half.
Keane has 15 goals, 13 in his last nine games. His goal in the 81st minute made the Galaxy the first MLS team to reach 1,000 goals.
For Dos Santos, the goal and an assist gave him two goals and three assists in three MLS games.
And for the Galaxy, the five goals increased its MLS-leading total to 49. Thirty-three of those have come in the last 10 games, eight of which the Galaxy won, pushing it atop the Western Conference with the league's best record.
Since Dos Santos joined the team this month, the Galaxy has used the same lineup in three consecutive games for the first time this year and it has won all three by a combined 10-3.
"We're building chemistry where we're able to understand where everyone's going to be," Gonzalez said. "And everything's coming a little bit natural."
But the Galaxy isn't the only one who gained from the victory. Arena, who coached D.C. United in the first game in MLS history 20 years ago, said games such as Sunday's are pushing the league forward as well.
"This will eventually become a norm in this league, not only here, but in all the venues around the league," Arena said of the environment surrounding the game. "We've come light years. Today was maybe a bit of recognition of the growth of the league."
Added Keane, one of at least four players in Sunday's game who has won a World Cup or been a national team captain: "This league is serious. Years ago, there were certain leagues that people wanted to go and play in.
"This is the league."