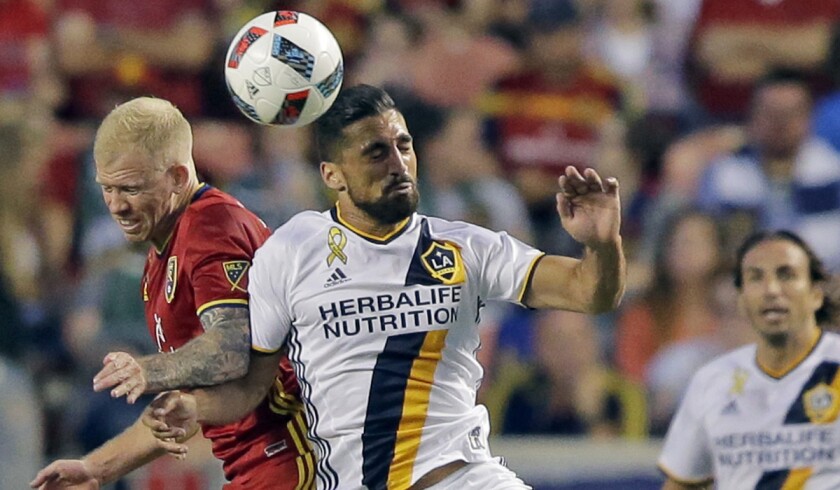 Reporting from SANDY, Utah —
Joao Plata had two goals, Juan Manuel Martinez scored on a deflection in the 94th minute and Real Salt Lake tied the Los Angeles Galaxy 3-3 on Wednesday night to remain undefeated at home this season.
Manuel Martinez raced up the sideline in transition, took five touches to get to the corner of the 18-yard box and sent a deflected shot under goalkeeper Brian Rowe.
Real Salt Lake (12-8-8) and Los Angeles (10-4-14) are tied for second place in the Western Conference — seven points behind FC Dallas (15-7-6).
Giovani dos Santos had two goals and an assist to help Los Angeles build a 3-1 lead by the 64th minute. But three minutes later, Plata scored to pull RSL to 3-2. Yura Movsisyan gathered a cross inside the box, drew two defenders and tapped it to an open Plata for a shot into the upper corner.
In the sixth minute, Dos Santos rolled a long through ball and Emmanuel Boateng beat his defender to slot it home for a 1-0 Los Angeles lead. In the 57th, Baggio Husidic chipped a free kick from near midfield and dos Santos powered it off the right hand of Nick Rimando for a 2-1 lead. Dos Santos made it 3-1 in the 64th when Jeff Larentowicz redirected a header off the crossbar and dos Santos sent in the rebound.
RSL midfielder Kyle Beckerman made his 400th MLS appearance to become the only field player in league history to accomplish the feat.
---