Curt Onalfo faces tough decisions in picking a lineup for injury-riddled Galaxy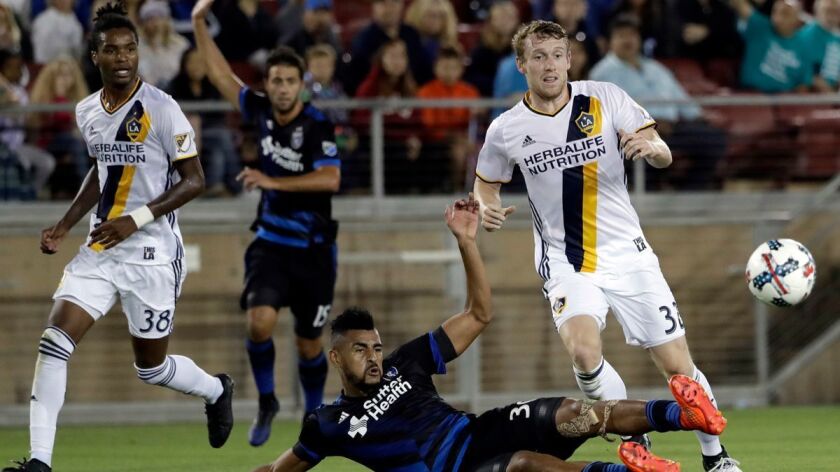 In picking a starting lineup for Tuesday's game with Real Salt Lake, Galaxy coach Curt Onalfo would be well served by first considering who can't play before deciding who should.
Captain Jelle Van Damme is out because of a suspension. Forwards Gio dos Santos and Gyasi Zardes are on international duty. And nine others sat out Saturday's loss to San Jose because of injury.
But Onalfo has his fingers crossed that as many as four players from that last group could be available for Tuesday's StubHub Center game (7:30 p.m., Spectrum SN, Spectrum Deportes).
"I'm not going to reveal what our lineup's going to be," the coach said Monday. "Some of these need to be game-time decisions."
Complicating those decisions is a schedule that forced the Galaxy (6-7-4) to play six games in 18 days and will now reward them with a two-week break from MLS play after the game with Real Salt Lake (5-12-2). And while that has left Onalfo with a tired roster — he used 19 starters in the last three games — the temptation to rush back reinforcements is tempered by the knowledge that an additional 14 days of rehab for the injured players may be better in the long run.
"You never want to put your players in a situation where you would harm them," Onalfo said. "But every situation's different. If the player's medically cleared to play, it's just a matter of do you start the player or do you have him come off the bench. It just depends on the person and the situation."
Also figuring into the equation is Onalfo's need for a win at home. StubHub Center, once a fortress for the Galaxy, has turned into a house of horrors with the team winning a league-low one home game in eight tries this season. The Galaxy are 1-5-4 at home dating to September.
Among those the Galaxy would like to have in uniform Tuesday are defender Ashley Cole, midfielders Romain Alessandrini and Jermaine Jones, and goalkeeper Brian Rowe. Cole and Alessandrini, the team's leading scorer, sat out the San Jose game because of leg injuries, and Jones (knee) and Rowe (groin) have been sidelined since May.
And they're only four of the 15 players who have sat out because of injury or suspension this season, forcing homegrown players and others promoted from the Galaxy's USL affiliate to soak up more than 38% of the team's MLS minutes through 17 games.
Twice in the last 13 days the Galaxy started five homegrown players; only two other teams in MLS history have done it once.
"Honestly for me, each one that goes down you just kind of laugh," defender Dave Romney said of the injuries. "You're kind of like 'are you kidding me? How many more guys can we lose?'
"There's nothing you can do about it. It's just kind of unlucky."
Or fortunate, depending on your point of view. For Romney, a versatile defender who has started at all four positions on the backline, the injuries allowed him to set career highs with nine consecutive appearances and 854 minutes this year. And the season's only half over.
But then it was an injury to Robbie Rogers that led to Romney's promotion from the Galaxy's USL team two years ago and another injury to Rogers that temporarily made Romney a starter last summer.
"That's how my whole story began," he said. "Every summer it kind of comes around. Everyone's called upon because the weather gets hotter, the training schedule picks up and the game schedule picks up."
Twitter: kbaxter11
---
All about the beautiful game
Go inside the L.A. pro soccer scene and beyond in Kevin Baxter's weekly newsletter.
You may occasionally receive promotional content from the Los Angeles Times.