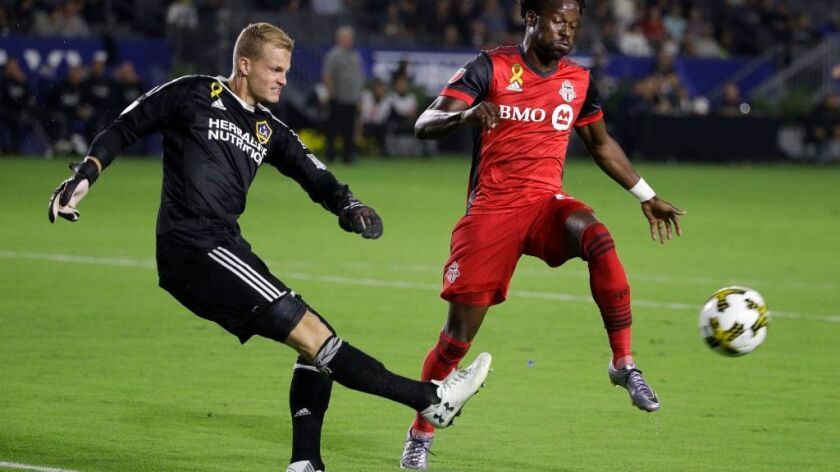 When the final whistle mercifully ended the Galaxy's lackluster 4-0 loss to Toronto FC on Saturday, what was left of the announced crowd of 19,650 sent the players off with a chorus of boos.
But that was nothing compared to the message they received when they got to the locker room. More than 45 minutes after the game, the team cleared the hallway outside the dressing room to keep anyone from overhearing coach Sigi Schmid's loud and pointed analysis of his team's performance.
"The main message is guys are playing for their job," goalkeeper Jon Kempin said. "Have some pride, I guess.
"He obviously was frustrated. The main thing that he said was is this a speed bump or are we going to go off the path?"
The Galaxy certainly did little defensively to slow Toronto or knock it off its path, leaving Kempin with little defensive help for most of a night in which he played far better than the result would suggest.
On Toronto's first goal, scored by Drew Moor on a diving header off the rebound of a Victor Vazquez free kick in the 24th minute, Kempin's teammates were caught napping. On the second, 13 minutes later, Tosaint Ricketts welcomed new Galaxy center back Michael Ciani to the league by reaching around him to push a Nicolas Hasler feed past Kempin.
Ricketts, making his 10th career start, then eluded Ciani again in the 76th minute for his second score of the night and a minute later Vazquez made it 4-0, getting behind the stationary Galaxy defense to turn a long goal kick into his seventh goal of the season.
On the other end Gyasi Zardes and Gio dos Santos both mishit shots at an open net as the Galaxy were shut out for the 10th time this season and the sixth time in their last 10 games. They didn't even put a shot on goal in this one.
"We made two big errors and let in two really soft goals and you can't really allow that against a good team," Schmid said. "We weren't good enough."
Ciani got an especially rude welcome to the league. Forced into the starting lineup by injuries to Daniel Steres and Pele van Anholt, the veteran French centerback was beaten on two goals and fell asleep on the other two.
"Light and shadows," Schmid said when asked to sum up Ciani's debut. "There were good things. Obviously there were a couple of not so good things.
"It was probably a week too early for [him] to play with where he's at fitness-wise. But with so many defenders missing, the options are limited."
Ciani didn't make excuses.
"We didn't do what we know," he said. "I wasn't tired. I felt good on the pitch. But it was difficult for the whole team. We can be better."
Toronto (18-3-8) was without leading scorers Sebastian Giovinco and Jozy Altidore, who were left home with nagging injuries. In addition to Steres and Van Anholt, the Galaxy (7-15-6) — 10th in the 11 team Western Conference and one point out of last — were without bruising midfielder Jermaine Jones and leading scorer Romain Alessandrini, who were both serving suspensions.
Then during the game they lost two more players when Bradley Diallo and Bradford Jamieson limped off. After a solid first 20 minutes, the Galaxy's modest two-game unbeaten streak disappeared as well.
"We were making good strides, we were kind of turning things around, we had two solid games of momentum going our way," defender Dave Romney said. "And then we get yellow card suspensions, we get two injuries, we get two more injuries during the game.
"Everything's just compiling."
As a result, Romney said Schmid's message was "pretty frank."
"Guys are playing for their jobs. It couldn't be any truer than that," he said. "If that doesn't motivate you I don't know what else will. When I hear that, I just think 'I need to play better. I need to be the best version of myself if I want to stay here.'
"So it works for me. That motivates me definitely."
Follow Kevin Baxter on Twitter @kbaxter11
---