Galaxy's new coaching staff opens with a rigorous workout plan led by 'The Butcher'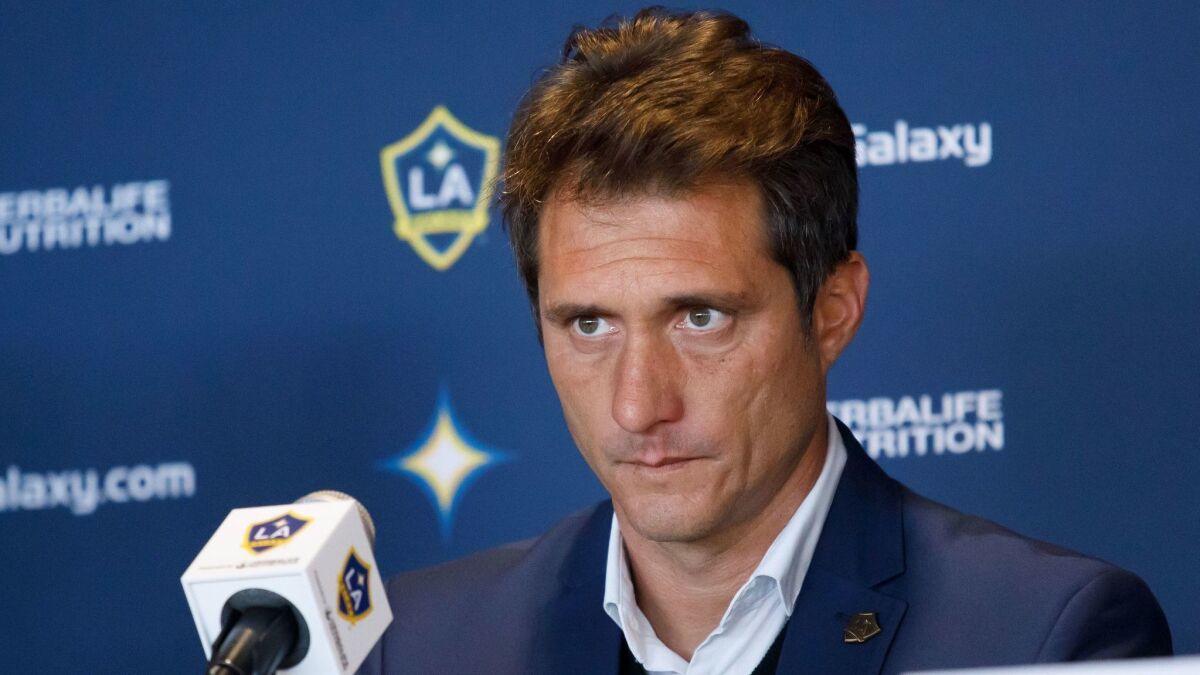 Before showing up at the Galaxy's preseason training camp in Carson, Ola Kamara did a little research on the team's new coaching staff — and especially fitness trainer Javier Valdecantos.
"I mean they call the guy 'The Butcher!'" Kamara said with a shudder last weekend after watching part of a Netflix documentary about how coach Guillermo Barros Schelotto and his assistants worked with Argentine club Boca Juniors.
Three days into Schelotto's first week with the Galaxy, Kamara and many of his teammates say Valdecantos' reputation and nickname are both well-deserved.
"Yeah, I can confirm that. Everybody's stiff. Everybody's sore," Kamara said Wednesday morning.
"It's been real tough," added forward Bradford Jamieson IV, who is entering his sixth season with the Galaxy, making him the team's longest-tenured player. "But I'm sure we'll reap the benefits later. You get your butt kicked now and it hurts.
"It's a long season and it'll help us be strong."
Schelotto's training camp has been arranged more like a boot camp, with twice-daily training sessions long on conditioning drills. In between, the players are bused to a Manhattan Beach hotel to rest and recuperate.
"Hard training, that's for sure," said Zlatan Ibrahimovic, who led the team with 22 goals and tied for the lead with 10 assists last season, earning a league-record $7.2-million contract for 2019.
Ibrahimovic, at 37 the team's oldest player by a wide margin, said the coaching staff gave him the option of skipping some of the exercises but he declined.
"I want to do everything," he said. "If my team runs, I run. If my team suffers, I suffer. So I'll do everything that they do and I'll do at least maximum.
"And if I arrive at the end dead? I don't know."
Schelotto, the team's fifth head coach in 27 months, said the goal isn't to kill anyone but rather to steady a franchise that struggled recently, missing the playoffs each of the last two seasons and going a franchise-record four years without playing in an MLS Cup final.
"The objective," he said in Spanish "is simply to put together a team that can get to the playoffs. And that's what we're going to work toward."
At Boca Juniors, Schelotto favored a possession-oriented attacking game in which his teams kept the ball on the group and played out of the back. He's already teaching the same style with the Galaxy but players said Wednesday he's also focused on how to improve a defense that allowed 131 goals combined the last two seasons.
Sign up for our daily sports newsletter »
The return of Juninho, a holding midfielder who played on the Galaxy's last three championship teams, could help, but Schelotto is also keen on signing Diego Polenta, a left-footed center back from Uruguay. The team had hoped to have Polenta in uniform for the start of training camp but has been unable to finalize a deal for the 26-year-old, who last played in Uruguay for Nacional.
"We have a really good roster," Schelotto said. "But if we can get more defenders, it will be better."
Ibrahimovic's re-signing also leaves the Galaxy with four designated players, one over the MLS limit. That means the team has until the end of February to trade, buyout or renegotiate the contract of one of the other three DPs: midfielders Romain Alessandrini, Jonathan dos Santos and Giovani dos Santos.
"The club has to make a choice," said Alessandrini, who had 24 goals and 21 assists in his first two MLS seasons and has made no secret of his desire to stay with the Galaxy long-term. "Soccer is complicated sometimes. But it is what it is."
kevin.baxter@latimes.com | Twitter: @kbaxter11
---
All about the beautiful game
Go inside the L.A. pro soccer scene and beyond in Kevin Baxter's weekly newsletter.
You may occasionally receive promotional content from the Los Angeles Times.