Galaxy's Ashley Cole warms up to idea of coaching after his playing days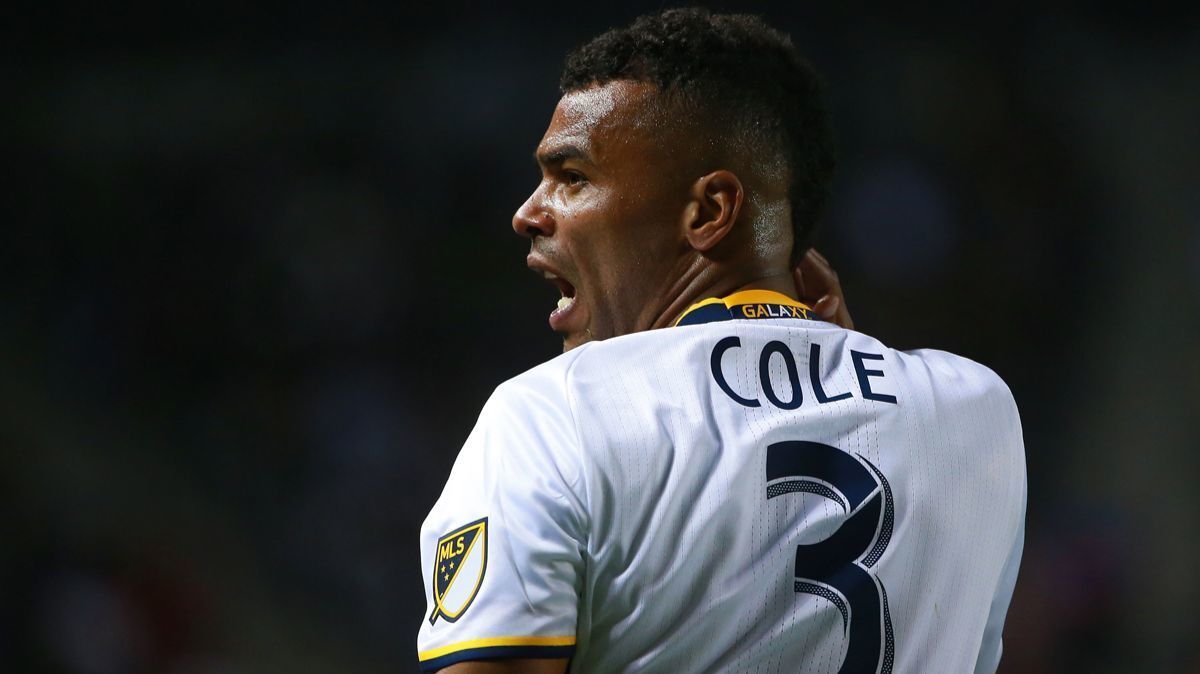 Ashley Cole used to think of Major League Soccer the same way some people think of rocking chairs, golf courses and Florida — as a place to retire. After a few years in the league he's had a change of heart.
For Cole, MLS has marked not an end but a beginning. The guy who didn't want to come here has become a guy who doesn't want to leave.
"It's been enjoyable," said Cole, who is in his third preseason camp with the Galaxy. "I enjoy the guys here."
Cole, 37, has even taken the first tentative steps toward a post-playing career by working with the team's young players and sitting in with the coaching staff during film sessions.
"When I started, I never would want to do that," Cole said of coaching. "But being here and trying to help kids here, I've enjoyed it. The coaches have given me the confidence to kind of speak up and say some things if I think something's gone wrong."
One of the best left backs of his generation, Cole won a Championship League trophy, a Europa League title and three Premier League crowns during a 17-year club career in Europe. He also played in three World Cups and earned 107 caps — a record for a defender — for the English national team.
"He's got knowledge beyond most people I've ever come across and played with," said Daniel Steres, one of the Galaxy defenders Cole has been mentoring. "So any chance I get, I try to listen to what he's got."
Another sign of Cole's new role with the team came in the Galaxy's first preseason game last week when coach Sigi Schmid handed him the captain's armband, something Cole appeared uncomfortable wearing at times last season. This year, Schmid said, he sensed the players wanted Cole to be their leader.
"He's into what we're trying to do and what we're trying to build and the culture that we're trying to create within the team," Schmid said.
Cole wouldn't be the first player to make the move from player to coach with the Galaxy's help. Gregg Berhalter was still playing when he became an assistant under Bruce Arena in 2011; four years later, he coached Columbus to the MLS Cup final. Pat Noonan was hired as an Arena assistant on the same day he retired as a player in 2013. And Greg Vanney, who last year guided Toronto FC to the best season in league history, moved down the hallway at the StubHub Center to become a Chivas USA assistant shortly after ending his playing career with the Galaxy.
"We've shown a great history of involving players," team president Chris Klein said. "Ashley Cole can, and probably will be, a very good coach. But this year we need him as a player first."
That's fine with Cole, who said he has unfinished business with the Galaxy, who struggled to a franchise-worst 8-18-8 finish in 2017. That was followed by a housecleaning that left Cole as one of only five returning starters likely to be in the opening-day lineup this year.
"After the disappointment of last season and the embarrassment, a lot of players — most of them are gone now — owed it to the club to put this club back where it should be," Cole said. "I didn't want to go out like that."
Cole has played more than 740 games in his career, including 30 in all competitions last year, his most in five years. That's a lot of work for an active wingback who sprints the length of the field to join an attack.
It's almost as many games per season as Robbie Keane had played in his career when he legs gave out midway through the 2016 season. Keane is the same age as Cole.
"We're going to play that one by ear," Schmid said.
Cole isn't likely to get much rest at home, either. His partner, Sharon Canu, is expecting the couple's second child soon. The daughter, Cole said, will be born in Southern California, giving her U.S. citizenship, something neither he, his Italian-born girlfriend nor their 23-month-old son have.
That wasn't planned, Cole said; the baby would have been born wherever he was playing. But it is another tie to a city and a league Cole once dismissed as a retirement destination, saying he wouldn't play in MLS because "I'm not ready to relax on a beach yet."
Four years later, he isn't ready for retirement — or a splash in the ocean.
"I still haven't been on the beaches," he said.
Follow Kevin Baxter on Twitter @kbaxter11
---
All about the beautiful game
Go inside the L.A. pro soccer scene and beyond in Kevin Baxter's weekly newsletter.
You may occasionally receive promotional content from the Los Angeles Times.