Galaxy beginning a new chapter without A.J. DeLaGarza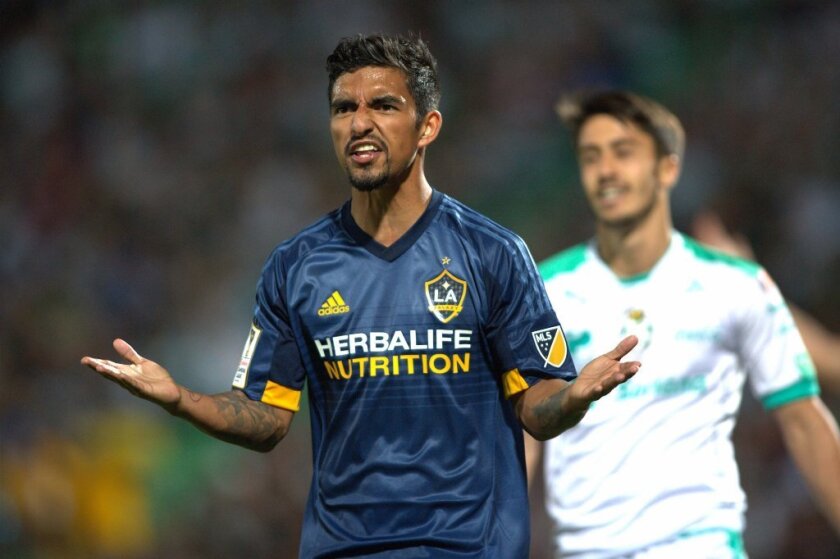 The first sign something was wrong, A.J. DeLaGarza said, was the missed call on his cellphone.
The Galaxy defender, the last remaining link to Bruce Arena's first MLS Cup championship club in Carson, had been assured he wouldn't be traded in the off-season. Now he had an urgent message to call new General Manager Peter Vagenas.
"I called Pete back and we just had a very short [talk]," said DeLaGarza, who was told his contract had been sold to the Houston Dynamo. "The only words I got in was 'all right, thanks.' And that was kind of it."
After more than 200 appearances and three MLS championships in eight seasons with the Galaxy, DeLaGarza, 29, a fan favorite, was cut loose without so much as a handshake. Three weeks later, the slight still stung.
"Obviously it is hard," he said by phone from the Dynamo's training camp. "I was shocked and disappointed just in how it all went down. But at the same time, it's time to move on."
That's something the new-look Galaxy will also try to do Tuesday when they meet the Tijuana Xolos of Mexico's Liga MX at StubHub Center at 8 p.m. in an exhibition, marking the Galaxy's first game without DeLaGarza since 2008. New Coach Curt Onalfo expects to empty his bench but is unlikely to use forward Gyasi Zardes, who is recovering from a knee contusion, and may not play midfielder Sebastian Lletget, who played 90 minutes in the U.S. national team's win over Jamaica on Friday.
Off-season additions Joao Pedro and Romain Alessandrini also might not be available because they are dealing with immigration issues.
DeLaGarza's absence can be just as easily explained. MLS, operates with a strict salary cap of $3.845 million, so movement is perpetual. DeLaGarza was not only the last regular from the 2011 team to go, he was one of only three starters remaining from the Galaxy's 2014 MLS Cup championship team.
"Guys get to a certain age, a certain point in their career, and they continue to progress, deservedly, from a salary standpoint and teams are forced with decisions," said Galaxy President Chris Klein, who played 200 games for the Kansas City Wizards before being shipped, without notice, to Real Salt Lake after eight seasons.
In DeLaGarza's case, his base salary jumped from $90,000 in 2012, when he started 30 games, to $225,000 last year, when he sat out 10 regular-season games and didn't play in the postseason.
"We did want him back. But as things started to fall into place and more teams kept calling for him, we knew that it was just something we had to do," said Klein, who not only cleared DeLaGarza's salary from the books, but also got $175,000 in allocation money from Houston in the deal.
That gave the Galaxy the cap space to sign midfielders Jermaine Jones and Pedro before landing Alessandrini, a speedy winger, on a $1.75-million transfer from Marseille, the French club owned by former Dodgers owner Frank McCourt. In a busy off-season, the Galaxy roster got younger and substantially cheaper with the exit of DeLaGarza, Landon Donovan, Robbie Keane, Steven Gerrard and Mike Magee.
DeLaGarza got only 10 days to clean out his Redondo Beach home, put it on the market and move his family to Texas for training camp. But what disappointed him most was that the team, after promising to keep him, sold his contract without asking him where he'd like to go, a courtesy the Galaxy had extended to veterans Marcelo Sarvas and Magee, among others.
"I felt I did enough for the club to where they could grant whatever I kind of wanted to do," said DeLaGarza, a Maryland native who would have preferred a trade to an East Coast team. "If one team offers a little bit less than another team and that's where I want to go, I felt they should have granted that.
"But listen it's still a business. And I know that."
If DeLaGarza became expendable to the Galaxy, he's seen as indispensable to the rebuilding Dynamo, who won a league-low seven games last season and haven't made the playoffs in three years. In Houston he'll join former teammate Leonardo, who won three MLS Cups with the Galaxy, as the anchors on a rebuilt back line.
"The Houston Dynamo, at least since I've been there, have not been a really successful group. A.J. and Leonardo have. They have a winning mentality," said midfielder Andrew Wenger, who is entering his second season with the Dynamo. "Playing with guys that already have that and are bringing players to their level is going to be tremendous."
As for DeLaGarza, he's already focusing on Houston's games with the Galaxy in June and September.
"I have that marked on my calendar," he said.
---
Get our high school sports newsletter
Prep Rally is devoted to the SoCal high school sports experience, bringing you scores, stories and a behind-the-scenes look at what makes prep sports so popular.
You may occasionally receive promotional content from the Los Angeles Times.