Ibrahimovic finally joins Galaxy — and that's a big deal
Video by Kent Nishimura / Los Angeles Times
When President Trump arrived in Los Angeles a couple of weeks ago, he was welcomed at LAX by a light rain and a small group of protesters. When soccer star Zlatan Ibrahimovic arrived late Thursday, he was greeted by clear skies and a raucous crowd of about 250 fans.
But then as Ibrahimovic himself will tell you, he's bigger than the president. Any president. And you can include prime ministers, popes and U.N. secretaries general in there as well.
"I'm not arrogant," the Galaxy's newest player said. "I'm confident."
Ibrahimovic is so big — at 6-foot-5 he's also one of the tallest in franchise history — that just by showing up to train with the team Friday morning he brought the league and the team more international attention than either has had since David Beckham left six years ago.
One of the greatest goal-scorers of his generation — and one of the most flamboyant athletes of any generation — Ibrahimovic has a personality that may be unmatched even in Hollywood. That's such a big part of his draw that when ESPN surveyed the league's players this winter on which overseas star they'd most like to see join MLS, nearly 1 in 5 said Ibrahimovic.
That's also what drew more than 100 journalists to watch him practice for the first time since leaving England's Manchester United last week. More than double that number came to his introductory news conference, the largest such soccer event at the StubHub Center since Beckham's signing.
And as far as the Galaxy's accountants are concerned, he basically came here for free. Although Manchester United reportedly paid Ibrahimovic $26 million when they signed him to a one-year contract two years ago, the Galaxy are getting him for $3 million spread over two seasons, with a big chunk of that cash coming from the league in the form of allocation money.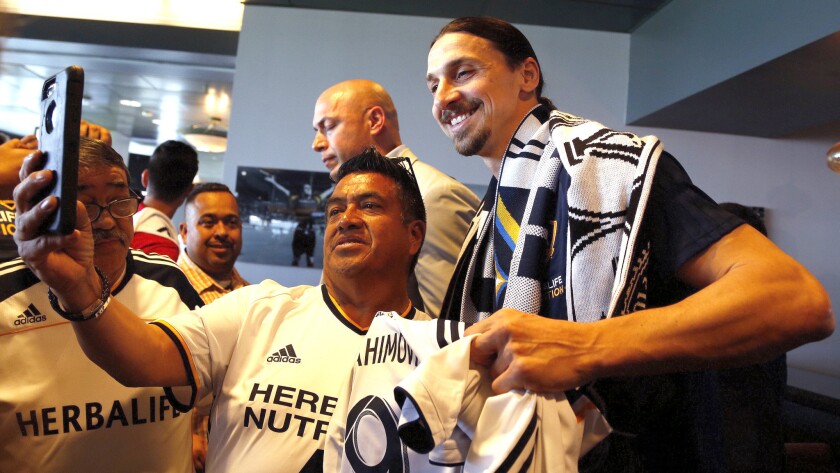 It's chump change by Ibrahimovic's standards. And the (relatively) low cost also removes much of the risk that might have come in signing a 36-year-old player less than a year removed from a crippling knee injury. Yet it's also a signing that's consistent with the club's culture: Ibrahimovic is the fifth former Premier League star in less than eight years to sign with the Galaxy after his 31st birthday.
"It brings the star power back. It's important for us and who we are," said Jovan Kirovski, the Galaxy's technical director and the man most responsible for bringing Ibrahimovic to the team.
Ibrahimovic argued — again — that he's different.
"I feel young," he said. "I feel like Benjamin Button. I was born old, but I'll die young.
"Don't worry about my age. When I came to England, they all said I was old, that I came in a wheelchair. After three months, I conquered England and they said I was flying. This is only numbers. I know what I'm able to do, what I will do."
The rest of MLS has gone in the other direction though. According to figures compiled by the league, the average age of the 103 players to join MLS between since Jan. 1 and Ibrahimovic's signing last week was 24.97 years. The numbers are even starker on the high end of the pay scale, where just one of the last 36 designated players to join the league was older than 30.
Dressed in a dark blue Galaxy polo shirt, Ibrahimovic was joined at Friday's news conference by team President Chris Klein, coach Sigi Schmid and Dan Beckerman, the chief executive of entertainment giant AEG, the Galaxy's parent company.
The player said, to nods of agreement, that he should have been here two seasons ago, after Klein flew to Paris to meet with him and his agent, Mino Raiola, in the final weeks of Ibrahimovic's stay with Paris Saint-Germain. The negotiations quickly hit a snag, but the relationship between Ibrahimovic and the team continued, finally bearing fruit last week.
"I am here now," he said. "The destiny was that it was supposed to happen, the question was only when. I am happy to be here."
Ibrahimovic has won everywhere he's played, collecting 33 trophies — including league titles in four countries — during 19 seasons in Europe. Invoking his nickname and speaking of himself in the third person, he left no doubt he intends to do the same thing here.
"The lion," he said, "is hungry."
Follow Kevin Baxter on Twitter @kbaxter11
---
All about the beautiful game
Go inside the L.A. pro soccer scene and beyond in Kevin Baxter's weekly newsletter.
You may occasionally receive promotional content from the Los Angeles Times.