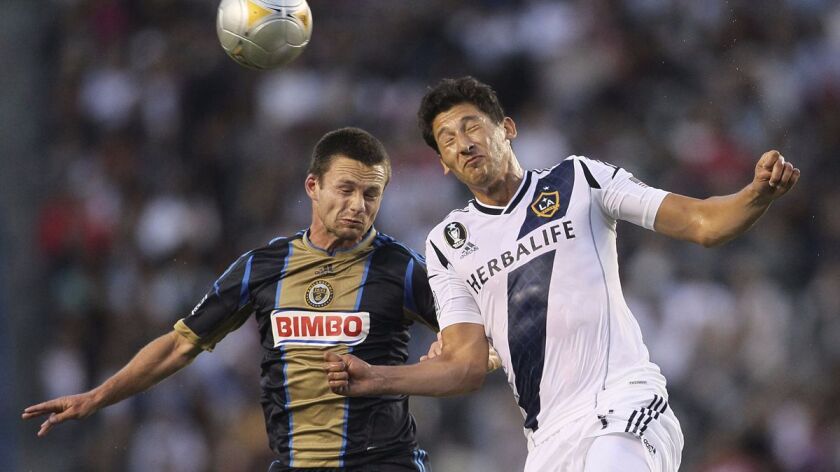 The Galaxy has acquired Jack McInerney, a 24-year-old forward who cleared waivers after scoring 43 goals for four MLS teams over the last seven seasons. He will join the Galaxy this week and the club says he will be available for selection for Sunday's StubHub Center matinee with the defending league champion Seattle Sounders.
"Jack is a young and experienced player in MLS who has shown that he can score goals in this league," Galaxy General Manager Pete Vagenas said in a statement. "He will give our team valuable depth at the forward position."
McInerney was selected out of high school by the Philadelphia Union with the seventh overall pick in the 2010 MLS SuperDraft, and remained with the club until 2014, scoring 25 goals, including a career-high 12 in 2013.
A native of Chattanooga, Tenn., McInerney began the next season with Montreal, scoring 11 times in 43 games and becoming the just the second player in league history to reach 35 goals before his 24th birthday. He finished the 2015 season with Columbus before joining Portland in 2016, scoring five times in 24 appearances. He has played in 167 regular-season MLS games overall.
Internationally, McInerney has been called up to the U.S. national team – although he has yet to earn a cap -- and had previously played for the U-23, U-20 and U-17 squads. His presence will help a team that has scored just eight goals in six games, none of them coming from a forward in open play.
McInerney earned $270,000 with Portland last season, according to the MLS players union.
Twitter: kbaxter11
---