Gerardo Torrado: New era under Tata Martino a 'great opportunity' for Mexico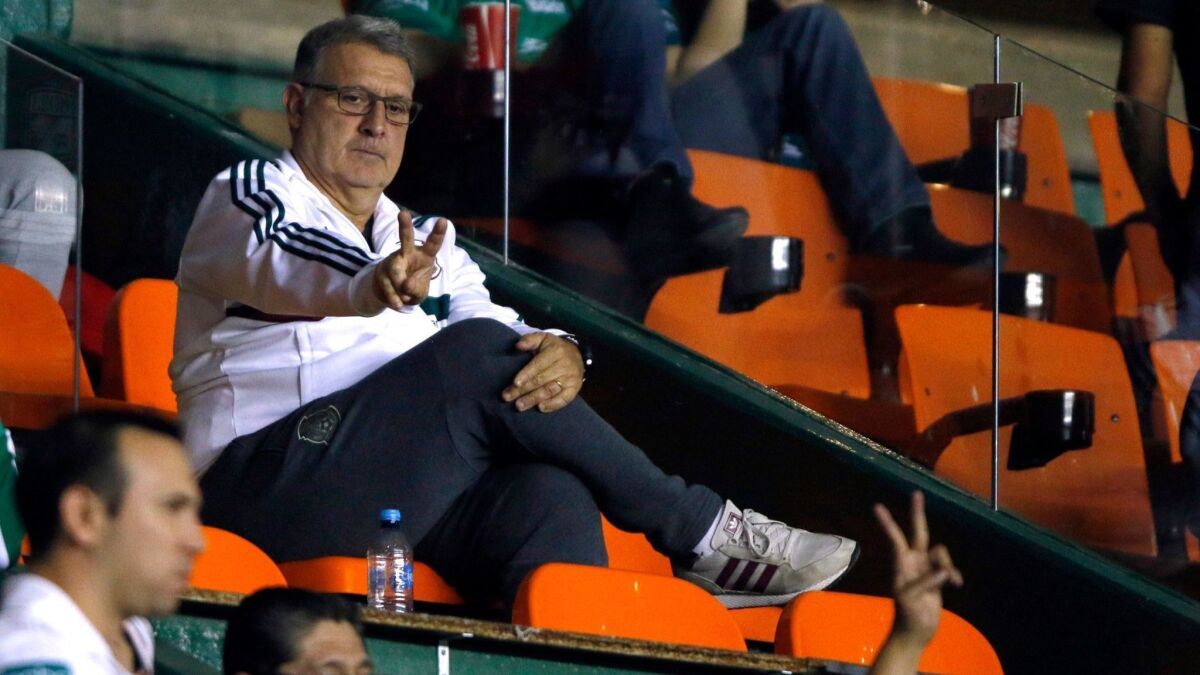 Reporting from Santa Clara —
Mexico's national soccer team is starting over.
New coach, new style of play, mostly new team.
"It's clearly a new era," Galaxy midfielder Jonathan dos Santos, who was called into coach Tata Martino's first training camp this month to witness those changes, said in Spanish.
"And I think a different era sometimes is for the good."
Not that Mexico had a choice. The team it took to last summer's World Cup was the second-oldest in the tournament with an average age of 28.9. And no team was more experienced — which is another way of saying old — than Mexico, whose roster averaged more than 61 international appearances per player.
The country's golden generation, the one that won a pair of U-17 World Cups and an Olympic title, the most important trophies in the country's long soccer history, had gone gray.
And now the renovation that began after the World Cup — one in which Mexico was eliminated in the round of 16 for the seventh straight time — has hit full gallop heading into Tuesday's friendly with Paraguay at Levi's Stadium.
A crowd of more than 35,000 is expected for Martino's second game in charge.
"It's a new process," said Gerardo Torrado, a three-time World Cup player who is now sporting director for the Mexican soccer federation. "A new coach has arrived and started watching all the players he thinks are going to fit into his process."
"I think it's interesting," he continued. "What are the players expecting from him for the national team? And having a really good, experienced coach that had two national teams before coming to Mexico, it's a great opportunity to start building something different."
Martino, who also managed Argentina and Paraguay, won his first game as Mexico coach 3-1 over Chile last week in San Diego. After using 16 of the 28 players on his roster in that match, he is expected to use a completely different lineup Tuesday, one that could pair Javier "Chicharito" Hernandez, Mexico's all-time scoring leader, with teenager Diego Lainez, the kind of torch-passing moment that last took place when Hernandez came on for Cuauhtemoc Blanco in the 2010 World Cup.
The future, however, will be built around 23-year-old Hirving Lozano, whose agent is in talks for a $52-million transfer that could see the winger move from Dutch club PSV to Manchester United, becoming the first Mexican star to join the iconic English team since Hernandez nine years ago.
Lozano is one of 10 players on the Mexican roster who is playing for European clubs and Martino said Monday he believes several others, among them defender Edson Alvarez and midfielder Carlos Rodriguez, could make the jump soon.
That's a trend Torrado said must continue for Mexico to improve.
"We would like to have more of those cases, going really young to play for really good teams in Europe," he said.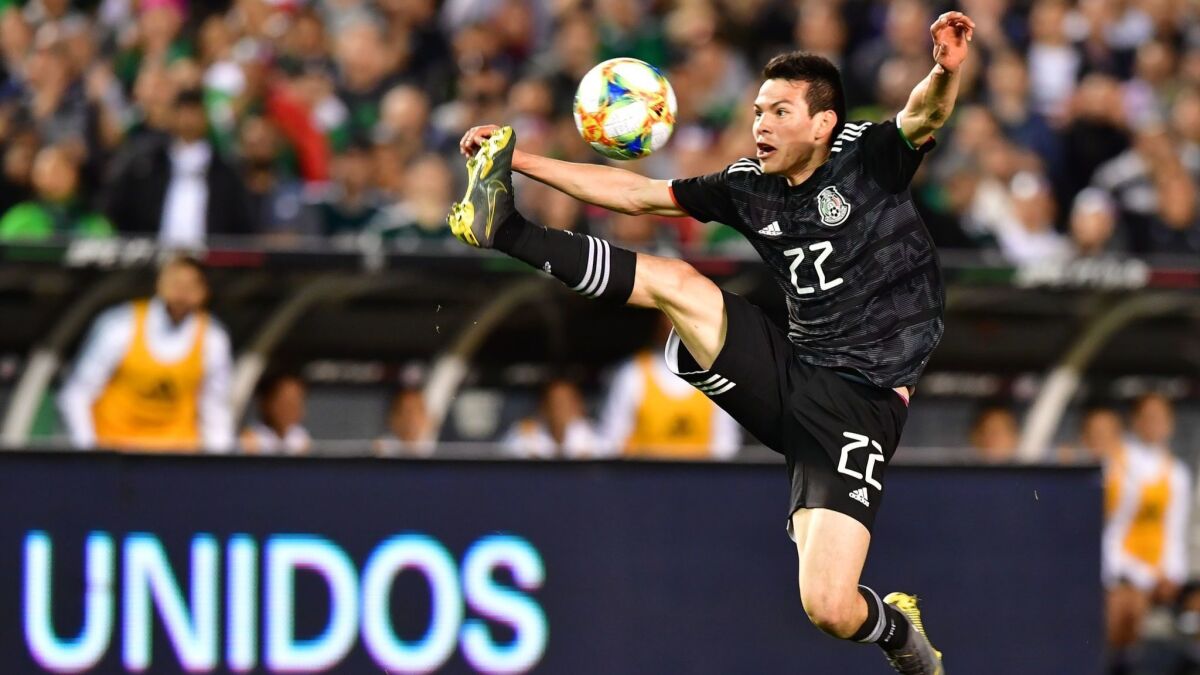 "Having more players playing in the best leagues, that will help us to have the best level in the national team. If you don't have that, how are you going to get really close to what you expect?"
And what Mexico expects is for Martino to win while beginning the long process of importing the high-pressing, creative, ball-control style of play he perfected at Barcelona and later used to win an MLS Cup with Atlanta United.
Gone, too, are the endless squad rotations and tactical changes Mexico used under its previous coach, Colombian Juan Carlos Osorio.
"We like the way he coached and the way he talks to the players, the way he thinks," Torrado said of Martino. "That's why we hired him."
Sign up for our weekly soccer newsletter »
His style can be a difficult one to teach though, which is why the Argentine coach, in starting over with his new team, has gone back to basics, searching for a specific skill set in his players and then programming them with the way he wants to play.
"The important thing in the methodology is to have things clear from the start," he said in Spanish. "When you present things clearly from the start, the player and all who participate are able to accept or not accept. What nobody can say is something that's happening comes as a surprise.
"When something surprises us, it's because there was something that wasn't communicated. We're in this process, to make the rules clear and obviously invite the players to participate on their own."
kevin.baxter@latimes.com | Twitter: @kbaxter11
---
All about the beautiful game
Go inside the L.A. pro soccer scene and beyond in Kevin Baxter's weekly newsletter.
You may occasionally receive promotional content from the Los Angeles Times.