U.S. women's soccer coach Jill Ellis has won a World Cup but can't get a job coaching men
As a schoolgirl growing up in southern England, Jill Ellis couldn't play competitive soccer. It wasn't that girls weren't allowed. It was just that, given the attitudes of the 1970s, no one had thought to organize teams for them.
It wasn't ladylike, Ellis' mother, Margaret, once explained.
That changed when Ellis moved with her family to Virginia as a teenager, where she not only joined her high school's team but led it to a state title.
The victory was just a partial one, though, because, decades later, Ellis is still hemmed in by societal norms. Although she is one of the most decorated coaches of one of the most successful teams in soccer history, her way forward remains limited not by her talent but by her gender.
What money, fame and prestige there are in coaching exist primarily on the men's side. Yet that remains exclusively a boys' club where sex, not success, determines admission. While men routinely coach women in every sport on every level, the number of women coaching men can be counted on one hand — with some fingers left over.
"Why hasn't it happened? Because there hasn't been an opportunity for it to happen," said Ellis, who will coach the U.S. national team in the month-long Women's World Cup, which opens June 7 in Paris. Four years ago she guided that team to the title.
"You can have all these really qualified women but at the end of the day the people sitting in the positions to say 'Yes, we're going to hire that person' are the people that have to see it without gender in terms of giving opportunity," she said.
Marjorie A. Snyder, director of research and programs for the Women's Sports Foundation, blames that lack of vision on the same stereotypes and prejudices that kept a young Ellis off the playing fields in England.
"There are cultural reasons why. There are environmental reasons why. And it's a statement obviously about competence," Snyder said. "Are women competent? Can they do it? It seems like a ridiculous question on the face of it. They're doctors and lawyers and they're senators and Congress people. Why couldn't they coach?"
Snyder partially blames Title IX, the landmark 1972 civil rights legislation that mandated increased athletic opportunities for women but also took away many of the opportunities for women to coach those athletes. Before Title IX, Snyder said 90% of women's teams were coached by women. But as colleges began pouring money and resources into women's programs to comply with the new law, men suddenly began applying for the jobs.
In its 2016 study "Beyond X's and O's: Gender Bias and Coaches of Women's College Sports," the Women's Sports Foundation found that 57% of women's teams were coached by men but just 3% of men's teams — mostly in minor, coed sports such as swimming and diving or cross-country — were coached by women.
"The people who were hiring those coaches were, for the most part, exclusively male," she said. "So they were tapping their own networks to hire coaches."
As a result Geno Auriemma got the chance to win 11 NCAA women's basketball championships at the University of Connecticut but no woman has been asked to coach a top-flight men's team. Four of the last five NCAA women's soccer champions have been led by men but NYU's Kim Wyant is the only female coach of a men's team.
So why aren't there more?
"That's an excellent question," said UCLA women's soccer coach Amanda Cromwell, a former World Cup player who coached the Bruins to an NCAA title in 2013. "I think more people need to ask that question. There is no reason why."
Wyant says she got her job because the school was able to do what Snyder's research showed others couldn't: set aside her gender and focus on her qualifications.
"They didn't hire me because I'm a woman. They hired me because they thought I was really overly qualified for the job," said Wyant, who started in goal for the U.S. in the first women's national team game in history in 1985, then spent two decades coaching women's teams.
I definitely think there are females that are more than capable of coaching professional soccer in this country.
Jill Ellis
"There's already a lot of female leadership at NYU and it is the culture. I can thankfully say that no one has, in my face, said 'There's no way you should be coaching this team.' I had sort of the opposite."
That support evaporates, however, whenever talk of a job with a men's team at a higher level is raised.
"A lot of people are going to be looking at this wishing that I would fail," said Wyant, 55, who last fall led NYU to a 12-4-3 record and its first NCAA Division III tournament invitation in eight years. "But I don't really want to carry that burden. I really just want to be measured by how I'm doing as a coach, not how I'm doing as a female coach."
The idea that it's OK for men to coach women but not the other way around isn't limited to just college campuses. The WNBA recently opened its new season with men coaching seven of the league's 12 teams; the NBA has no female head coaches. Men coach seven of the nine teams in the National Women's Soccer League but no woman manages a team in MLS.
And in last year's men's World Cup, all 32 teams were coached by men. In the women's tournament this summer, just nine of the 24 teams will be led by female coaches.
It's a ratio that's being repeated all the way down to the grass roots in many sports.
"If you start at the youth level, what you're going to see is the fathers coaching and the women, the mothers, being the team moms," Snyder said. "That's what the players see. And so they take on those same cultural attitudes about what women can do."
That may slowly be starting to change. Clermont Foot, a 108-year-old club that plays in the French second division, has had two women managers since 2014 and this winter Imke Wubbenhorst became the first woman to coach a team in one of Germany's top five leagues when she took over at BV Cloppenburg.
In the U.S., Becky Hammon was the first full-time assistant coach in one of the top four professional leagues when she was hired by the San Antonio Spurs in 2014. A year later, as the first female head coach in the NBA Summer League, she led the Spurs to the title.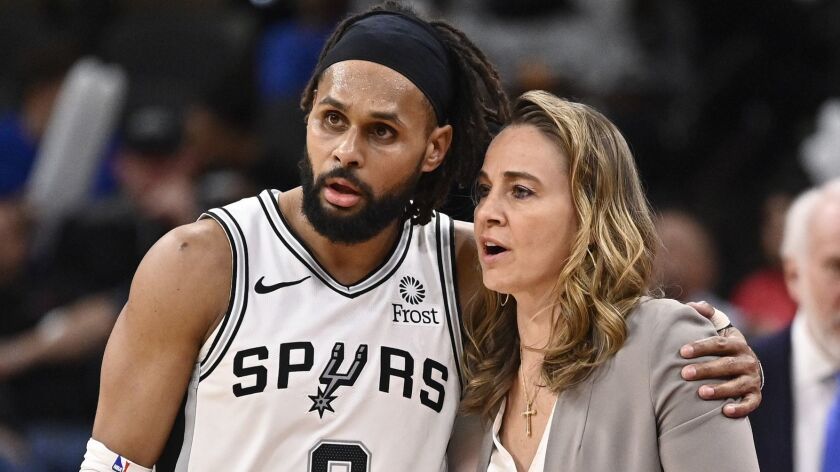 Since then four NBA teams, including the Clippers, have hired female assistant coaches. In the NFL, the Buffalo Bills, Oakland Raiders and San Francisco 49ers have hired female assistants and the Tampa Bay Buccaneers recently signed two for this season while the NHL's Arizona Coyotes had a full-time female skating coach.
Bob Bradley, who took the U.S. to the 2010 World Cup and now manages the MLS-leading Los Angeles Football Club, says he expects that trend to continue since good coaching isn't limited by gender.
"A team that competes, that over the course of time has consistency, everybody can see it," he said. "In terms of how they play, their style of play, their commitment, their way of competing, this is the craft of coaching. And so you appreciate the people that do it well."
One of those people, Bradley insists, is Ellis.
"Jill Ellis is a great coach. She's done a great job," he said. "Good coaches, in any sport, there's carryover."
Bradley's players agree. LAFC defender Jordan Harvey, who played at UCLA when Ellis was the woman's coach there, said he had several soccer conversations with her.
"She's really intelligent and has a really good soccer mind," he said. "Any coach stepping in, you want to know that they have a vision, an identity. That's what I, as a professional player, identify a good coach with. Not a male or female."
MLS already has several female officials and they're not only accepted, but respected.
"I think it's headed that way," LAFC defender Steven Beitashour, who played on Iran's 2014 World Cup team, said of women coaches. "If you're capable, if you're good enough, why not?"
For people like Ellis and Wyant, one of the things that makes the subject more than academic is the fact a job with a men's team often comes with a significant bump in both pay and prestige.
February's tax filings by the U.S. Soccer Federation, as reported by the Washington Post, showed Ellis, coach of the world's top-ranked women's team, earned a base salary of $291,029 in the 2018 fiscal year, less than the USSF paid Tab Ramos, coach of the men's Under-20 team, and $64,000 less than the federation paid Andreas Herzog, a former assistant coach, in a contract settlement after firing him in 2016.
Ellis has since signed a new deal with a "substantial increase" that reportedly makes her the highest-paid female soccer coach in the world, although details of that contract have not been revealed.
Huge discrepancies also exist between MLS and NWSL managers and NBA and WNBA coaches.
With her team's first World Cup game less than a week away, Ellis said now is not the time to be sending out resumes. But don't be surprised if she starts thinking about it after the tournament. Last year she became the first woman to get her pro license, the highest coaching credential possible in U.S. soccer. That certainly opens up some possibilities.
"I would definitely say it has crossed my mind," Ellis said, 52, of coaching a men's team. "Going through the pro license [course] with a lot of MLS head coaches, what I took away from that is the game is the game. Whether it's dealing with a specific tactic of style of play, it isn't different.
Sign up for our weekly soccer newsletter »
"I would love to look at what the next step would be. If that's in the men's game, it's in the men's game. But down the line, if it's not me, I definitely think there are females that are more than capable of coaching professional soccer in this country."
It's even become ladylike now that England has a women's professional league and soccer has grown into the most popular participation team sport there for women and girls.
kevin.baxter@latimes.com | Twitter: @kbaxter11
---
All about the beautiful game
Go inside the L.A. pro soccer scene and beyond in Kevin Baxter's weekly newsletter.
You may occasionally receive promotional content from the Los Angeles Times.