Jill Ellis continues putting her mark on U.S. women's team in win over Chile
Jill Ellis had only 13 months to prepare for the last Women's World Cup, so the U.S. national team the coach took to Canada in 2015 was one that had largely been chosen and developed by someone else.
Not that it made much of a difference; the U.S. dominated the competition, rolling to its third championship.
But in the three years since, Ellis has moved to put her stamp on the team, calling more than five dozen women in for at least one training camp and giving approximately half of those players their first international cap.
With the next World Cup less than a year away, Ellis is now beginning to harvest the fruit of that work.
Friday's 3-0 win over Chile, before a crowd of 23,544 at StubHub Center, extended her team's unbeaten streak to 20 games over the last 13 months and improved its record to 10-0-2 this year.
And the timing couldn't be better since the U.S., the world's top-ranked team, has only one more dress rehearsal — a rematch with Chile on Tuesday in San Jose — before beginning World Cup qualifying next month in Cary, N.C.
"We've played a lot of competitive games this year for me to be able to evaluate players," Ellis said before the game. "We're further along, for sure."
Ellis' strategy was on display Friday. Eight of the 17 women who played against Chile were on the 2015 World Cup team; four others made their international debuts in the last 17 months.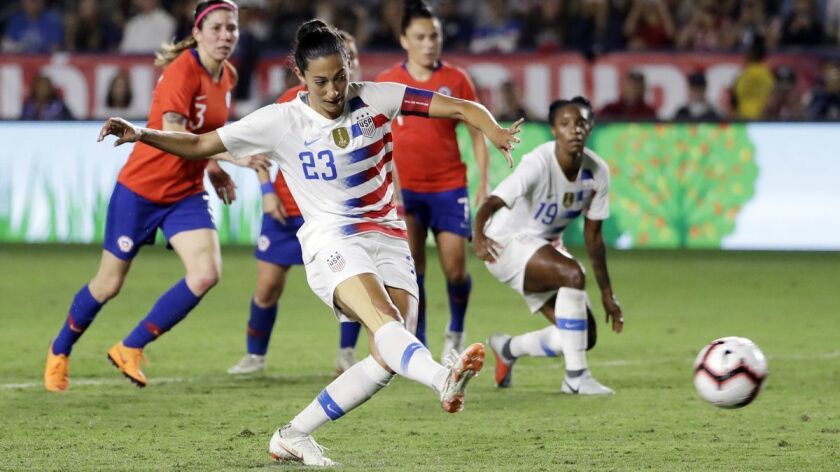 And the South Americans, who will be playing in their first World Cup next summer in France, had no answer for that blend of experience and youth.
The game wasn't eight minutes old before the U.S. went ahead to stay on teenager Tierna Davidson's first goal, a header off a Tobin Heath corner.
The U.S. doubled the lead 24 minutes later off another corner — one of 10 in the first half — when Chilean defender Carla Guerrero chested in the deflection of a Julie Ertz header for an own goal.
Christen Press, playing in her 104th game for the U.S., made it 3-0 early in the second half, left-footing in a cross from Mallory Pugh at the far post for her 45th career goal. Press had scored twice in the previous 14 minutes — on a penalty kick and a header — but referee Katja Koroleva took both goals off the board for infractions away from the play.
In addition to renovating her roster, Ellis has also switched formations, to a 4-3-3. Friday she started Heath, Alex Morgan and Press up front with the speedy Crystal Dunn, a forward with her club team, playing her 10th straight game at left back. In the second half, Ellis experimented further, moving Ertz from the midfield to central defense and going to a 3-4-3.
"We've gotten better at it," she said of the alignments. "Our attacking, our movement, it's starting to come together. But what I've known for a long time is at some point you need to make sure you have all your pieces back together so then you can start to really look at how it looks.
"We're never going to be a finished product this early. But the hope is over the next 11 months we get better and better and better."
kevin.baxter@latimes.com | Twitter: @kbaxter11
---
All about the beautiful game
Go inside the L.A. pro soccer scene and beyond in Kevin Baxter's weekly newsletter.
You may occasionally receive promotional content from the Los Angeles Times.