LAFC looks to rebound after collapse against Galaxy
A week has passed since the Los Angeles Football Club watched a three-goal lead disappear in the final 30 minutes of its loss to the crosstown rival Galaxy. Yet it all remains a blur to forward Carlos Vela.
"It's impossible to lose that game. I can't understand how we lost," he said. "The only thing I said to the team is it won't happen again."
He's probably right since it's only happened one other time in MLS history. However, LAFC faces a stern test in its potential bounce-back game Saturday when it meets Atlanta United at Mercedes-Benz Stadium, where United has gone 7-1-3 since its new home opened last September.
The match should have a familiar feel for both sides because Atlanta, a second-year MLS team, and LAFC, in its first season, have much in common.
Both entered the league under big-name coaches with World Cup pedigrees, Atlanta with Argentina's Gerardo "Tata" Martino and LAFC with American Bob Bradley. Both spent big early, building dynamic offenses around young designated players from South America, Atlanta with Paraguayan Miguel Almiron and Venezuelan Josef Martinez and LAFC with Uruguay's Diego Rossi.
Both built their defenses around rugged MLS veterans who became captains, Atlanta trading for Columbus center back Michael Parkhurst and LAFC trading for Montreal center back Laurent Ciman.
And finally, both have been successful, with Atlanta last season becoming just the second MLS expansion team in 20 years to finish with a winning record and LAFC this year becoming the only expansion in league history to win its first two games on the road.
"We didn't set out to mirror anything but [to] learn from everything that came before," said John Thorrington, LAFC's executive vice president of soccer operations. "There are certain similarities. The profile of the players, certainly some stylistic ways of playing that overlap.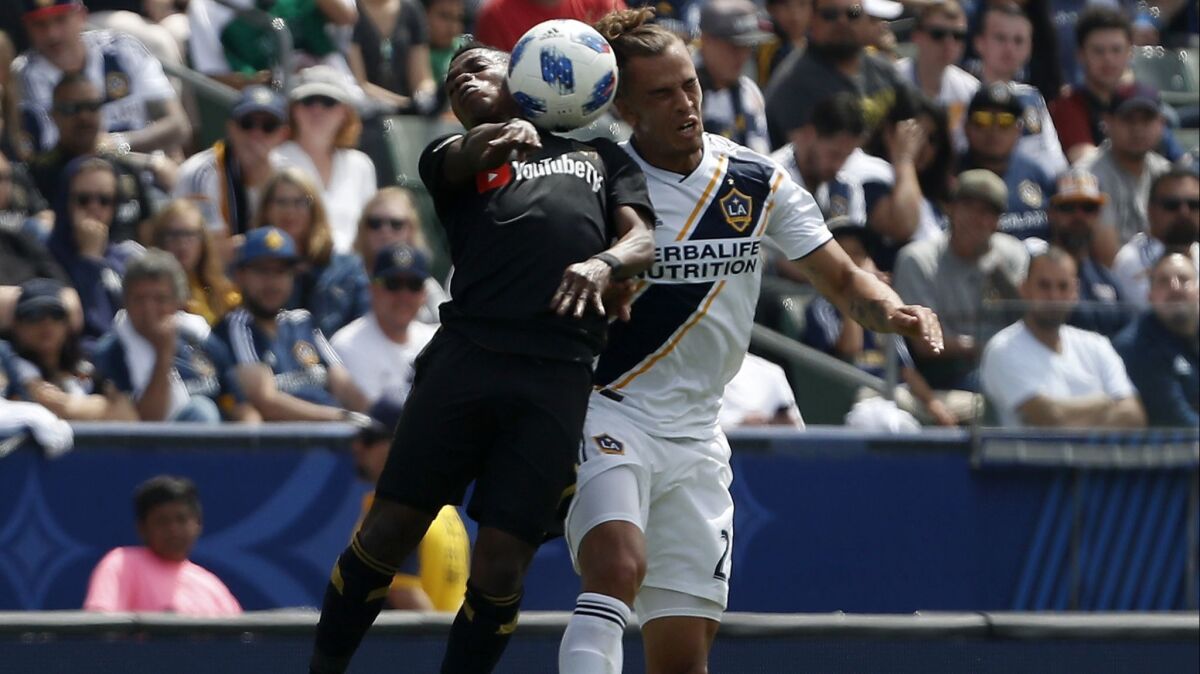 "It's flattering in a certain sense to be compared with them. But we are content with where we are."
Yet when Parkhurst looks in his team's mirror, he sees LAFC peering back at him.
"They are a team that got their head coach in place, put a system in place and came into the season prepared with a goal to be competitive from Day 1," he said. "They spent money on players. They've got a really nice stadium in the works."
Last week, Atlanta (3-1), down a man, gutted out a 1-0 win in frigid Minnesota while quick-starting LAFC (2-1) suffered a monumental collapse in a 4-3 loss to Zlatan Ibrahimovic and the Galaxy, wasting the first two-goal game of Vela's MLS career.
LAFC, Vela said, was punished for sloppy ballhandling, which set up the first Galaxy goal. The team then lost its focus, turned tentative and let the game get away, but in doing so, he said, LAFC also took a big step forward.
"Now we are a team," he said. "When you are winning, you think all is good. Like we are dreaming. But it's not real.
"Now is when we learn. We can see the mistakes. We are a new team."
Follow Kevin Baxter on Twitter @kbaxter11
---
All about the beautiful game
Go inside the L.A. pro soccer scene and beyond in Kevin Baxter's weekly newsletter.
You may occasionally receive promotional content from the Los Angeles Times.