LAFC family closing ranks behind a teammate's tragedy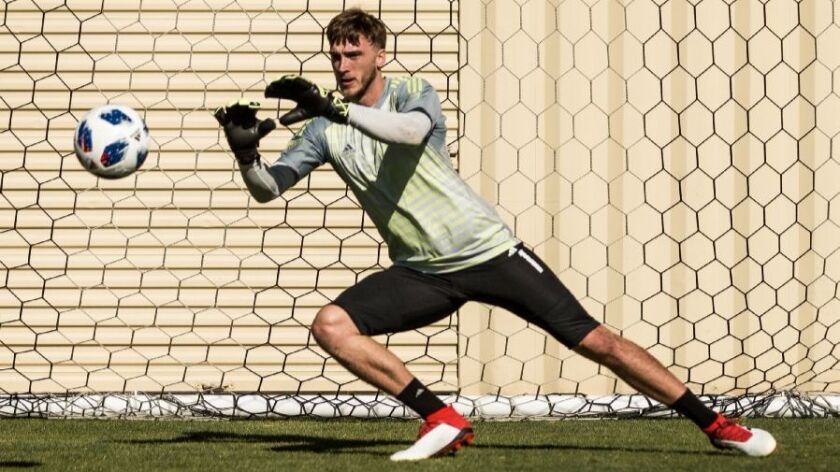 In an LAFC locker room full of leading men, Tyler Miller is a role player.
Three teammates on the first-year soccer club have been to a World Cup and two others, forwards Carlos Vela and Diego Rossi, will be paid more than $2 million this season. Meanwhile, Miller, a goalkeeper acquired in last month's expansion draft, has played in three MLS games in two seasons, giving up five goals.
Last year he was paid $65,633.40 with the Seattle Sounders, mainly because the league's rules say the team couldn't pay him less.
Yet, all those differences faded away when Miller took to Twitter two weeks ago to launch a GoFundMe campaign for his brother's fiancee, who is battling brain cancer.
"They didn't even know me and haven't seen me play a game," Miller said of the LAFC players and fans who rallied behind the cause. "It doesn't matter what your salary is or your playing experience. You're all in it together, you're all on the same team.
"Everybody is going to support everybody in the locker room. That's just the type of team we're building here."
It's a construction project that's just beginning, though, which makes the outpouring of support all the more remarkable. Miller started his fundraising project five days before the team opened its first training camp, one that started with introductions and handshakes since few of the players had met one another.
Yet, one of the first donations came from teammate Walker Zimmerman, who got members of the U.S. national team to give as well.
"It doesn't matter that it was Tyler. If it was Vela, Rossi, you pitch in for each other," Zimmerman said. "That's just part of the culture that I'm sure we hope to create; that we're there for each other on the field and off the field.
"When something serious like that happens, it's a no-brainer."
In June, Dana Puhl, the 29-year-old fiancee of Miller's brother Kyle, suffered a seizure and was put in a medically induced coma while doctors searched for a cause. When she woke two days later she heard the three words that would change her life: You have cancer.
Doctors were able to excise most of the tumor but couldn't remove it all because it rested on a sensitive part of the brain. Puhl then endured 33 rounds of radiation treatment and two rounds of chemotherapy, running up thousands of dollars in medical expenses. As a result, she started the new year with a $7,000 debt that had to be paid before new treatment could begin.
Miller started the GoFundMe page (gofundme.com/help-dana-get-through-chemotherapy), then put out the word on Twitter. But that message didn't go very far since Miller has only 1,805 followers.
So he turned to former teammates Chad Marshall, Brad Evans and Jordan Morris, who have more than a quarter-million Twitter followers combined.
"I just asked them 'hey, can you retweet this?' All I was looking for at first was a couple of thousand dollars," Miller said.
The three players also wrote checks, though, and within days money poured in from players around the leagues as well as from fan groups in Seattle, where Sounders coach Brian Schmetzer made a donation, and Los Angeles. By Monday afternoon, 12 days after the campaign started, Miller had more than doubled his goal of $7,000, the amount Puhl needed to restart her treatment.
So Miller has set a new target of $20,000, still modest but enough to fund a foundation he hopes to build with LAFC to support other families struggling with the kind of financial difficulties with which his soon-to-be sister-in-law is dealing.
"That means a ton," Puhl, whose prognosis is good, said of the support she has received. "There's been tons of people that have reached out. Seattle Sounders fans who probably never even saw Tyler play. And then we're getting tons of people from L.A. who, again, never saw Tyler play."
Because that's what a family does.
Follow Kevin Baxter on Twitter @kbaxter11
---
Get our high school sports newsletter
Prep Rally is devoted to the SoCal high school sports experience, bringing you scores, stories and a behind-the-scenes look at what makes prep sports so popular.
You may occasionally receive promotional content from the Los Angeles Times.