This could be the end for Landon Donovan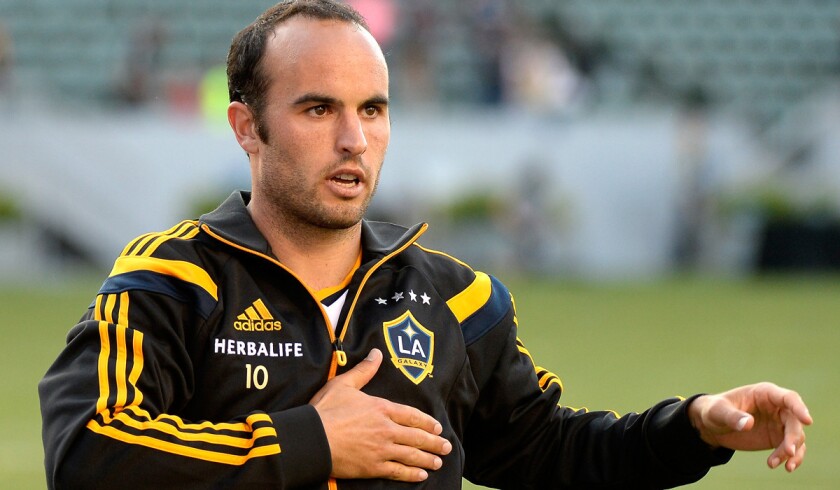 If Landon Donovan's mother had listened to her fears instead of her young son, the greatest U.S. soccer player of all time might never have stepped on a field.
"I was on the side thinking, 'Oh, I don't want him to have hurt feelings. He's the youngest one,'" worried Donna Kenney-Cash, then a single mother of three living in Ontario. But her 5-year-old continued to beg, so she helped him pull on a pair of plastic thrift-store cleats and a jersey that hung down to his knees before sending him off to play against kids nearly twice as old.
When the boy headed toward the goal for the first time, his mother ran up the sidelines behind him, offering both protection and encouragement — neither of which he needed.
"He just put it in" the net, Kenney-Cash remembers. "And then he put it in again and again. So I just kind of sat back after a while. 'Well, I guess he's not going to get his feelings hurt.'"
Donovan scored seven times that day. And he has hardly slowed since, setting records for goals and assists with both the U.S. national team and in Major League Soccer, including his 10 seasons with the Galaxy.
Ask Kenney-Cash, a 61-year-old retired special education teacher, for her fondest memory, though, and her mind races back to that Saturday in a park nearly 27 years ago. "It feels like it went fast," she says with a shake of her head.
And soon it will end. Donovan, 32, surprised the soccer world last summer by announcing that he'd retire when the Galaxy's season concludes, something that could happen Sunday at StubHub Center if the Galaxy loses its MLS playoff series with Real Salt Lake.
Whenever he departs, Donovan will leave behind more than the $8.5 million remaining on his contract and many entries in the record books. He'll also leave behind a sport that is far more popular then when he entered it, having almost single-handedly dragged soccer from the far edge of America's sporting landscape into a position of prominence during his transformative 15-year pro career.
"He's been the face of U.S. Soccer," says Galaxy President Chris Klein, once Donovan's roommate with the U.S. national team and now his boss. "You think about Wayne Gretzky and Michael Jordan. These are guys that don't get replaced. They come along once in a lifetime.
"And with Landon it's not because of everything he did on the field. It's the decisions that he made, it's everything that came along and how he lived out in front of the American soccer public. The thing that resonates with me is his failures."
If Donovan's career was defined by success, it nonetheless began with failure. In 1999, at the age of 17, he signed his first professional contract, a six-year deal with German club Bayern Leverkusen. It was a risky move because only a few U.S. players had succeeded in Europe.
And the results were disastrous for Donovan too. Unable to adapt to German culture, he grew homesick and spent much of his time in the U.S., training with youth national teams. But if going to Europe was unusual for an American teenage player, coming back was like waving a white flag and admitting you couldn't play on the world's biggest soccer stage.
Yet in 2001 Donovan convinced Leverkusen to loan him to the San Jose Earthquakes of fledgling MLS, a league whose future appeared tenuous when it lost $250 million and folded two franchises in its first five seasons.
"He never bought into the whole thing in Europe," says Bruce Arena, who has coached Donovan for 12 years, first in two World Cups with the U.S. national team and with the Galaxy, which Donovan joined in 2005. "His preference is to be at his comfort level, which is California. He did it his way."
And by doing it that way, Donovan changed U.S. soccer.
In the fall of 2001, he scored five times in six playoff games, guiding San Jose to its first MLS championship. His popularity helped stabilize a league that has doubled in size since then, with its average attendance jumping by nearly 6,000 a game to a record 19,151.
A year later, as a 20-year-old playing in his first World Cup, Donovan scored the second-half goal that closed out a 2-0 win over Mexico and sent the U.S. on to the tournament quarterfinals for the first time in 72 years.
From 1954 through 1986, the U.S. wasn't even good enough to qualify for the World Cup. In Donovan's debut, his squad was one of the best eight teams in the tournament — and American soccer was finally on the map.
"Landon made the decision to help lay the foundation and in many ways take on the burden himself to carry the sport on his shoulders," MLS Commissioner Don Garber says.
At first, Donovan was far from the ideal poster boy for U.S. soccer.
He was immensely talented, and blessed with world-class speed that made him the focus of just about every team he played on. He could also be brash and honest to a fault. And by avoiding cliches and false modesty he became a media favorite.
His brazenness made him popular with fans too. During a training session before an Olympic qualifier with Mexico, Donovan was videotaped urinating on a practice field in Guadalajara. And though the bathrooms were locked, Donovan didn't use that as an excuse, choosing instead to fan the controversy with comments critical of both the Mexican team and its fans.
"He was kind of a punk," Klein says.
Donovan agrees. "I wasn't conscious of the way I was acting, what I was saying," he says.
That has been brought back into focus by Donovan's ongoing goodbye tour, during which he has watched video clips from throughout his career. Not all those memories have been pleasant ones.
"I say things in those interviews and I look at myself and I'm like, 'What are you talking about?'" he says. "Not only are some of the things outrageous, but they're arrogant, they're mean, they're immature. That's all part of being a kid, to some extent. I wish I would have known more, to act better. It's taken me a lot of work to come to a place where I'm just a better, well-rounded human being."
His time in the soccer spotlight also included a well-publicized divorce from his TV star wife Bianca Kajlich ("Rules of Engagement"), years of therapy and a bout with depression that led to a four-month soccer sabbatical in 2013. That break probably cost Donovan a spot on a fourth straight World Cup team.
But aside from his youthful arrogance, Donovan regrets very little. Introspective and sometimes brooding, Donovan grew up in a household where intellect was far more important than athleticism. So he played the violin in grade school and was a straight-A student in high school in Redlands.
"We're all kind of inward-looking and academic," his mother says.
Kenney-Cash, who recently retired after teaching for 33 years, still lives in the neat, two-story tract home in Redlands where she raised Donovan, twin sister Tristan and older brother Josh. She and her husband Tim divorced when Donovan was 2 years old. But aside from a signed soccer ball at the bottom of a glass cabinet in the corner of the living room, there are no signs that a great soccer player once lived there.
The walls are decorated with paintings and sketches done by Donovan's grandmother and his older brother, an artist who was also a soccer standout before losing interest in the game as a teen. Upstairs, the shelves that once held Donovan's trophies and awards have been taken down, and the only pictures of him are school photos, most framed alongside pictures of his siblings.
"There's two Landons. There's the celebrity soccer star and then there's Landon the son," says Paul Cash, Donovan's stepfather. "And you don't want to combine them."
So, fittingly, Donovan turns to something other than soccer to explain his world view, invoking authors Malcolm Gladwell and Shauna Niequist. "When life is sweet, say thank you," he quotes Niequist. "And when life is bitter, say thank you and grow."
His decision to retire while still in his prime is another example of Donovan flouting the conventional wisdom. It's also something he contemplated two years ago.
After the Galaxy's last MLS title in December 2012, Donovan was exhausted after averaging a game every eight days for a decade. So he walked away from soccer — and he was roundly attacked, even after making it known that he was suffering from severe depression as well as fatigue.
"If someone's physically hurt we're OK with letting them take the time they need to come back," Donovan said. "But if someone's in a different place mentally we're not OK with allowing them to take the time they need to come back."
During his break Donovan visited with survivors of the Newtown, Conn., school shooting, spent time with family, traveled to Cambodia and played in pickup soccer games with kids. Rejuvenated after a four-month break, he returned to soccer and had perhaps the best year of his career in 2013, scoring 18 times and notching 17 assists in 34 games for club and country. He led the U.S. team on an undefeated run through the CONCACAF Gold Cup and a first-place finish in World Cup qualifying while helping the Galaxy reach the MLS playoffs for a fifth straight season.
But last spring, U.S. Coach Juergen Klinsmann, among the fiercest critics of Donovan's hiatus, cut him from the World Cup team. The folly of that decision became apparent in the Americans' first game in Brazil when U.S. forward Jozy Altidore suffered a severe hamstring strain and Donovan wasn't there to replace him. The U.S. scored just four more goals in the rest of the World Cup before bowing out in the second round.
"You learn a lot about other people. I certainly learned a lot about a select few people," Donovan says of the snub. "I allowed myself to be sad and upset and grieve and go through all those stages and then get to a place where I was able to let it be and accept it."
And now, after devoting himself to little besides soccer, Donovan is ready for the next stage of his life — though what that will be, he's not exactly sure.
He'd like to travel, he says, revisiting the places he went to as a player — only this time to see the city outside the stadiums. He wants to go to college; the son of a teacher and the twin brother of another educator, Donovan never graduated from high school, earning a GED instead. And he wants to reconnect with family.
"Tristan's a little bit anti-soccer because soccer is just something that takes her twin brother away," Kenney-Cash says. "We've kind of had to share him with the world."
In short, the most celebrated player in U.S. soccer wants nothing more than to be normal again.
"This is the right time for him to leave the game," Arena says. "He's ready for a change in his life. I think in his mind he's given about all that he can give."
Twitter: @kbaxter11
---
All about the beautiful game
Go inside the L.A. pro soccer scene and beyond in Kevin Baxter's weekly newsletter.
You may occasionally receive promotional content from the Los Angeles Times.