Column: LAFC set to open 2019 season with big expectations following its historic debut year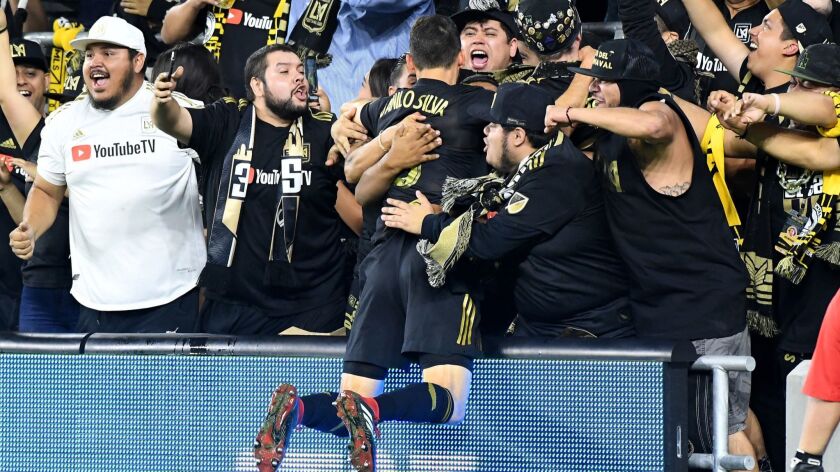 In his day job as a private equity investor with Apollo Global Management, Larry Berg rarely has the option of settling for good enough. There's always a better deal to chase, a way to improve if you're willing to work for it.
So don't expect Berg, who is also the lead managing owner for the Los Angeles Football Club, to be content with that team's first-year success.
"We've got to be bigger and better in year two," he said.
That won't be easy. LAFC set an MLS record with 57 points in its expansion season, made the playoffs and went into the final weekend with a chance to win the conference.
Off the field, the team did even better.
It sold out all 18 MLS matches at Banc of California Stadium, including the playoffs; it was selected by Fast Company as one of the world's most innovative companies; its president, Tom Penn, was the L.A. Sports Council's executive of the year; and executive vice president Rich Orosco was named the marketing executive of the year by MLS, which also gave the front office awards for its work on corporate partnerships and business analytics.
But LAFC lost in the first round of the playoffs and Berg said the team has to do better this season, which kicks off at home Sunday against Sporting Kansas City.
"There's always pressure to have a great encore when you have a great first season," Berg said between halves of a recent preseason exhibition at Banc of California. "As far as I'm concerned, the goal is to win the MLS Cup. And the ultimate goal is to win" the CONCACAF Champions League.
"We didn't get close last year. So there's a ton of room for improvement."
Sign up for our daily sports newsletter »
Berg believes the foundation for that improvement has already been laid. LAFC opened 2018 with most of its players together for the first time. But the roster coach Bob Bradley brings back this year includes 12 of the 14 men who started more than a dozen games last year as well as the players who were responsible for all but eight of the team's goals — among them captain Carlos Vela, an MVP finalist after leading the team with 14 goals and 13 assists, and Diego Rossi (12 goals, nine assists).
Now the team has added Colombian center back Eddie Segura, welcomed midfielder Mark-Anthony Kaye back from season-ending ankle surgery, and seen the confidence of defender Walker Zimmerman and forward Christian Ramirez grow following successful stints with the U.S. national team.
"That causes Bob to start immediately from a higher level," Berg said. "But I don't think that's really because it's first year versus second year. I just think it's sort of natural when you have a lot of players back. So yeah, we are taking it very seriously from the very beginning."
Bradley agrees, saying last season's success was just the beginning of a journey that will resume Sunday.
"Trying to go from one season to the next, to find ways to improve, I don't think there's anything out of the ordinary," he said. "You have nothing. You make a team. As you go through the season, you keep trying to find ways to improve and become better.
"The good thing here is, we all feel good with the direction that we're going, the find of football we play, the identity of our club. Now as you go from one season to the next, you're trying to go further. So it's not about maintaining. We didn't win [in 2018]."
LAFC is improving on other fronts too. The youth academy has grown to four age-group teams, for example, and the stadium has added two new club spaces and additional concession items.
At the same time, some fans walked away from the team when season-ticket prices went up, and last season's final game — a home playoff loss to Real Salt Lake — was marred by fans who shouted an anti-gay chant and threw debris on the field, causing a lengthy stoppage in play.
"You're thinking not only in terms of going from one season to the next, but you are trying to think beyond the next year or the next two years or whatever to a bigger picture of how we continue to build our club," Bradley said. "At any given time, you've got two big challenges: You've got the challenge always with the group you have to become the best team to try to win the league. That's what you do every year.
"And then there's the bigger part of saying, over time, we're going to continue to build our club with our philosophy, with our identity, with our ideas so that now there's something that really takes hold. So we're always trying to do both."
For Berg, a big part of that is pushing the team in the community. Although LAFC sold out every game in its inaugural season and its stylish gold-and-black Art Deco crest has proven a popular seller on hats and team apparel, he says the team is still fighting for a place in Southern California's crowded and diverse sports landscape.
"We're still the new kid on the block," said Berg, who has degrees from both the Harvard and University of Pennsylvania business schools. "Los Angeles is an extremely large place, and the vast majority of people are still learning about us and learning about our culture and sampling it.
"We have a very long way to go."
LAFC ROSTER
Goalkeepers
Tyler Miller, Phillip Ejimadu, Pablo Sisniega
Defenders
Lamar Batista, Steven Beitashour, Tristan Blackmon, Mohamed El-Munir, Niko Hamalainen, Jordan Harvey, Dejan Jakovic, Eddie Segura, Danilo Silva, Walker Zimmerman
Midfielders
Eduard Atuesta, Alejandro Guido, Andre Horta, Mark-Anthony Kaye, Lee Nguyen, Peter-Lee Vassell
Forwards
Latif Blessing, Shaft Brewer Jr., Adama Diomande, Adrien Perez, Josh Perez, Christian Ramirez, Diego Rossi, Carlos Vela, Rodolfo Zelaya
kevin.baxter@latimes.com | Twitter: @kbaxter11
---
All about the beautiful game
Go inside the L.A. pro soccer scene and beyond in Kevin Baxter's weekly newsletter.
You may occasionally receive promotional content from the Los Angeles Times.