Column: From high school star to elite pro, Mallory Pugh is a shining example for change in U.S. Soccer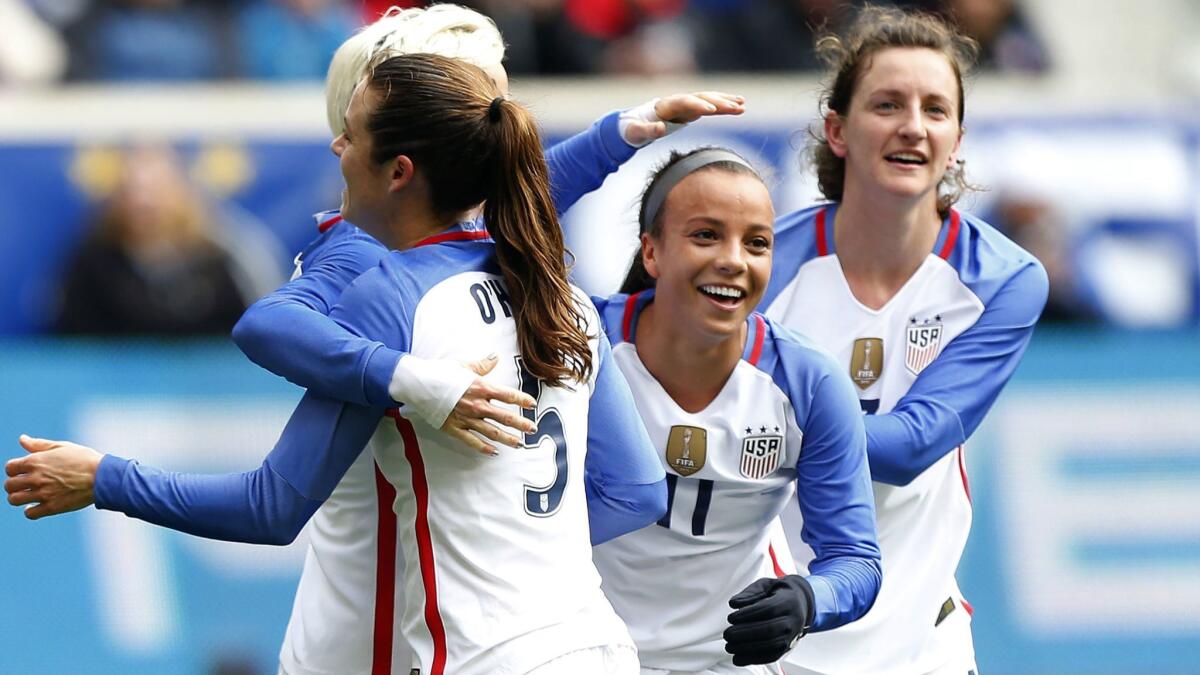 Mallory Pugh smiled.
"It's funny," she said.
There's plenty that America's next soccer star finds funny. That's how she described the Olympics being more competitive than the Under-20 World Cup. She used the phrase when recalling her troubles enrolling in an online college course.
In this particular instance, she was talking about returning from a sprained knee ligament to train with the U.S. women's national team for the first time in more than four months.
"It takes a couple trainings to get back into that speed of play," Pugh said.
The U.S. takes on Chile in an exhibition match Friday at StubHub Center as part of its final preparations for the World Cup qualification tournament next month.
If the 20-year-old Pugh was part of any previous generation of players, she would have encountered greater difficultly playing her way back into shape. She might have been balancing practice and schoolwork as a third-year student at UCLA, budgeting her time as Michelle Akers, Mia Hamm and Abby Wambach once did at their respective colleges.
Instead, Pugh has spent this month reintegrating herself with the Washington Spirit of the National Women's Soccer League, gradually increasing her minutes over a five-game stretch. The leap from the professional NWSL to the national team is significant, but nowhere near as significant as it would be from college soccer.
Pugh has a contract with U.S. Soccer. The explosive and creative attacker has endorsement deals with Nike, Gatorade and Neutrogena. The fact she was able to skip college and turn professional after high school is an example of how the growth of women's soccer is providing opportunities for female players that previously didn't exist.
The flip side is that Pugh is a once-in-generation talent who made her first appearance for the senior national team as a high school senior. Her case is unique, and the reality is that collegiate competition remains an integral part of the American soccer system.
That system, which once placed the United States at the forefront of women's soccer, is now in danger of becoming outdated. If avenues to earlier professionalism aren't opened for more players, the U.S. program's dominance on the world stage will further erode.
"I think creating this pathway for a high school graduate who wants to go pro is something we really have to focus on and come up with a strategy for," U.S. coach Jill Ellis said.
That's because other countries have started investing more money in their women's soccer program. Their player development systems have been made in the image of their men's programs, meaning it's not uncommon for a teenager to be on a professional roster.
Women's teams overseas are often funded by big-money men's teams. The list of quarterfinalists in the Women's Champions League last season included names familiar to followers of the men's game: Lyon and Montpellier of France, Chelsea and Manchester City of England, Barcelona of Spain, Wolfsburg of Germany and Slavia Praha of the Czech Republic.
The effects are clearly visible. The U.S. failed to reach the knockout rounds of the Under-20 World Cup, which was staged earlier this month in France. Every player on Spain's championship team had ties to a professional club. Not a single American player had that distinction.
"We've never won an Under-17 World Cup," Ellis said. "I think a lot of that is because you look at players at 15 and 16 in England, they are in a professional training ground. It's more common there because it's more common on the men's side. So I think these countries that have tremendous cultures of soccer, it's the norm."
Ellis has nothing against the college game. She used to coach at UCLA.
Pugh's initial plan was to attend UCLA after graduating from high school in Colorado in 2016. She postponed her enrollment until January 2017 so she could play in the Olympics, as well as the U-20 World Cup.
"I think just the whole year of 2016 … that just really opened my eyes," Pugh said.
She attended UCLA for a quarter, after which she decided that she had to leave school to become the player she wanted to be.
"I went to school and I loved going to class and stuff," she said. "But when I would leave to go into camp, trying to manage the classload and national team camp, it's a lot. I was like, 'I need to choose on what I want to focus on.' "
Her status as the LeBron James of women's soccer prospects opened doors for her. As an allocated player, her NWSL salary was being covered by U.S. Soccer. Major brands courted her for endorsement deals.
Pugh's path to becoming a professional wasn't nearly as drastic as the measure taken by midfielder Lindsey Horan, the only other national team player to bypass college.
Horan, who committed to North Carolina, signed with Paris Saint-Germain of France after graduating from high school in 2012. In the three years she spent with PSG, Horan was exposed to a brand of soccer that emphasized technical acuity and tactical awareness over physicality.
Pugh and Horan said early exposure to the professional game accelerated their development.
"It's the speed of play," Pugh said. "It's the physicality. It's the intelligence of the players that you're playing against and with. I think there's a professionalism on the field, but definitely off the field, too. That's probably the biggest difference, off the field."
Horan added, "I think me and Mal, it was kind of our route. That doesn't mean that it's for everyone."
In other words, there's still a place for college soccer. Some players develop later. There are also examples of this on the men's side, where playing professionally is viewed as a prerequisite for stardom. Clint Dempsey, though, played at Furman University and went on to become a standout attacker in the English Premier League.
For the sport's chosen ones, however, there's no substitute for playing at the highest level possible — provided the opportunity exists. Pugh had to be identified as a special player, which is why she was made one of the 20 or so allocated players in the NWSL. She couldn't have played in the league otherwise, as only players who have exhausted their college eligibility or are on the verge of graduating are eligible for the draft. Horan's option isn't much more open, as most teams overseas have limits on how many foreigners they can have on their rosters.
A possible solution can be found in Major League Soccer. The men's league created a program in 1997 that was designed to sign top high school and college players. Select players were offered generous salaries, as well as money to continue their education. Nike first sponsored the initiative, which has since been supported by Adidas.
Perhaps U.S. Soccer could partner with the NWSL to fund a certain number of developmental contracts each year that would offer enough financial compensation to essentially buy top players out of their college scholarships. If they can't do that, they have to think of an alternative. The world's catching up to the United States and about to pass it.