Column: Dutch treat: Increased investment in women's game paying off
Lieke Martens was voted the best women's soccer player on the planet last year and her Dutch national team is ranked ninth in the world. Yet neither might ultimately prove good enough to qualify for next summer's Women's World Cup in France.
For Martens that isn't a sign of poor timing or bad luck as much as it is progress in her sport.
"The game's getting smaller and smaller," she said. "Every single game can be really exciting. In Europe especially a lot of countries have progressed. The level of women's football is getting higher and higher."
The Netherlands, the reigning European and Algarve Cup champion, as a result must win a four-team playoff beginning Friday to qualify for the 2019 World Cup. The U.S., the defending World Cup champion, begins its own eight-team, 13-day qualifying tournament a day earlier against Mexico in Cary, N.C.
The top-ranked U.S. has failed to win its qualifier just once, but nothing is guaranteed against a field that includes No. 5 Canada and two other 2015 World Cup teams in Mexico and Costa Rica.
"It's a little bit naïve that we're going to just show up and win," said U.S. coach Jill Ellis, whose team was eliminated in the quarterfinals of the last Olympics, marking the first time the Americans failed to reach the gold-medal game.
There are several reasons for the growing parity in women's soccer, starting with money. Although spending on the women's game is just a fraction of a fraction of what's spent on the men's side, several European superclubs have begun taking investment in their women's teams seriously.
English club Manchester City built a separate 7,000-seat stadium for its women's team, which shares the sprawling $430-million Etihad Campus training facility with the men's team. And Spain's Barcelona, which last year paid Martens a reported $236,000, brought its women's team to the U.S. with its men's squad for a summer friendly this year.
Barcelona, of course, reportedly pays Lionel Messi more than $236,000 every 2½ days. And the women's team flew coach while the men's club rode business class on the team charter. But it's a start.
"It's getting more equal," Martens said. "[Clubs] see also that it's necessary to get women and men a little bit closer. This is a first step. We're moving in the right direction."
In other countries, societal attitudes that dissuaded women from playing soccer are breaking down. Last year Mexico's Liga MX launched an 18-team women's league and its first championship match in November drew a record crowd of 32,466.
"It's like a huge big pot of fertile soil. We've just got to put a seed in," said Ellis, who grew up in England in the 1970s, when organized soccer was not widely available for girls. "Then there are some countries that don't have fertile soil; that have rocks and hard things to grow through and it takes time."
Ellis names the Netherlands and Spain, which made their Women's World Cup debuts three years ago, as programs that have had noticeable progress.
"To me these countries have suddenly become major players on the world stage," she said. "They have all the pieces in place; it's just a matter of time."
Each time a club like Barcelona or a league like Mexico's or a national program like the Netherlands or Spain improves, Ellis said, it pulls other women's teams along with it.
"It's ignorant to not think other countries aren't going to be competitive and strong and good," she said. "Iron sharpens iron. It's going to force us and demand of us to continue to grow and be better. It's great for the women's game."
Martens, who is 25, agrees. When U.S. forward Alex Morgan was in grade school she wrote a note to her mom saying she wanted to be a professional soccer star like her idols, national team players Kristine Lilly and Mia Hamm. When Martens started to play as a 5-year-old, soccer wasn't a career option for girls in the Netherlands.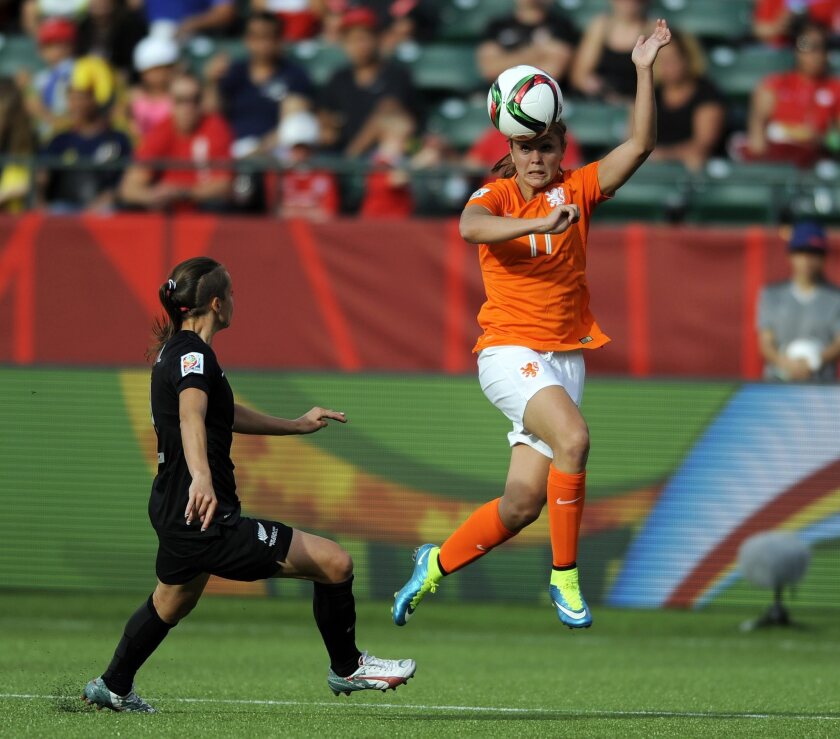 In the small town where she lived, even playing against girls wasn't an option. Which is why Martens played against boys until she was 16. Until she was 13, she was frequently the best player on the field.
"I had a totally different way than the girls in the U.S.," she said. "I had talent. I wanted to do something with it. It's better to play [against] the boys. They got bigger, stronger, faster so I couldn't take five touches anymore. I had to do it with two or three because they were physical.
"I learned a lot."
Women's soccer in the Netherlands has grown in part because of that, following up on its Women's World Cup debut in 2015 by qualifying for the U-20 world championships for the first time this summer, when the Dutch reached the quarterfinals.
Now little girls in Holland can grow up not only aspiring to play professional soccer but also to be, like Martens, the best in the world.
"It's cool now that I can be a role model," she said. "Even parents, they are more excited that their daughters are going to play football. They can see that women's football is cool.
"Before it was 'maybe it's better to play hockey or tennis or another sport.' Football is more common."
kevin.baxter@latimes.com | Twitter: @kbaxter11
---
All about the beautiful game
Go inside the L.A. pro soccer scene and beyond in Kevin Baxter's weekly newsletter.
You may occasionally receive promotional content from the Los Angeles Times.