Column: Why coach Bruce Arena and the U.S. players are so optimistic after tying Mexico
Reporting from MEXICO CITY —
A draw is soccer's way of separating the optimists from the pessimists.
You didn't win, but you didn't lose either. You dropped two points, but you earned one.
So is the glass half empty or half full?
For the U.S. national team, there's no debate. After Sunday's 1-1 tie with Mexico in a rainy and raucous Estadio Azteca, the newly optimistic Americans came away believing their glass was overflowing.
Not only did they earn a point in a place that has been a notoriously difficult venue for visitors, but they remained unbeaten on the year, took another big step up the qualifying ladder and positioned themselves to win a spot in an eighth consecutive World Cup when the CONCACAF tournament resumes in September.
Less than three months ago the U.S. was winless and last in the qualifying table. But after beating Trinidad and Tobago and drawing Mexico, earning four points in the last five days, the team has caught second-place Costa Rica, which plays Trinidad and Tobago on Tuesday.
"I feel good about where we are," coach Bruce Arena said. "We've made up some lost ground."
They've also become a team, the players say.
"We've grown," goalkeeper Tim Howard said. "Everybody's here to play minutes. Important minutes. I don't think that was always the case. Certainly not in my time.
"You had a few passengers. This team doesn't have any passengers."
Arena said he noticed that Sunday as well. Although his bench was full of players who wanted to play, no one sat, no one sulked and no one was silent.
"The players who weren't on the field were very supportive of their teammates. My experience with the national team, this is critical," said Arena, who has more wins (74) than any coach in national team history.
"Most of these players will disappear until September. So these bonds they've acquired over the last four games [are] very important. I'm optimistic that we can be better in the next two games of qualifying."
There's that word again. And the players say Arena, who replaced Jurgen Klinsmann as coach after the U.S. dropped its first two qualifiers last fall, is responsible for instilling that faith.
To rescue the qualifying campaign, Arena didn't build a new team; 11 of the players who played in the November qualifiers also played in this month's two qualifiers. Instead, he told those same players what he wanted and made sure they understood how to achieve it.
Take Sunday's lineup, which featured an unusual five-man backline and four players who started the night having played fewer than 50 minutes for the national team this year. Arena said even members of his own coaching staff were uncertain of that strategy.
But he shared the game plan with the team at the start of training camp two weeks ago, then rehearsed it even while preparing for last week's game with Trinidad and Tobago. As a result the players took the field comfortable and confident, which wasn't always the case under Klinsmann.
"Sometimes with Jurgen you wouldn't know until the day of the game. It's just stressful," center back Omar Gonzalez told reporters Sunday night. "So with Bruce taking that kind of approach here, it's been helping out a lot."
Arena is not known as a master tactician. For him, Xs and O's are primarily letters of the alphabet. But Arena has few rivals when it comes to building a team and getting everyone to buy into his approach.
When David Beckham played for the Galaxy, he said Arena was one of the best coaches he had ever worked with in terms of managing people and personalities and getting the most out of every man. That's high praise coming from a guy who played under Alex Ferguson, Fabio Capello and Carlo Ancelotti.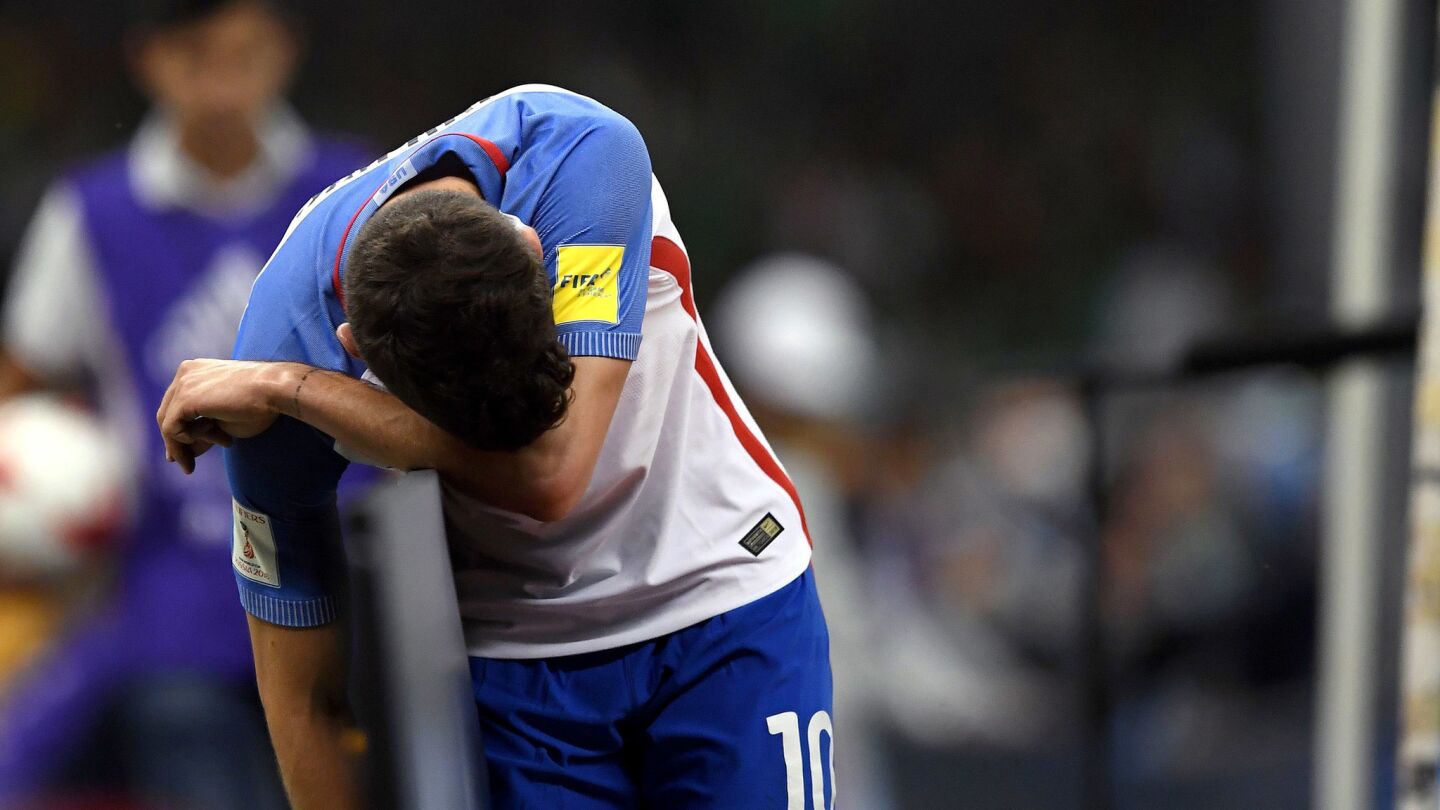 U.S. forward Christian Pulisic reacts after missing a goal opportunity against Mexico on Sunday.
(Alfredo Estrella / AFP / Getty Images)
Mexico's Marco Fabian tries to volley a pass under pressure from U.S. defender Tim Ream.
(Eduardo Verdugo / Associated Press)
American defender Omar Gonzalez (3) tries to clear the ball against Mexico's Hirving Lozano.
(Rebecca Blackwell / Associated Press)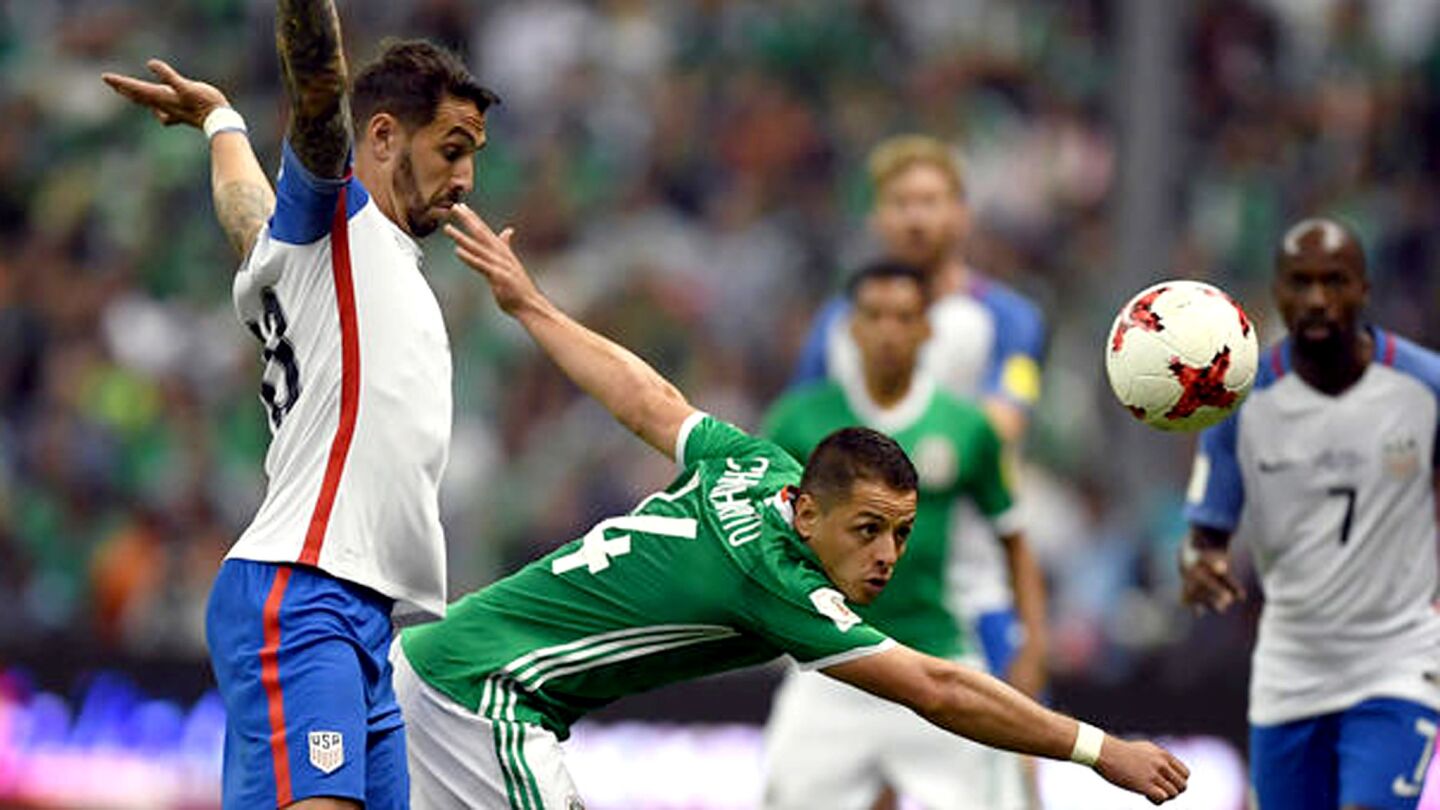 U.S. defender Geoff Cameron pulls up as Mexico forward Javier Hernandez tries to receive a pass.
(Alfredo Estrella / AFP / Getty Images)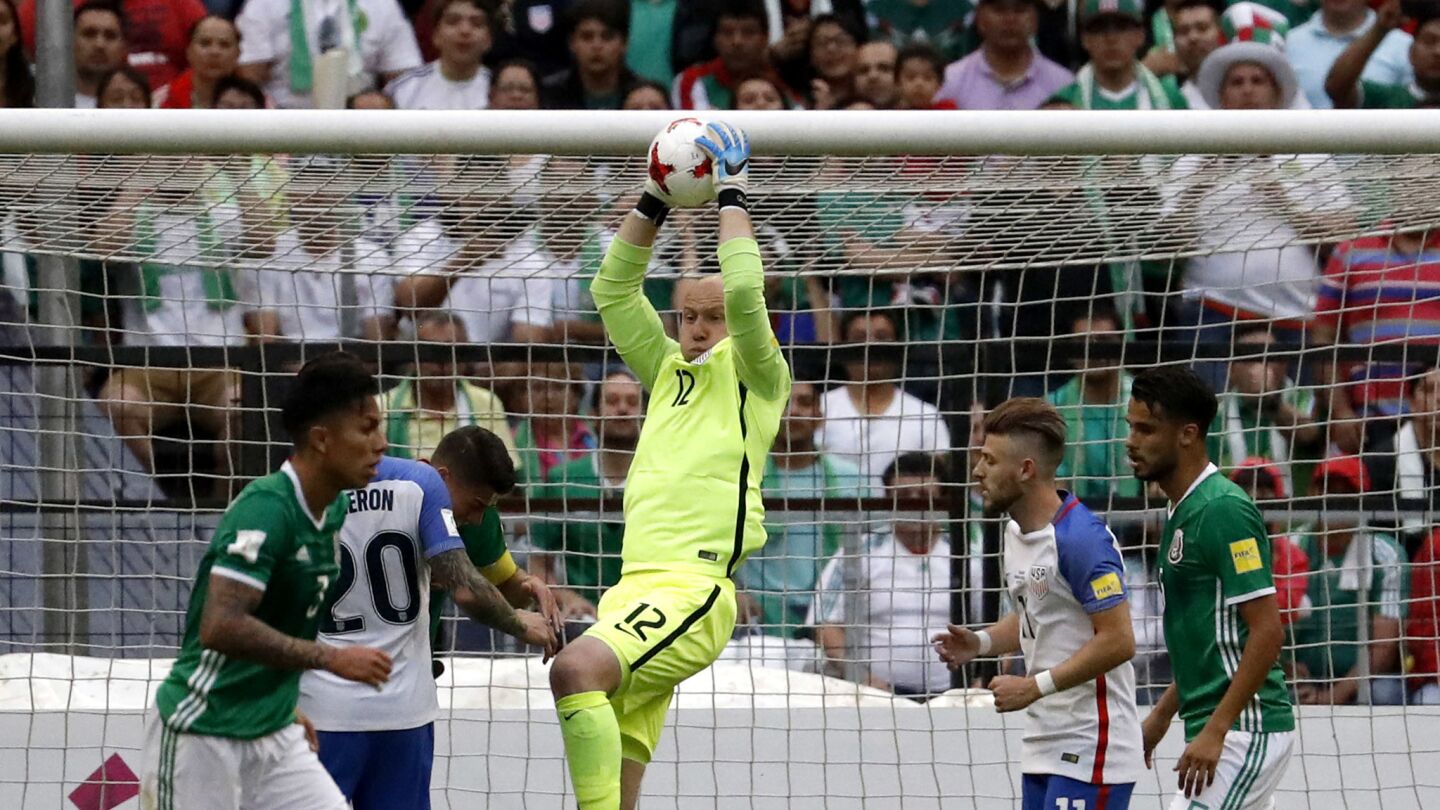 American goalkeeper Brad Guzan grabs the ball after Mexico made a pass into the penalty box Sunday.
(Eduardo Verdugo / Associated Press)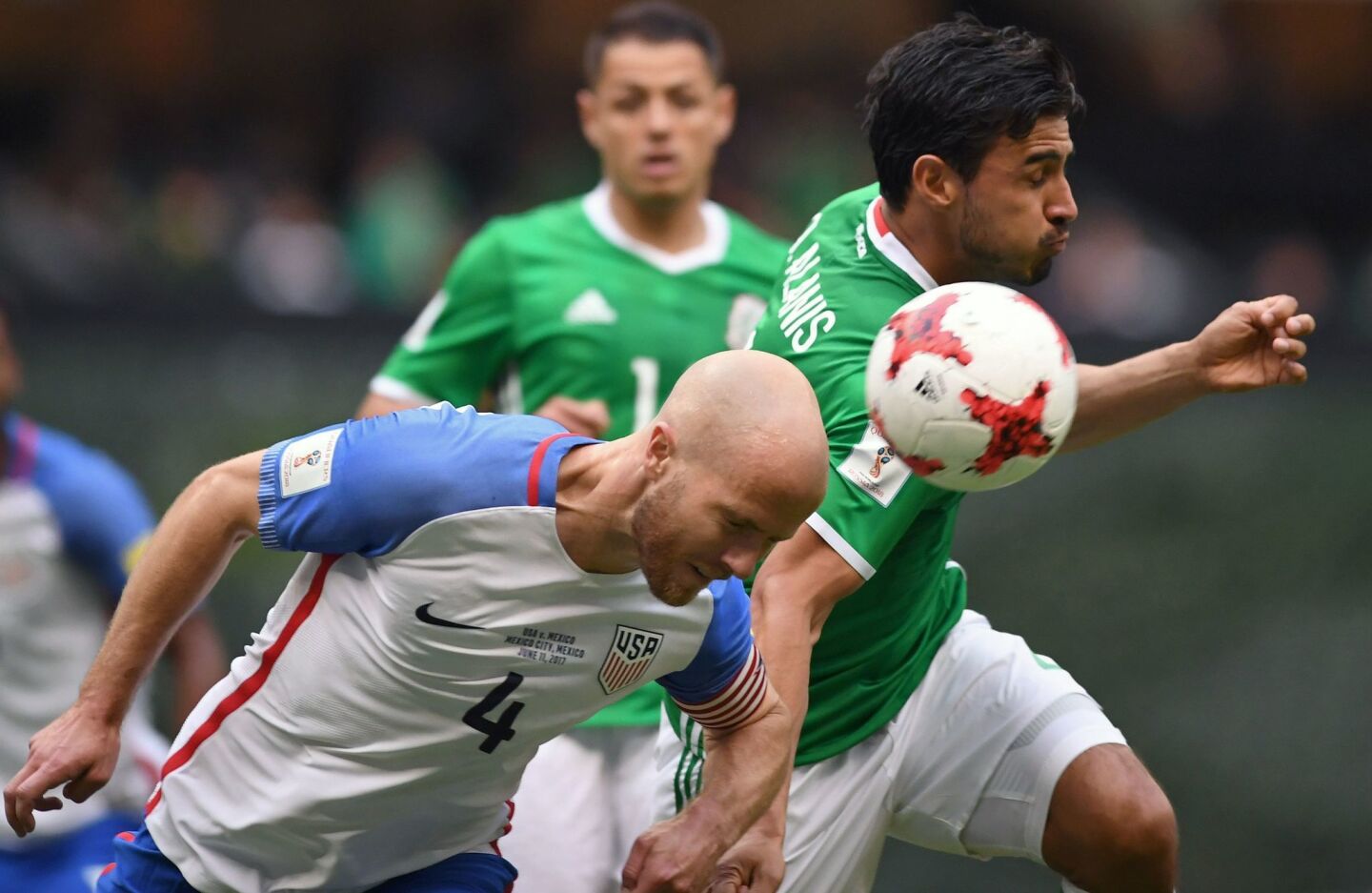 U.S. midfielder Michael Bradley tries to head the ball away from Mexico's Oswaldo Alanis.
(Alfredo Estrella / AFP / Getty Images)
Mexico's Carlos Vela sends a free kick over the U.S. wall of defenders and into the goal to tie the score in the first half.
(Rebecca Blackwell / Associated Press)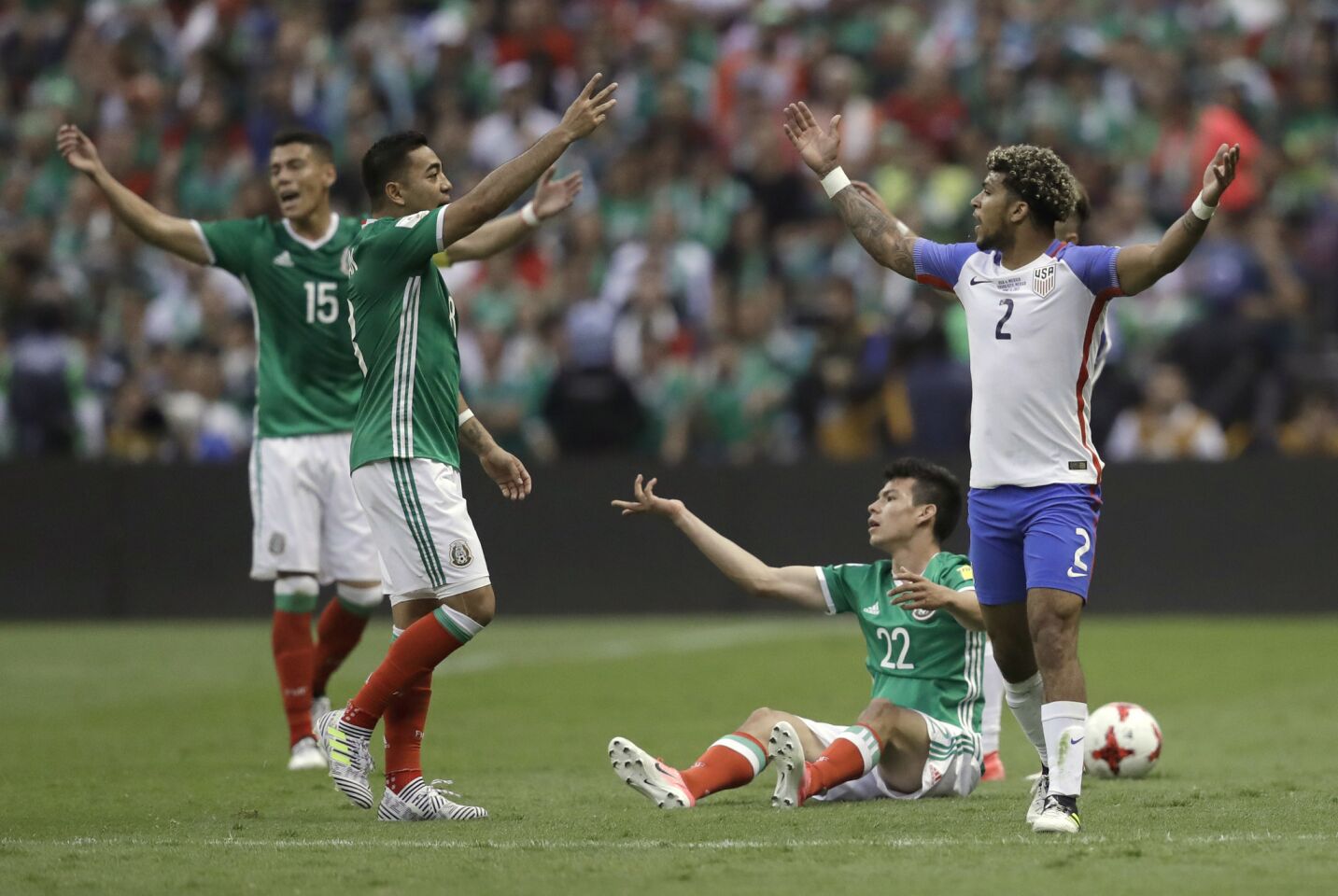 Mexico players react to a foul committed by DeAndre Yedlin of the U.S.
(Rebecca Blackwell / Associated Press)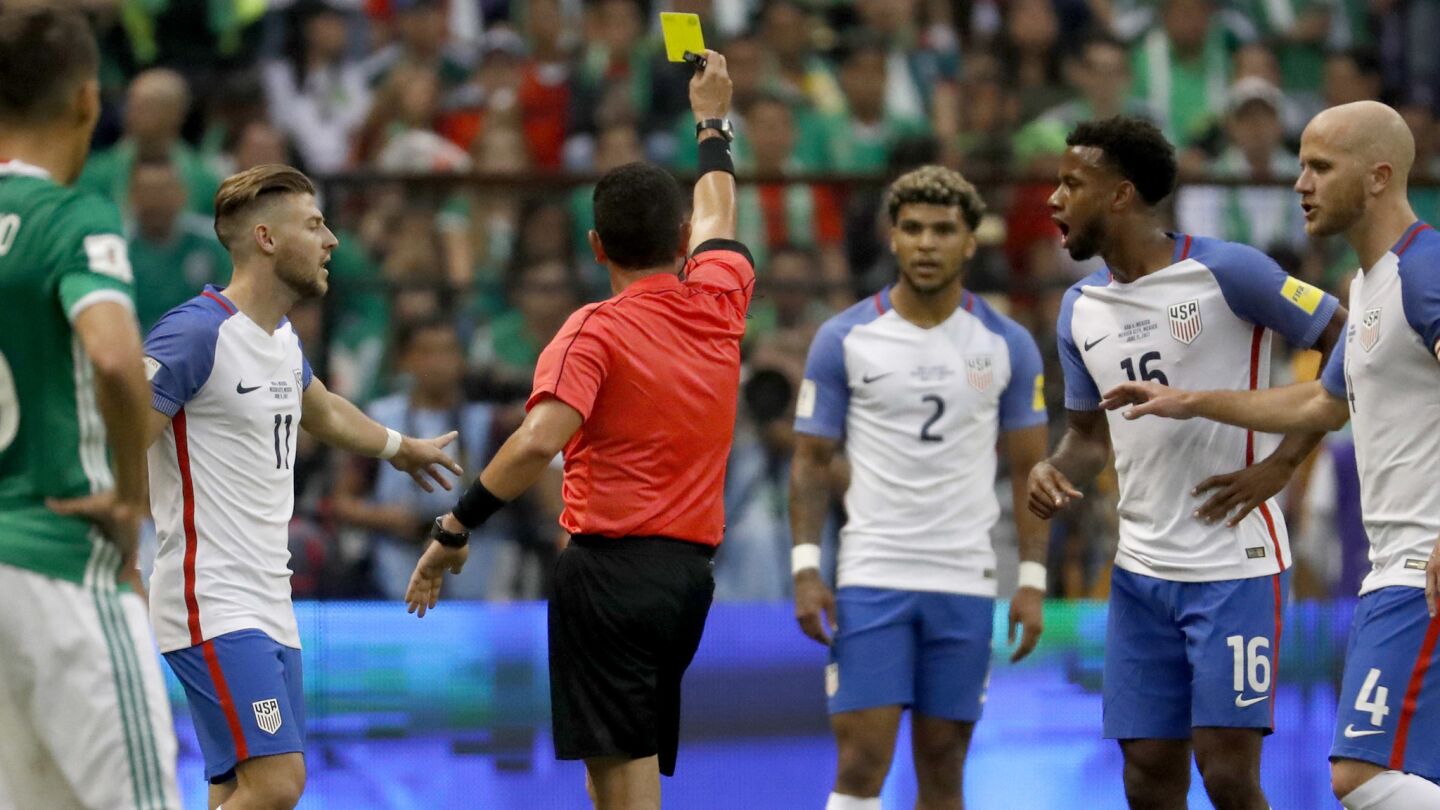 Referee Joel Aguila shows a yellow card to United States defender DeAndre Yedlin (2).
(Eduardo Verdugo / Associated Press)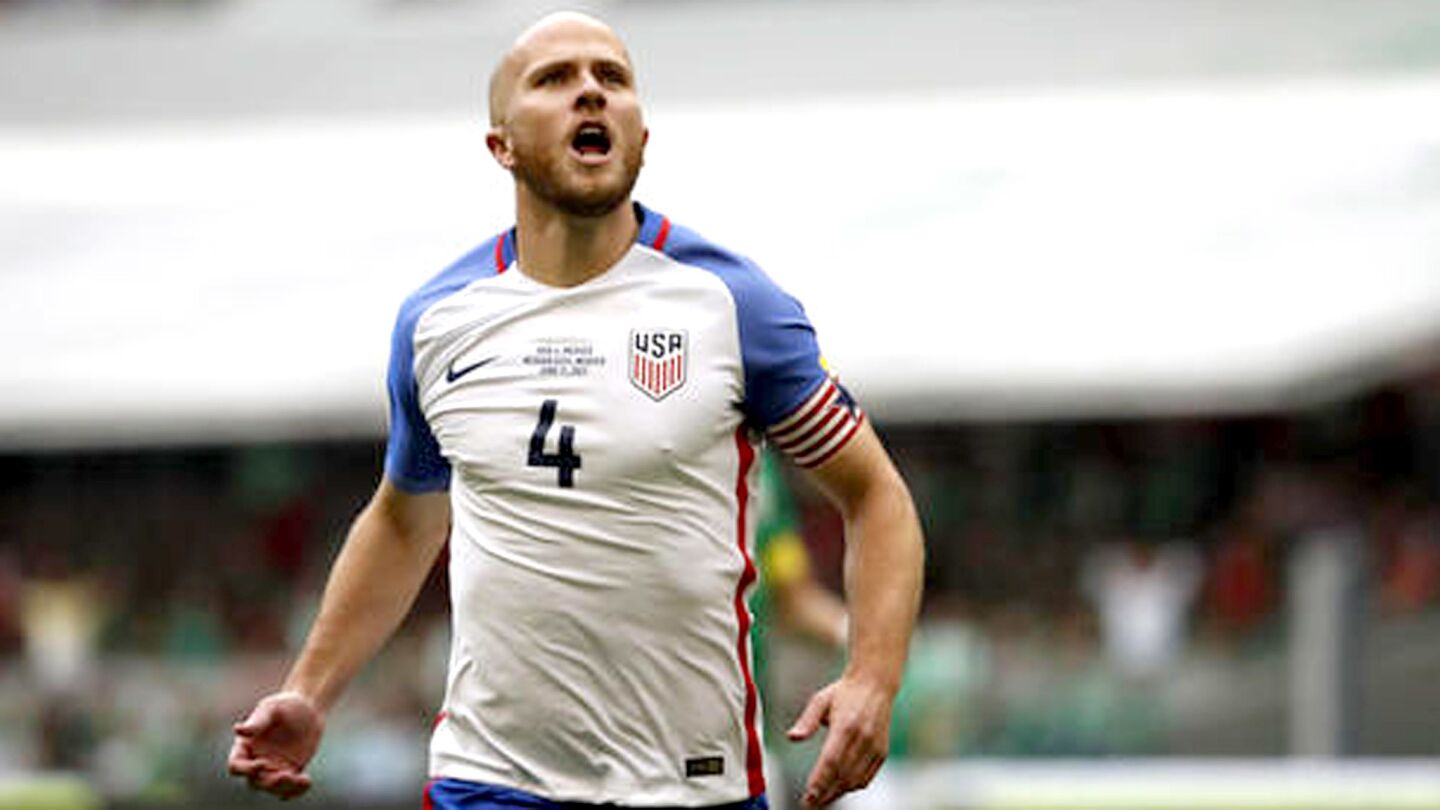 American midfielder Michael Bradley celebrates after scoring against Mexico on Sunday.
(Eduardo Verdugo / Associated Press)
Fans of Mexico listen to their national anthem before the start of the game Sunday.
(Alfredo Estrella / AFP / Getty Images)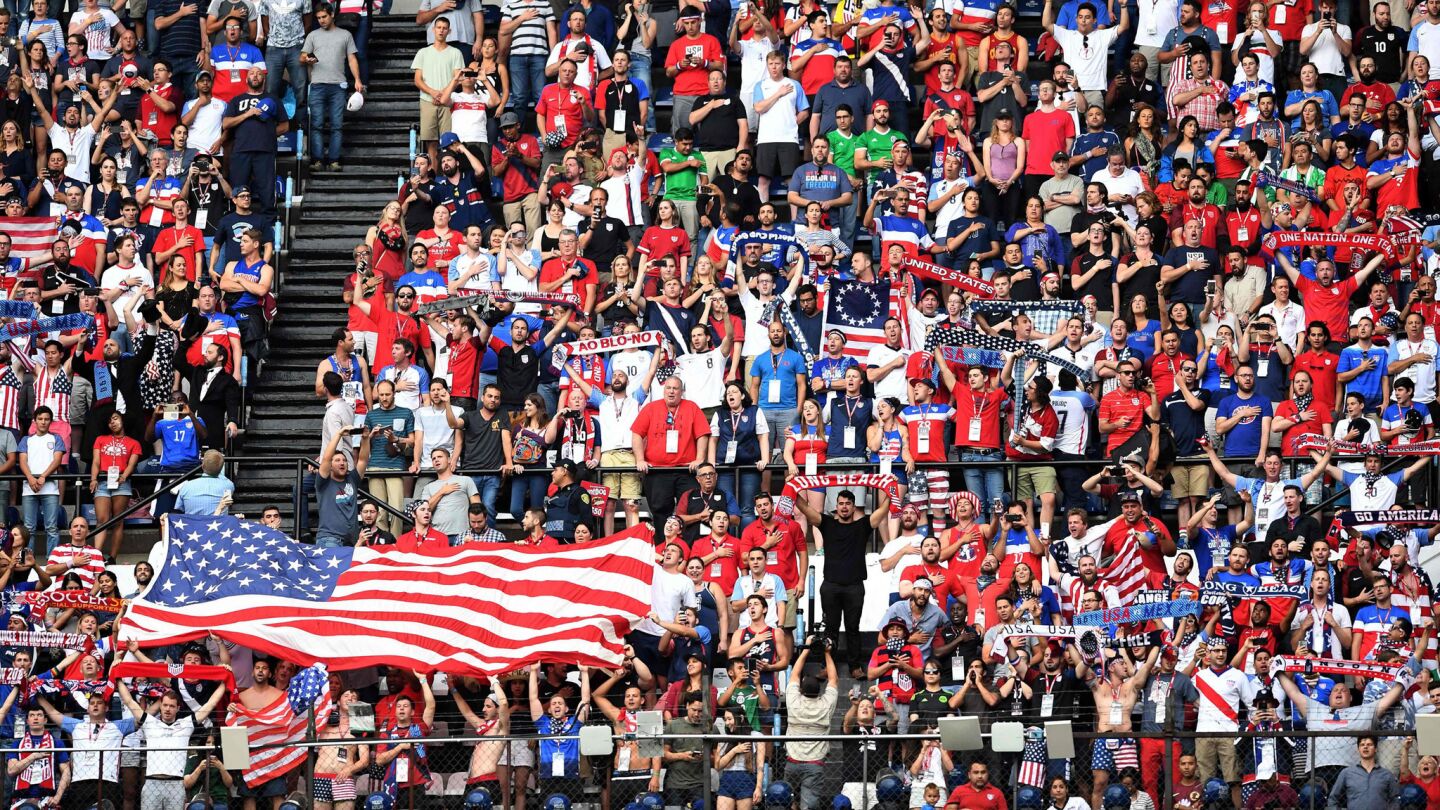 American fans listen to the national anthem before the start of the World Cup qualifier Sunday.
(Alfredo Estrella / AFP / Getty Images)
U.S. captain Michael Bradley, who made his national team debut under Arena in 2006, tapped into the same vein, saying Arena's greatest contribution over the last six months has been more inspirational than strategic.
"At the end of last year, a lot of little things started to drop," he said. "When we get that right, there aren't too many teams in the world that are going to have an easy day playing against us. But if a few too many areas start to come down … we're going to start to put ourselves in some difficult spots.
"Bruce has done a very good job of coming in and, just little by little, working at raising the level across the board. And obviously a big part of that is this idea of team, of spirit, of mentality."
Even though Arena has raised the bar, the U.S. has more climbing to do. In the two decades since CONCACAF adopted the six-team hexagonal format for qualifying, it has taken at least 14 points to finish third in the standings and earn an automatic World Cup invitation. That leaves the U.S., with eight points after six games, needing six more from its final four matches — a schedule that includes home games with Costa Rica and Panama (neither of whom the Americans have beaten during this hexagonal) and a difficult trip to Honduras, where the U.S. lost four years ago.
After Sunday's draw, however, the players are more than optimistic they can do that. They're convinced.
"We're a good group, we're a close group and I think that showed," goalie Brad Guzan said. "To get four points out of these two games, it puts us back where we want to be. We want to be sure we continue this momentum."
Twitter: kbaxter11
---
All about the beautiful game
Go inside the L.A. pro soccer scene and beyond in Kevin Baxter's weekly newsletter.
You may occasionally receive promotional content from the Los Angeles Times.