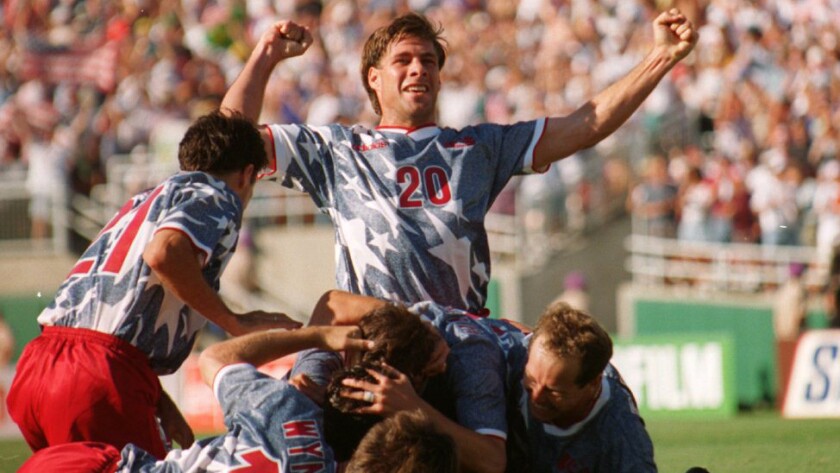 Paul Caligiuri huddled his Orange County FC squad around him, lowering his booming voice on the eve of the team's fourth-round U.S. Open Cup meeting with the Galaxy.
"Whatever challenges you faced to get to this stage in your soccer careers has been incredibly amazing," he told them, trying to plant confidence in his players ahead of the biggest game in the amateur club's brief history. "This journey, up to this point, has been incredibly amazing for me."
Caligiuri has traversed the pinnacle of the sport many times. In 1989, he scored the "Shot Heard Round the World" goal that sent the U.S. to its first World Cup in 40 years. He earned 110 caps with the national team. And after a distinguished playing career in Europe and MLS, he was inducted into the National Soccer Hall of Fame.
Yet, the Open Cup run he has orchestrated as coach of OCFC this season is counted among his top personal highlights. Even if the club is eliminated by the Galaxy on Wednesday, reaching the latter rounds of the competition represents a important achievement to the national-team legend.
"I think that's the most enjoyment I get," Caligiuri said, "is to give back to these guys, of what I do know and my experiences."
In three years as the club's coach, he has helped turn OCFC into an example of what's possible for lower-level soccer. He hopes it will be a larger part of the sport's future in America.
"This is the minor league system, without being professional," he said. "It's yet to be structured. And now we're discovering it. It's very clear that it's real and there's talent there."
Caligiuri retired from playing with the Galaxy in 2001 and, before landing the OCFC post, hadn't coached since a stint at Cal Poly Pomona from 2002 to 2008. Others of his stature might've balked at a fourth-division job. But after Caligiuri took up OCFC owner Nader Desbakhsh's offer to return to the touchline, his impact quickly became evident.
"The first season, we're driving up to the very first game" in Arizona, Desbakhsh recalled. "We did not have a good preseason. Driving up there, I'm thinking, 'My God, it's going to be a blood bath.'"
Instead, the team earned a 0-0 draw, then won its home opener the next week, 7-0.
"That was it, I believed," Desbakhsh laughed. "Since then there's no looking back, the team has grown and every year we've done better and better."
It's hardly a glamorous job, though. Amateur clubs such as OCFC can often resemble an island of misfit toys. Most players at that level were either overlooked or cut out of the country's traditional — and oft-criticized — development model built around pay-to-play club teams and scarce NCAA scholarships. Many of Caligiuri's players have full-time day jobs.
"We have this huge growth, and competitions, within the amateur ranks," Caligiuri said. "It's just now how we build the infrastructure to funnel players upward."
Now at ground zero of those efforts, Caliguiri sees the potential. Already, three of his former OCFC players have earned professional contracts. And this year's squad might be his most talented. To get to the fourth round of the Open Cup, it defeated two second-division USL opponents.
"It's honestly been unexplainable," said forward Michael Bryant, who has been with the club since its inception in 2017. "It's like the best feeling in the world. … We're just out here doing it for the love of the game."
OCFC's success, Caligiuri hopes, will serve an example of his bottom-up approach, a key campaign platform in his unsuccessful bid last year to become U.S. Soccer Federation president. To strengthen America's talent pool in the sport, which has come into question following the country's failure to qualify for the 2016 World Cup, he thinks clubs like OCFC could cultivate a new class of talent.
In many of his players, Caligiuri sees himself. Long before he became interwoven in the fabric of American soccer, he, too, was unsure of his future while chasing a dream. With the right development, he hopes players like his become the newest threads of the sport's tapestry in this country.
Helping them get there has become his way of giving back to the game that's given him so much.
"This is something I truly enjoy," he said. "Helping players at all levels."
---