Column: Championships give Cristiano Ronaldo the edge over Lionel Messi as the greatest of all time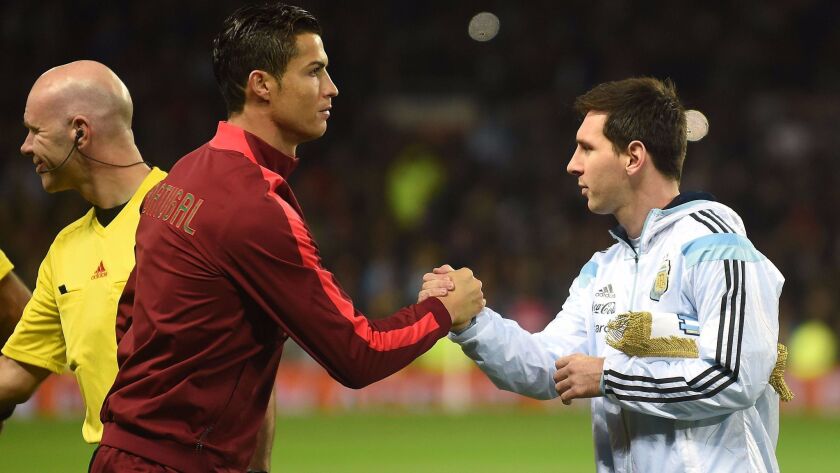 This is really embarrassing, but I have a confession to make. For years I've used this space to hail Lionel Messi as the world's best soccer player.
Consider this declaration I wrote in 2012: "He is, simply, the best soccer player of all time."
I wasn't alone in that assessment.
"For me," former Barcelona teammate Isaac Cuenca said at the time, "he is the best ever."
Chelsea's Cesc Fabregas, then with Barcelona, agreed. "We have never seen anyone like him," he said.
And just last month Barcelona Coach Luis Enrique called Messi "the best player in the history of the game."
Just one problem.
We were all wrong. Because for all his skill and accomplishments, time has proved Messi to be no better than the second-best player in the Spanish league, much less in soccer history. The true GOAT is Messi's La Liga rival, Cristiano Ronaldo of Real Madrid.
And the reason why is simple: While Messi, a five-time world player of the year, has been winning accolades, Ronaldo has been winning championships.
His hat trick in a 3-0 semifinal win over Atletico Madrid last week has Real Madrid on the doorstep of a third Champions League final in four seasons. The return leg is scheduled for Wednesday at the Bernabeu.
Should Real Madrid win the tournament next month, it would be Ronaldo's third crown since 2014, to go with two FIFA Club World Cup trophies. Last summer he helped Portugal to its first European Championship. And, halfway through UEFA World Cup qualifying, he has a tournament-high nine goals for a Portuguese team that has lost just once in five games.
Messi's record over that same span? One Champions League title, a FIFA Club World Cup title and back-to-back losses to Chile in the Copa America final. Argentina didn't score in 240 minutes in the two games with Chile and Messi missed his tiebreaking penalty kick following the second match.
Argentina didn't score in the last World Cup final either, losing to Germany in extra time, 1-0.
That's five major tournament finals for club and country in four years and Messi's team is 2-3, having been held scoreless in the three losses.
As for the next World Cup, Argentina (6-4-4) is in a nonqualifying fifth place after 14 games in the South American tournament. And eight players have more goals than Messi's four.
But, while Messi seems to be slowing seven weeks before his 30th birthday, Ronaldo, 32, is getting better with age. He, too, has played in five major tournament finals for club and country since 2014 and in those five finals he had four goals and a game-winning penalty kick.
His team won all five championships.
In fairness, Argentina did make it to the World Cup final in Brazil and Messi was named the tournament's best player. In the same event, Ronaldo scored just once as Portugal bowed out in the group stage.
But Messi has arguably had the better supporting cast, both with Barcelona and his national team.
With Barcelona, his plays alongside Neymar, Luis Suarez and Andres Iniesta, while Argentina features Angel di Maria, Sergio Aguero and Gonzalo Higuian.
Aside from Ronaldo, a four-time player of the year, the biggest names at Real Madrid are Gareth Bale and James Rodriguez, neither of whom had started more than half the team's games entering the weekend. And Portugal's roster is even thinner, which means Ronaldo often has to take matters into his own hands, as he did in last week's Champions League semifinal.
With Bale and Rodriguez both on the sidelines, Ronaldo scored three times — each goal exquisite in its own right — for the 42nd hat trick of his Real Madrid career. That gave him an astonishing 103 goals in Champions League play, nine more than Messi, though Ronaldo has played in 24 more games.
As Henry Winter observed in the Times of London, "it is getting to the stage where Ronaldo goals are weighed rather than counted."
Messi or Ronaldo? Ronaldo or Messi? It's like choosing between Ryan Gosling and Ryan Reynolds to open your movie. Would you rather have Jennifer Lawrence or Emma Stone?
You can't go wrong either way. Same with Messi vs. Ronaldo. So is it really necessary to rank them?
But if you do, put Ronaldo on top.
Twitter: kbaxter11
---
All about the beautiful game
Go inside the L.A. pro soccer scene and beyond in Kevin Baxter's weekly newsletter.
You may occasionally receive promotional content from the Los Angeles Times.