Her surreal journey: From a horrific car crash to modeling to the Women's World Cup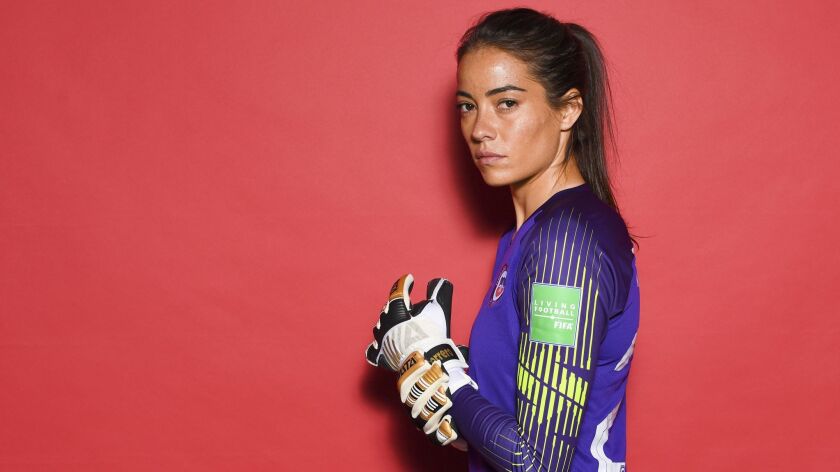 Reporting from paris —
Ryann Torrero's journey to the Women's World Cup began in the back of an ambulance.
After a short stint playing soccer in Switzerland and with a couple of second-division teams in the U.S., Torrero returned to Southern California three years ago to look for something better. The decision nearly cost her her life.
On a drive home from practice, a driver abruptly swerved in front of her, causing an accident that ended with Torrero's car barrel-rolling down the 101 freeway in Camarillo.
"Everything shattered everywhere," said Torrero, who suffered head, back and hip injuries. At 25, her career as a goalkeeper seemed over.
"I couldn't stand for more than 10 minutes," she remembered Saturday. "It was really difficult. When you work for something your whole life and you identity with it, it feels like losing a limb.
"It may as well be."
That turned out to be the beginning, not the end, of a trip that has taken Torrero, a Burbank native, to Paris and the Women's World Cup, where Sunday she'll be standing on the field before the U.S.-Chile game singing the national anthems of both countries.
Torrero will be in uniform for Chile, her mother's homeland. And she acknowledges she only recently learned the words to the Chilean anthem. But she said the moment will be special for her and her parents, who will be at the game.
"It's really powerful and quite emotional," said Torrero, who politely declined to be interviewed in Spanish, preferring English instead. "You grow up in the USA, you grow up playing for the U.S. national team. You dream of playing what you know. [But] I really do feel I have those two identities. It's going to be pretty surreal to be able to sing both national anthems, to feel an emotional connection to both."
It would take a major catastrophe on the Chilean side for Torrero to get into the game. The team's starting goalkeeper, Christiane Endler, is one of the best in the world. Torrero, the third-choice keeper, has yet to earn her first national team cap.
That, however, seems like a minor detail given the rest of the story.
The accident that shattered Torrero's car crushed her psyche as well, robbing of her of both her playing career and her livelihood as a goalkeeper coach for a series of youth clubs.
She tried modeling, which paid the bills. But something was missing.
"I couldn't fight the itch of wanting to play again," she said.
So she stepped up her rehab and contacted Carlos Marroquin, a former coach who was technical director and owner of the Santa Clarita Blue Heat, a team that played in the second-division United Women's Soccer league.
"He was kind of the starting point for me," Torrero said.
Marroquin gave Torrero a spot on the roster, one that already included Venezuelan Deyna Castellanos and Brazilian Aline Reis. At the end of the season, Castellanos finished third in the voting for FIFA's women's player of the year award, while Reis also is in France as a backup keeper for her country.
Sign up for our weekly soccer newsletter »
The year before she left for Europe, Torrero had played in a second-division league for the LA Strikers. One of her teammates, Rachel Daly, is now on England's World Cup team.
"The second division is something that's not talked about a lot. But it's a great developmental league," Torrero said. "Some of the best college players, who then go on to become some of the best players in the world on the professional level, play in this summer league."
It proved to be a stepping stone for Torrero too. After a season with the Blue Heat she was picked up by the Chicago Red Stars of the NWSL, where she played with U.S. national team members Alyssa Naeher, Julie Ertz and Morgan Brian. But her big break came last winter when Marroquin, aware that Torrero's mother was Chilean, called an agent friend to see if the national team needed help.
A tryout was quickly arranged and Torrero nailed the audition. What started with a life-changing car accident had turned into … well, let her tell it.
"Tomorrow is the thing that dreams are made of," Torrero said Saturday. "I get to identify and stand with a country that I love. And I get to play against a country that I love too. It's the perfect pairing [and] something that I'll carry with me my whole life.
"I'm thankful for these opportunities. And how things come around in life."
kevin.baxter@latimes.com | Twitter: @kbaxter11
---
All about the beautiful game
Go inside the L.A. pro soccer scene and beyond in Kevin Baxter's weekly newsletter.
You may occasionally receive promotional content from the Los Angeles Times.