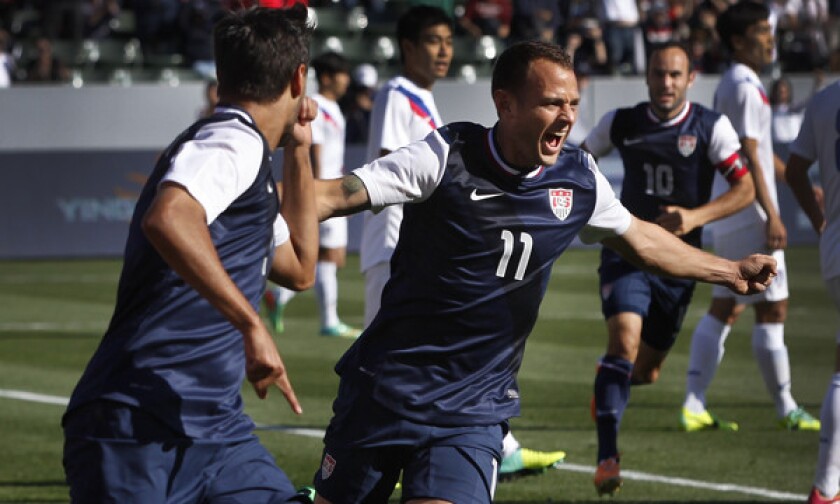 Michael Parkhurst was still playing in the German Bundesliga in December when the pairings for this summer's World Cup were announced. And he remembers few of his teammates at FC Augsburg felt the need to hide their feelings about a draw that placed powerful Germany in the same group as the U.S.
"Guys on the team were talking about the group and I just got the feeling that, basically, they still don't think that we can get a victory against a team like Germany in a World Cup," says Parkhurst, who played all 90 minutes for the U.S. national team in Saturday's 2-0 exhibition win over South Korea at StubHub Center.
That's a common view in Europe, where U.S. soccer still has trouble earning anything more than grudging respect. And it's a view of which Parkhurst and the rest of the national team have grown tired.
"I think it's a chip on everybody's shoulder," he says. "We still have a lot of people to show, even people in our own country that we have to convince that we've made progress and can be a force in the World Cup."
Some of that progress became apparent — outside Germany anyway — the day of the World Cup draw when the U.S. was put in a group that included not only Germany but Portugal and Ghana. It was immediately labeled the tournament's "Group of Death," and for Landon Donovan, who played in three previous World Cups, the designation was recognition of how far the U.S. has come.
"The reason it's the 'Group of Death' is also because we are in it," he said "In the past it would have been an easier group for Germany, Ghana or Portugal because it had us in it. Now, because we're in it, it makes it one of the most difficult groups in the tournament."
Sure, the U.S. has won as many as two games in a World Cup only twice. And it has lost more than three times as many World Cup games as it's won since 1990. But, in Donovan's view, the Americans can no longer be looked at as an easy three points. Not while they're ranked 14th in the world and are coming off a 16-win season that included victories over Mexico, Germany and Bosnia-Herzegovina.
"Unquestionably, there's more respect and the way we keep earning that is by doing well in these tournaments," Donovan says. "So it's another step for us."
Baggio Husidic, Donovan's Bosnian-born teammate with Major League Soccer's Galaxy, agrees.
"It's a tough [team] to play against," Husidic, who spent the last two seasons with second-division Swedish club Hammarby, says of the U.S. squad's reputation in Europe. "They view them as a hardworking team, a team that not a lot of teams want to play. It's such an athletic and physical group. I wouldn't say people fear playing the U.S. But I would definitely say they would rather avoid playing the U.S.
"They've definitely got a name now."
That momentum makes this summer's World Cup a key moment for U.S. soccer, one that could go a long way toward determining the sport's near-term future in this country.
The team the U.S. takes to Brazil will be the deepest and most experienced national team ever. And with a starting lineup that could average 30 years of age, it could be one of the oldest in the tournament too.
It's also possible more than half the team, including as many as six starters, will come off MLS rosters, the largest number of players the league has contributed since 1998 and a contribution made possible by a flood of U.S. players returning from Europe.
When midfielder Maurice Edu joined the Philadelphia Union last week on loan from England's Stoke City, for example, he became the sixth player in the national team pool to return from Europe to MLS since July.
So given the depth, age and domestic nature of the roster, a stirring performance in what probably will be the final World Cup for Donovan, Clint Dempsey and Tim Howard would not only be a boon in U.S. Soccer's quest for respect, but it would also raise the profile and prestige of MLS.
Anything less, such as the sometimes-lackluster effort a U.S. team short several starters turned in Saturday, could rob both the national team and the league of important momentum.
Parkhurst, who left Augsburg this winter to play in MLS with the Columbus Crew, says the U.S. team will go to Brazil confident and eager to prove it can not only play with the likes of Germany, but can beat them too.
"We have a ways to go. We're a good team, but we're not there yet," he says. "But we all think that we have just as good a chance of beating them as Portugal, as Ghana, anybody."
kevin.baxter@latimes.com
Twitter: @kbaxter11
---