Soccer is Baggio Husidic's sanctuary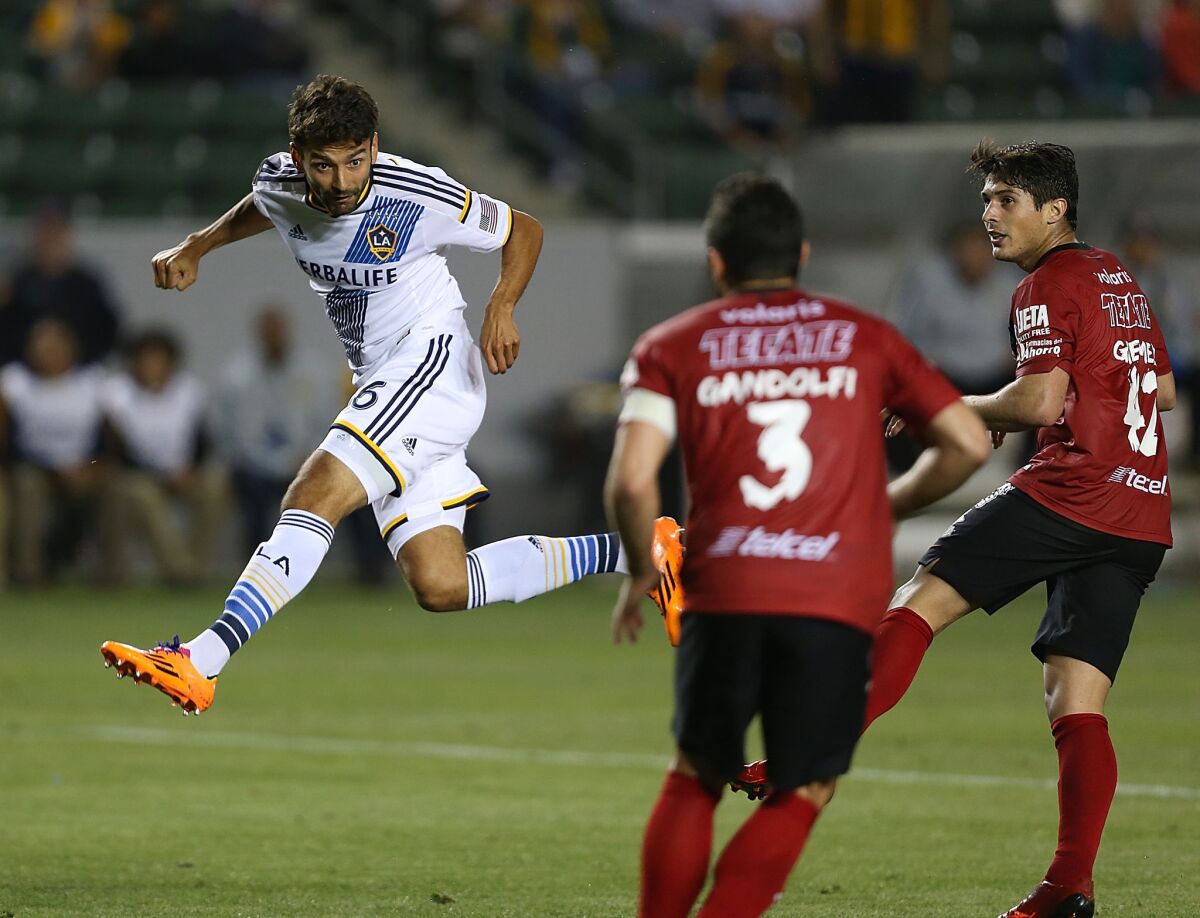 Maybe it was the emotion of the moment. Or the difficulty of trying to find the right word in his third language.
Either way, when Galaxy midfielder Marcelo Sarvas likened last month's Champions League series with Tijuana to a war, teammate Baggio Husidic could only shake his head.
Husidic has experienced a real war. Trapped between competing armies in his native Bosnia, Husidic and his family fled for their lives, abandoning their comfortable home for a squalid refugee camp.
And they were among the lucky ones. Nearly 100,000 others died in the fighting and the ethnic cleansing that accompanied it; most of the dead were Muslim, like the Husidics.
"It was a genocide," he says. "People just don't want to call it that."
For Husidic, those memories have faded, but they will never disappear. And that's colored the way he approaches soccer, which may be his profession but remains just a game.
"A guy that's been through what he's been through, soccer's the joy. Soccer is the sanctuary," says Galaxy associate coach Dave Sarachan, who has known Husidic since the player was in high school. "When you have that kind of an experience, it balances out your perspective.
"That all has sort of translated into Baggio. He knows what bad stuff looks like … and appreciates the opportunity to play and get paid for it and do something you really love."
Husidic will get $90,000 from the Galaxy this year, a bargain price for a smooth, experienced 26-year-old midfielder who made 50 appearances for Major League Soccer's Chicago Fire before spending the last two years with Hammarby, a second-division Swedish club.
The investment is already playing off for the Galaxy, with Husidic scoring once in four starts and solidifying a diamond midfield that has been reconfigured to get the ball to striker Robbie Keane. Husidic headed a beautiful ball to Stefan Ishizaki on Saturday, picking up the assist on the Galaxy's first goal in a 2-2 draw in Vancouver.
"He has good vision, and he see things early," Sarachan says. "He plays in a positive fashion. His first touch is usually forward. It's not backward, it's not square.
"He's technically very good and plays quickly."
Most of all, though, Husidic plays with an uncommon desire and enthusiasm. That, too, is a product of a past in which, as a frightened 6-year-old, he came to see a soccer pitch as a place where he could escape for two hours, a place where his talent left him in control and where no one could hurt him.
"For me, soccer was a getaway," he remembers. "It made me feel equal to the people around you."
Husidic's family fled the killing fields of Bosnia nearly 20 years ago, first for Germany, where they survived on food assistance, then for the U.S., where they lived in government housing.
It was a sobering experience for Husidic's parents, Zarif and Zemira. In Bosnia they were accountants who owned a shopping center and drove luxury cars. But when they arrived in Chicago, they were penniless and couldn't speak the language.
"They were definitely scarred," Husidic says. "But they did an amazing job hiding things from me and my brother. They took in a lot of the damage."
For their youngest son, soccer proved to be the only currency or language he would need to fit in.
"Before high school, I was probably better than most other kids. And that's [when] the kids care more," says Husidic, whose birth name is Adis. His father, a former professional player, called him Baggio after former Italian World Cup star Roberto Baggio.
Soccer also got Husidic into the University of Illinois at Chicago, where he was an All-American — a fitting honor since Husidic had become an American citizen just two years earlier.
It was there that Husidic began to put the war behind him. Among the players on the team his freshman year were two Serbians, a Bosnian and a Croat whose backgrounds placed them on both sides of the bloody Bosnian conflict. But Husidic refused to let that define them.
"We got along," Husidic says. "The way I look at it is, it's the person that I care about not where they're from."
His parents also adapted quickly. Although their college degrees meant little in their new homeland, Zarif landed a construction job, and the family quickly climbed out of poverty, going from government housing to a series of one- and two-bedroom apartments in often-seedy neighborhoods before eventually buying a six-bedroom house in an affluent suburb north of Chicago.
The world has moved on too. This summer Bosnia and Herzegovina, the country the civil war gave birth to, will play in a World Cup for the first time. Husidic wasn't asked to try out for the team, but he'll be watching on TV. And he's not ashamed to say his World Cup loyalties will be divided.
"Obviously I consider myself Bosnian because I was born there. But I also consider myself an American because I spent most of my life here," he says. "How would you base it? Is it where your family's from or what kind of culture you like the most?
"So it's a question many people would have different answers to. I'm born Bosnian. But I'm American."
Twitter: @kbaxter11
All about the beautiful game
Go inside the L.A. pro soccer scene and beyond in Kevin Baxter's weekly newsletter.
You may occasionally receive promotional content from the Los Angeles Times.