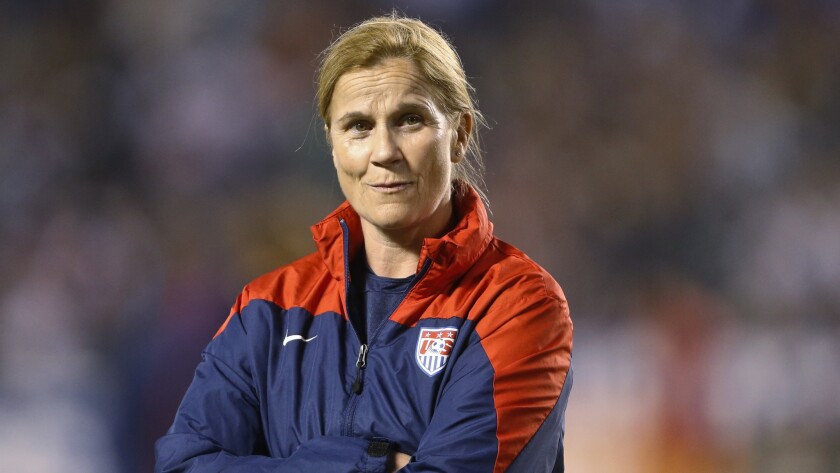 The toughest rival stalking Jill Ellis and the U.S. women's national team isn't Germany, France or Brazil. It's the clock.
Because with less than four months to go before the World Cup, the U.S. coach suddenly finds herself with more problems than solutions. And the clock, relentless and inextricable, continues to tick away.
Last week's two-game European trip was supposed to be a confidence-building step forward for a struggling U.S. team. Instead, the Americans did little more than march in place, getting outplayed in a 2-0 loss to France before escaping Friday with a 1-0 win over England that just as easily could have been 1-0 the other way.
So continued a streak of lackluster performances for a team that has won just two of its last six games, its longest skid in nearly four years and one that knocked the U.S. out of the top spot in the FIFA world rankings for the first time in nearly seven years.
But rather than fearing the pressure, Ellis insisted she is embracing it.
"Me coming into this environment, I know the expectations," she said during last month's training camp. "And you've got to relish it."
Yet the concerns she's now facing may go deeper than just the results on the scoreboard.
The U.S. was without four key starters — goalkeeper Hope Solo, midfielder Megan Rapinoe, defender Christie Rampone and forward Sydney Leroux — in Europe. And it showed.
Yet it's unclear when, or if, it will get them all back.
Solo was suspended last month after her husband, former NFL player Jerramy Stevens, was arrested on suspicion of driving a team van while intoxicated. Solo can seek reinstatement this week, but U.S. Soccer officials say her return is far from guaranteed despite the fact her replacement, little-used Ashlyn Harris, looked unsteady at times.
As for Rapinoe and Rampone, both missed the trip because of injury, Rapinoe with a strained knee and Rampone with a bad back, while Leroux was named to the roster but didn't suit up because of a sore ankle. That continued another negative trend for the U.S., which only recently got forward Alex Morgan back from the second of two severe ankle injuries.
But even Morgan's return hasn't exactly sparked the Americans' sputtering attack. Although her header off the right hand of English keeper Karen Bardsley was the difference in Friday's win, it was the first U.S. goal in three games and 217 minutes.
The last time the U.S. was shut out in consecutive games, Morgan was still in junior high.
What's more, that goal stood up only because a second-half score from England's Jodie Taylor — Morgan's teammate on the Portland Thorns of the National Women's Soccer League — was waved off by a mistaken offside call.
Perhaps nothing sums up the current state of the U.S. women's team as well as that: The Americans, who used to bludgeon opponents, now need poor officiating to win.
That leaves Ellis with a lot to clean up and little time to do it before her team leaves for Canada and the World Cup in June. After a week off, the team will gather again for the Algarve Cup in Portugal, where last year the U.S. followed a draw with consecutive losses, leading to Tom Sermanni's ouster as coach and Ellis' hiring as his replacement.
It's a change that some, including two-time world champion Michelle Akers, have begun to criticize, making Ellis' seat even hotter.
And time may be working against the coach in another way, too, because as many as six of her likely starters will be at least 30 when the World Cup begins. One of those players is Abby Wambach, the most prolific scorer in international history, who is almost certain to find herself in a part-time role in Canada. Ditto Rampone, the team captain who played every minute of the last World Cup but will turn 40 before this year's tournament ends.
Both have been part of a generation that set an incredibly high standard for the U.S. women's team — which is why two losses in 20 games now leads to panic. There's still one more step to climb, though, since Wambach wasn't on the roster the last time the Americans won a World Cup and Rampone played just 17 minutes in that 1999 tournament.
But while time may be running short, it hasn't run out. And until it does, Ellis is keeping her team on the same course she set last spring.
"The players truly understand where we are in the process," she said after the England game. "We're still building momentum in our fitness and our play. It is important that we remember where our end point is and where our end product is. And we're not there yet."
---