Juergen Klinsmann's stint with U.S. Soccer is at crossroads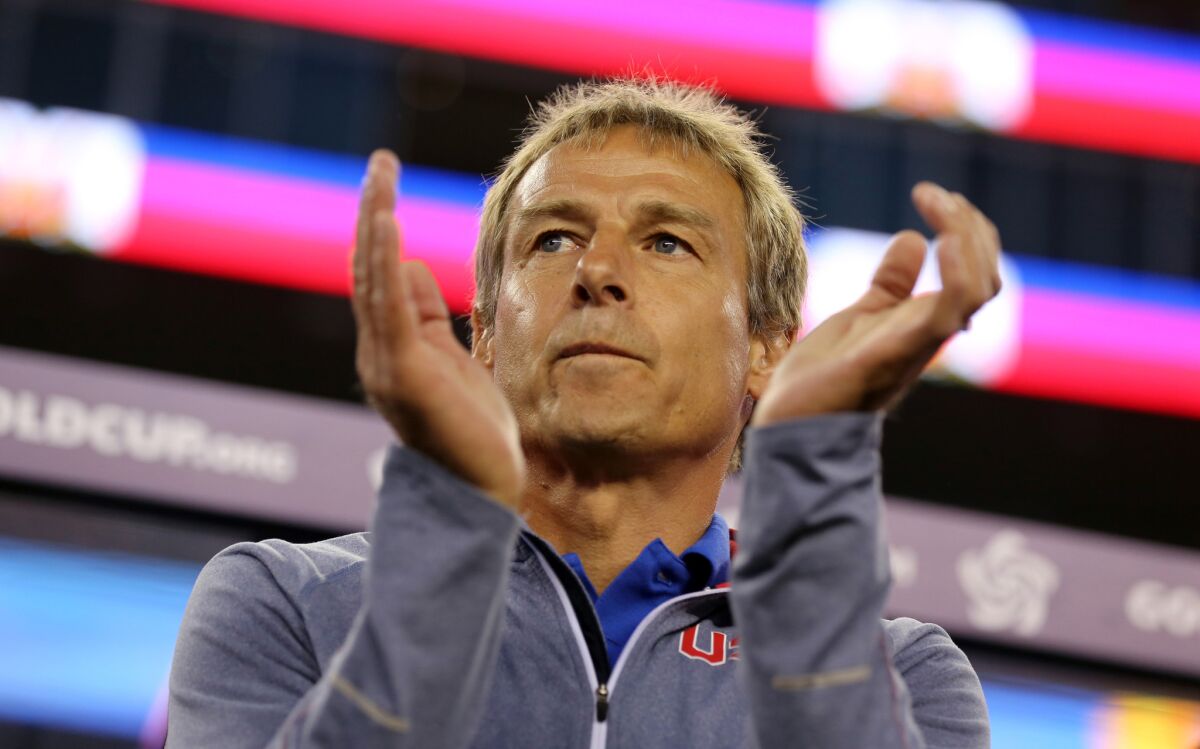 Apart from his role as president of U.S. Soccer, Sunil Gulati keeps a day job lecturing on economics at Columbia University. So he's pretty good at math.
And what he has seen from Juergen Klinsmann's national team lately doesn't add up.
The loss to Costa Rica on Tuesday was the third in as many games for the U.S., something that hadn't happened at home since 1997. It was also the fourth consecutive winless game against a CONCACAF team on U.S. soil. That hadn't happened in 50 years.
Along the way, the U.S. finished outside the top three in the CONCACAF Gold Cup for the first time in 15 years and failed to qualify for the 2017 Confederations Cup and 2016 Olympics. It's a stunning slide for a national team that, under Klinsmann, won a record 16 games two years ago.
It has won only 15 times since.
With the start of World Cup qualifying less than a month away, there is little time left to turn things around, leaving Gulati with a tough decision: Four years after finally landing the coach he pursued with the fervor Ahab once used to chase a whale, should U.S. Soccer's chief fish or cut bait?
As for which way he's leaning, Gulati won't say. In fact, he won't say much of anything.
After publicly backing Klinsmann following the Gold Cup debacle, Gulati has apparently taken a vow of silence. He didn't speak after the U.S. was embarrassed in a 4-1 loss to Brazil last month nor after the loss to Mexico in the CONCACAF Cup on Oct. 10, the same day Andi Herzog, who Klinsmann hand-picked to lead the under-23 team, was ejected during the waning moments of a loss to Honduras that cost the U.S. an automatic berth in next summer's Olympics.
Then came the loss to Costa Rica, in which the U.S. was outshot nearly three to one.
These weren't the kind of results Klinsmann promised when he took over the national team in 2011. Or when Gulati extended his contract at a U.S.-record $2.5 million per year, more than 10 times the base salary of women's Coach Jill Ellis, who won a World Cup last summer, and promoted him to technical director for all men's national teams 22 months ago.
Back then Klinsmann talked about a new paradigm, one that would remake the program from the grassroots up. The team would develop a relentless attacking game built around a uniquely American style of play, one forged from the mix of nationalities, primarily Mexican, American and German, that would make up the U.S. roster.
Instead, Klinsmann will start World Cup qualifying with an aging, dispirited team playing a passive, uncreative game. Instead of making progress the team, and the program, has regressed.
While the coach has preached fitness, his teams have routinely faded, giving up seven goals after halftime in its last five games. While the coach has demanded loyalty and accountability, he has often given little of either in return.
So has Gulati seen enough or, more appropriately, has he seen too little in the way of success, to pull the plug?
Probably not. Given his ardor for the coach, Gulati has a personal stake in Klinsmann's success so he's likely to resist the growing clamor for the coach's head. (Contrast that with the fate of Bob Bradley, the last U.S. coach to lose to Mexico, who Gulati fired a month later, replacing him with Klinsmann.)
Gulati hasn't approved of everything Klinsmann has done — he opposed the decision to drop Landon Donovan from the national team, for example — but he has bought into much of the coach's proposed soccer revolution.
And Klinsmann has been clear from the start he was talking about a revolution, not a miracle, for U.S. Soccer. Revolutions take time, though, and that's something that is running short for a coach riding a losing streak no American team has endured in five decades.
Klinsmann's first move will probably involve his roster, which has to get younger since nine of the 11 players Klinsmann started against Mexico will be older than 30 by the time the next World Cup kicks off.
"I'm going to look everywhere for younger players, hopefully developing and hopefully getting to a point where that transition that we've talked about for more than a year really happens," Klinsmann said last week.
Then comes the start of World Cup qualifying, where the drumbeat for change is sure to intensify until the results do.
It's hard to imagine any U.S. lineup having trouble with St. Vincent and the Grenadines, the first opponent for the U.S. next month in St. Louis. But four days later the U.S. will play in Trinidad, where it lost a qualifier in 2008.
Another uninspired and uncreative performance there could force Gulati's hand. Two victories, on the other hand, could save the coach, giving him four months to regroup before returning to World Cup qualifying in March, by which time the struggles of this summer and fall will have been forgotten.
"It's part of life, it's part of your job," Klinsmann said after the Costa Rica game. "There's not only sunshine days. We had a lot of sunshine in 2012, 2013, 2014. Now it's raining a little bit, and you've got to go through that. Maybe you have to go through a little bit of mud as well.
"When you're on the floor for a moment, then you've got to get up and we'll start all over again."
If Klinsmann's team doesn't get up quickly, though, Gulati may be tempted to start all over again without him.
---
All about the beautiful game
Go inside the L.A. pro soccer scene and beyond in Kevin Baxter's weekly newsletter.
You may occasionally receive promotional content from the Los Angeles Times.