In Europe and elsewhere, soccer games go on with reminders of Paris attacks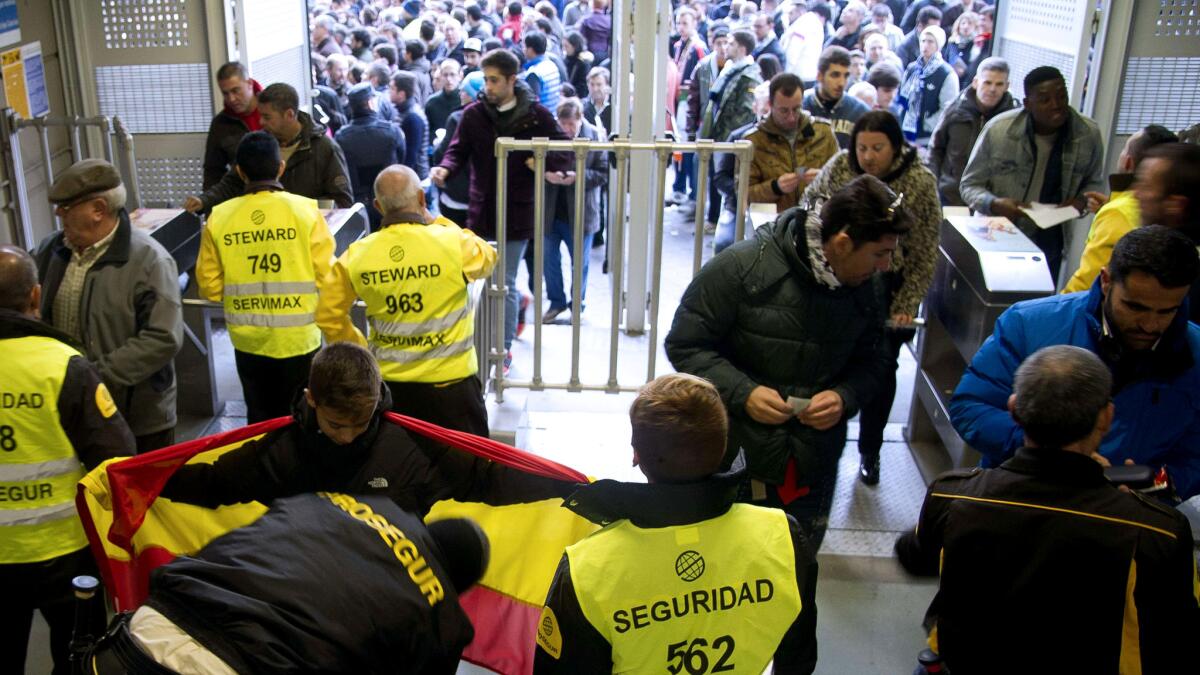 In Spain, fans attending Saturday's El Clasico between Real Madrid and Barcelona had to pass through metal detectors, negotiate three checkpoints and submit to being frisked before entering the historic Santiago Bernabeu Stadium.
"Even the sandwiches will be checked," Concepcion Dancausa, a government delegate in Madrid, promised before the game.
Sadly, such strict security measures have become the rule, not the exception, at soccer venues around the world after the deadly Nov. 13 terrorist attacks in Paris, where a match featuring the French national team was among the targets.
In Germany, where an international friendly was canceled last week because of threats of violence, domestic league games were played this weekend under heightened security. In Belgium, three of the four scheduled games in the country's top league went on Saturday despite a government request they be postponed while extra precautions were taken around stadiums in Amsterdam, Rotterdam and The Hague ahead of games in the Dutch Eredivisie.
Major League Soccer, which will hold playoff games in Portland, Ore., and Columbus, Ohio, on Sunday, said it is working closely with the U.S. Department of Homeland Security and the FBI to address safety concerns around both games. And in England, where national anthems of any kind are rarely played before league matches, France's "La Marseillaise" was sung before every top-flight game as "an act of solidarity and remembrance" ordered by Premier League President Richard Scudamore.
"To play a foreign country's anthem before all Premier League games is a really big thing and, I would imagine, unprecedented," said Christopher Beesley, a soccer writer for the Liverpool Echo.
Clearly the last 10 days were a time for soccer to pause, reflect and unite.
At least one of the terrorists in the Paris attacks reportedly tried to enter the sold-out Stade de France, a 15-minute walk from the apartment where the suspected ringleader of the attacks was killed by police last week. Frustrated by security, the man and two accomplices blew themselves up outside the stadium instead.
Yet even in Paris, where police continue to round up suspects, authorities chose to play on despite the threats.
"You could react by saying that after the tragedy playing football is something ridiculous," Frederic Thiriez, president of France's top domestic league, told reporters. "But it's not. On the contrary, playing football, going to the stadium — just like going to the cinema, to the theater, to the restaurant or cafe — that's life.
"And life must prevail over death."
Romain Carrega, a Parisian who was inside Stade de France when the Nov. 13 attacks took place, agreed.
"I don't want to give up my passion for soccer because of these guys," he said of the terrorists. "That would be doing exactly what they intended to do: stop us from enjoying our lives. We have to show the terrorists that Paris and the French people are stronger than that."
For security experts, finding the right balance between what is normal and what is needed is difficult, especially because what's considered normal has now changed.
"With what we just saw in Paris, we have to be as vigilant as possible as we understand the intel and the threat," said Dan Donovan, a vice president for Guidepost Solutions, a consulting and crowd management company that has worked on 11 Super Bowls and seven Olympics.
"Is it still safe to hold the event? Is it safe from a security perspective and is it the right thing to do in this location given what else might be going on in the world or in the country at that time?"
Donovan praised the Europeans, saying the security plan in place at Stade de France probably saved thousands of lives. And he said the decisions to cancel games in Germany and Belgium were prudent given the circumstances.
But those circumstances change from game to game and stadium to stadium. In the U.S., for example, some colleges have banned backpacks from football and basketball games, and the NFL, which is ramping up security this weekend, prohibits oversized bags and purses.
Donovan said the stepped-up procedures adopted in Madrid are especially effective because they increased the size of the security perimeter, preventing huge crowds from forming in one place.
"It's that deterrent factor," he said. "If I can show that you can't get past my different lines of security, I've deterred you. So extending my perimeter and having multiple levels of security checks … helps me keep the threat farther away from a high-density area."
What they won't do is eliminate the threat completely.
Carrega, the French soccer fan, said while security procedures at the Stade de France were thorough, it was largely luck and the incompetence of the terrorists that prevented a bloodbath from taking place at Europe's fifth-largest soccer venue.
"Today I cannot say that I feel any place in the world — let alone Paris — is 100% safe," he said.
Yet he says it's important next summer's monthlong European Championships, which will start and finish in Stade de France, go forward as planned.
"It would be sending a very wrong message to either cancel the Euros or change the location," he said. "Of course we need to take additional security precautions. And I trust the French government and police to do so.
"But changing location would be giving some satisfaction to the terrorists. I sure hope we won't grant them that."
Twitter: @kbaxter11