Crystal Dunn overcomes disappointment to be an important part of the U.S. women's soccer team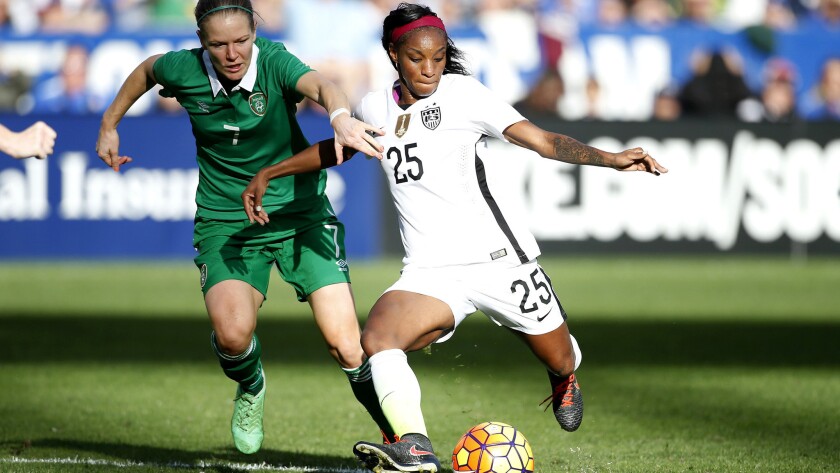 Reporting from San Diego —
Crystal Dunn's life changed with a phone call.
Jill Ellis, coach of the U.S. national team, was ringing Dunn to tell her she hadn't made the team for the Women's World Cup. And although Dunn understood the words, she had trouble grasping their meaning.
"I can't even tell you the last time I didn't make a team," said Dunn, who was the last player cut.
Her career had been an unbroken string of accomplishment. She won an NCAA title at North Carolina and the Hermann Trophy as the top player in college soccer. She was a U-20 world champion.
Now she was being told she wasn't good enough. If the snub was painful, it was also transformative.
"The way I see myself now and the way I saw myself a year ago is night and day," Dunn said. "I was a timid player, kind of finding my way and finding my strength.
"Missing out on the World Cup allowed me to find my strength."
What followed were a league-high 15 goals and a most-valuable-player award with the Washington Spirit of the National Women's Soccer League. She had four goals, her first with the senior national team, and three assists in six starts on the U.S. team's fall tour.
But in the opening game of the new year the spotlight swung back to World Cup star Carli Lloyd, who, in her first game since being selected the FIFA world player of the year, scored three times in the first 28 minutes of a 5-0 victory by the U.S. over Ireland on Saturday in front of 23,309 at Qualcomm Stadium.
Alex Morgan, playing in her 100th game for the U.S., had a first-half goal and 17-year-old Mallory Pugh scored in the second half in her debut with the senior team.
And although she didn't find the back of the net, Dunn, 23, had two dangerous chances in 45 minutes, continuing a five-month run in which she has gone from ignored to indispensable, all but guaranteeing herself a place on the roster for next month's Olympic qualifying tournament.
"She's the same athlete, same soccer player," Ellis said of Dunn. "But having a big role with her [club] team, having success in that role, now she's just very confident. And that self-belief is such an integral part.
"The first game she stepped on the field for me, I remember walking up to her and saying 'you deserve to be here.' That self-confidence can be a game changer."
Dunn says that none of her recent success would have happened without the World Cup snub.
"It was for the best," she said. "I would have loved to be there, even if I was on the bench. But I proved a lot to myself this season. I grew the most as a person and a player.
"For me, it was all about preparing for something greater."
Dunn, the smallest player on the U.S. team at 5 feet 1, has grown into a new position. After making her national team debut as a defender, she played in a central role with the Spirit before being moved to an attacking winger under Ellis. Should the U.S. qualify for the Olympics, that versatility will come in handy in Brazil, where rosters will be limited to 18 players, five under the World Cup limit.
Ellis has a lot of decisions to make between now and then. After fielding one of the most experienced rosters in Women's World Cup history last summer, the U.S. team is undergoing a transformation.
Four players have retired since the tournament in Canada, two are injured and forward Amy Rodriguez will sit out most of the year while pregnant with her second child. So nearly half the players Ellis called into this month's training camp have played fewer than 27 games for the national team.
Still, Ellis said Saturday that only three spots remain up for grabs on the Olympic qualifying roster she'll announce this week.
"I said to my staff it's going to be a long night," Ellis said. "There were a lot of good performances. That's why today was so important to us."
Ellis has a good core to build around, starting with Lloyd, whose hat trick against Ireland gave her 19 goals in her last 14 games and 82 in her international career. She could have had another but her header in the 45th minute hit the post, bouncing to Morgan, who knocked in the rebound for her third goal in five games.
UCLA recruit Pugh, who returns to her Colorado high school Monday, got the only goal of the second half, in the 83rd minute, becoming the youngest American to score in her debut in more than 16 years.
Dunn had two shots on goal before leaving at halftime. And with Megan Rapinoe sidelined because of knee surgery, Dunn appears to have found a home alongside Lloyd in the midfield.
"The way Crystal reacted to being left off that roster . . . is a testament to her focus and intensity," said defender Meghan Klingenberg, who was the final player cut from the 2012 Olympic roster and rebounded to be selected all-tournament at the World Cup.
"I know how tough it is mentally, emotionally," Klingenberg said. "And when you finally go get some success and break into the lineup, it's such a proud moment because you know how hard it is to get there. That's what Crystal has embraced . . . with a positive vibe. It's been nothing but good for our team and nothing but good for her."
---
All about the beautiful game
Go inside the L.A. pro soccer scene and beyond in Kevin Baxter's weekly newsletter.
You may occasionally receive promotional content from the Los Angeles Times.