Column: Megan Rapinoe and the women's soccer team get by with a little help from their friends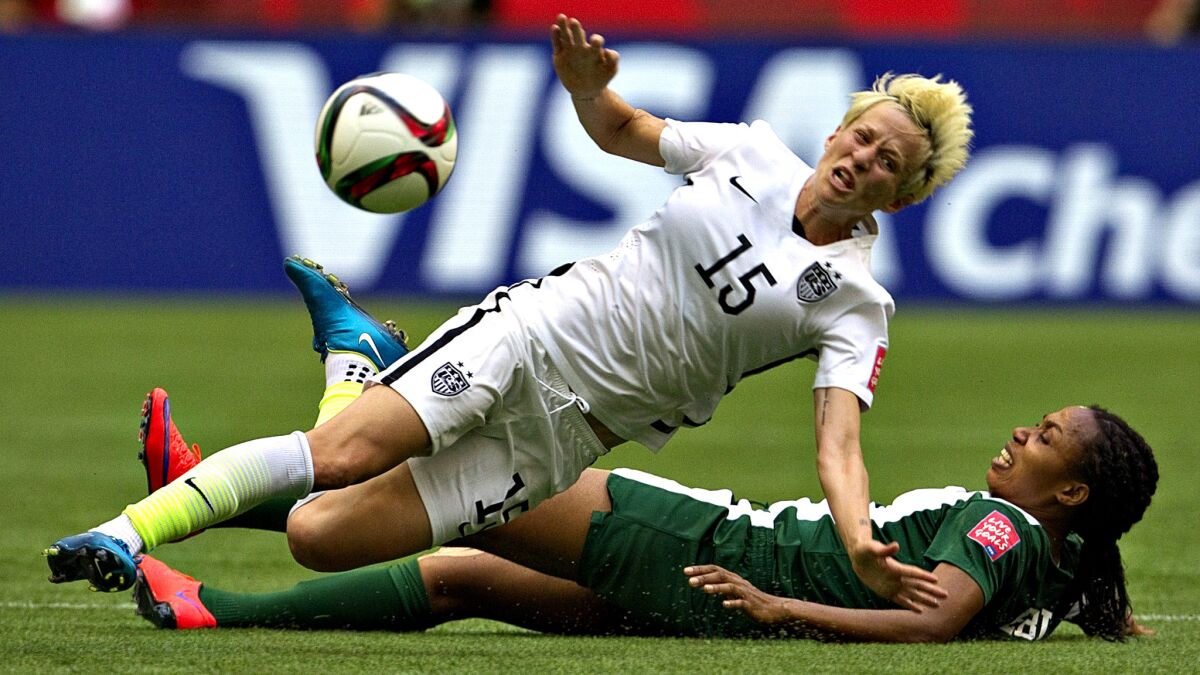 Ben Dragavon has been many things to many people.
He was a goalkeeper for the Seattle Sounders in their first Major League Soccer season. He's been an assistant coach in the team's academy system, the strength and goalkeeper coach for the Seattle Reign of the National Women's Soccer League and a personal trainer to athletes ranging from weekend warriors to world champions.
However, the women's national team knows him simply as a savior after he and physical therapist Brent George brought midfielder Megan Rapinoe back to health from a torn ligament in her right knee last December that left her career and Olympic dreams in doubt.
"I've seen players come back in five months. And I've seen players take 18 months," U.S. Coach Jill Ellis said.
Some never come back at all after suffering a torn anterior cruciate ligament.
But Dragavon, a Bellevue, Wash.-based specialist in MAT, or muscle activation techniques, had Rapinoe sprinting and cutting well ahead of schedule. And that was enough to convince Ellis she deserved a spot on the roster for the Rio de Janeiro Olympics, which begin Wednesday with the U.S. playing New Zealand in Belo Horizonte, Brazil.
The Americans are chasing a fourth straight gold medal, which, combined with last summer's Women's World Cup victory, would make them the first women's team to win those titles in consecutive years. And now Rapinoe will be part of that quest.
"There was a big part of me that didn't know if this was possible," said Rapinoe, who won a gold medal four years ago in London. "Going to the Olympics and representing your country is incredible, but this one is that much better.
"After everything I went through and the uncertainty, this is very special."
What Rapinoe went through were grueling six-hour sessions, six days a week for six months, with Dragavon — whom Rapinoe called "a rock I have leaned on every day" — and George, a therapist who works with the NFL's Seattle Seahawks and baseball's Seattle Mariners. The December surgery was handled by Dr. Michael Morris, the Sounders' staff doctor and the father of Jordan Morris, the team's star forward.
Morris performed an Achilles allograft, a minimally invasive arthroscopic procedure in which the torn ACL is reconstructed using donor tissue from a cadaver.
"I know she had excellent care in Seattle," said Ellis, who kept close tabs on Rapinoe's rehab, calling her in to training camp three or four times to assess her progress
Yet for all the physical trauma Rapinoe endured, Dragavon said keeping her mind strong was key to the quick recovery.
"The mental part of recovery is so vital. If you go negative, your body will react that way and the healing process will be delayed," he said.
"Obviously there's been ups and down. But she's been strong."
During the rehab process Rapinoe, 31, kept busy with other projects. She was a soccer analyst on TV, signed on to a wage-discrimination complaint against U.S. Soccer and most recently was named a global ambassador for streetfootballworld, which uses soccer to reach disadvantaged youth and drive social change in more than 68 countries.
What she hasn't done since October is take part in a soccer game after sitting out the last pre-Olympic warmup match with a sore calf. But Ellis isn't worried. She said she always expected to have Rapinoe in Rio, partly because the midfielder was experienced with rehab, having twice torn ligaments in her left knee in college.
"She learned from the other processes. And she was highly motivated," Ellis said of Rapinoe, a workhorse who played in 38 of the national team's 50 games in 2014-15 and 109 since 2009. "In my mind I was counting the months thinking, 'This is viable, this is feasible.'"
Rapinoe isn't the only key player working her way back to health. Carli Lloyd, the reigning world player of the year, missed two months this spring with a sprained knee while midfielders Tobin Heath and Morgan Brian continue to deal with hamstring issues. That leaves Ellis with concerns for more than a quarter of her starting lineup heading into a tournament in which rosters are limited to 16 outfield players, four fewer than in the World Cup.
But Ellis says she too has learned from the past. Alex Morgan entered last summer's World Cup with a left-knee issue, so Ellis brought her back slowly, limiting her to 23 minutes in the first two group-play games. Morgan then started the final five games, scoring the goal that beat Colombia in the round of 16.
Ellis plans to follow a similar approach with Rapinoe, who the coach said came back to the team stronger physically than she's ever been.
"Is she going to play 90 minutes in six games? Of course not," Ellis said. But then she doesn't need to in order to have an impact.
"Megan does have an 'it' factor," the coach continued. "Her special qualities, what she brings with her personality, her leadership off the field . . . her experience in the locker room.
"There are so many add-ons when selecting Megan. She's a massive bonus for us going into Brazil."
And for that she has Dragavon and George to thank.
kevin.baxter@latimes.com
---
All about the beautiful game
Go inside the L.A. pro soccer scene and beyond in Kevin Baxter's weekly newsletter.
You may occasionally receive promotional content from the Los Angeles Times.