MLS math doesn't always add up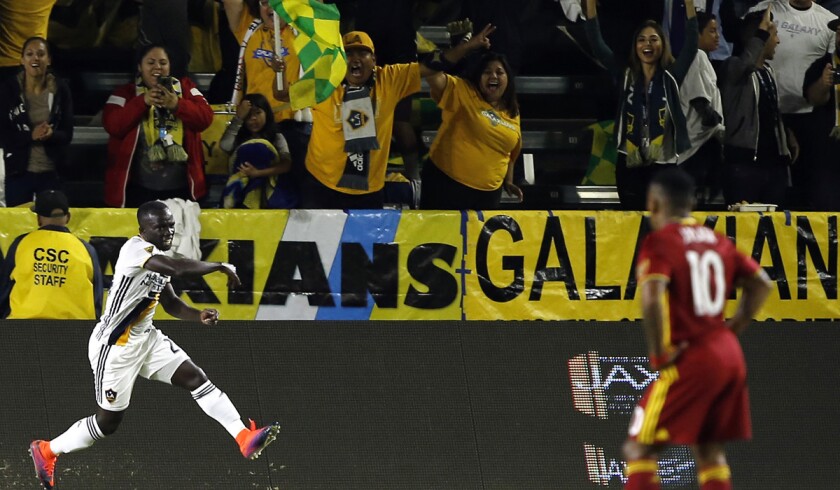 Major League Soccer says it drew more than 7.37 million spectators this season, breaking its attendance record for the third straight season.
What MLS won't say publicly, however, is how many paid to get in — or how many even bothered to show up at all. And that could be a problem for a league that depends on the local fortunes of its teams to build and fund its growing success throughout the U.S. and Canada.
MLS, like the NBA, NHL and even the English Premier League, bases crowd figures on the number of tickets distributed, a practice that has become an industry standard. Major League Baseball measures the number of tickets sold.
But none of the top North American leagues use an old-school turnstile count, meaning none of the attendance figures they release reflect the number of people who actually attend the events.
"There's a bit of a game being played in all sports," said Steven A. Bank, a professor of business law at UCLA who has written and lectured extensively on soccer. "The stats on the number of people at games is a proxy for . . . the popularity of the sport."
And MLS has a long history of trying to boost its popularity as it fights for a larger share of the North American sports landscape.
A decade ago the San Diego Union-Tribune reported nearly 30% of the tickets distributed for MLS games were free, a figure the league does not dispute. A former official with Chivas USA, a franchise the league bought and folded in 2014, said the club was still giving away at least that many comps just five years ago.
That's an issue MLS has tried recently to address. Howard Handler, the league's chief marketing officer, said the number of comp tickets distributed has declined by an average of 20% over the last two years. It now accounts for about 9% of announced attendance, he said.
Yet even if that figure is correct, it still would mean more than 663,000 tickets included in the MLS crowd count for 2016 were given away. And even that math doesn't always add up. Just look at Orlando City, one of five teams whose attendance was surveyed for this story. The club claimed home attendance of 532,500 this season at Camping World Stadium although the City of Orlando, which owns the facility, released figures Friday that showed the number of tickets scanned — the modern-day equivalent of a turnstile count — was 151,060 short of the team's total, a difference of 8,886 per game.
In 2015, Orlando City's first season in the league, the city's attendance figures for the first 12 games were more than 17% lower than the team's numbers.
Orlando City, which says it has a season-ticket base of 18,500, disputed the city numbers but declined to discuss the reason for the discrepancy on the record. Diogo Kotscho, the team's vice president of communications, said the club based its figures on a combination of tickets sold and tickets distributed to team officials and people in the community. Comps are also given regularly to team sponsors in recognition of their support.
Kotscho said freebies accounted for about 8% of total tickets distributed but, he added, not all those who bought tickets or were comped showed up for the games, a difference that would be reflected in the number of tickets scanned.
"If you asked me for every single match how many people were inside the stadium, we really don't know," Kotscho said.
The wide disparity in attendance figures for Orlando City games appears to make the club an outlier among MLS teams, but it also raises questions for the league. While the use of complimentary tickets may swell attendance, leading to increased media attention and local sponsorship dollars on the club level, it hurts financially at the MLS level because about a third of local ticket revenue is shared by the other 19 teams.
So if fans aren't paying, the league isn't collecting.
"You want people to buy tickets," Galaxy President Chris Klein said. "We have a business to run. The accuracy of the information is important to all of us."
And clearly MLS has some success stories to tell.
Merchandise sales are up 21% over last year, for example, and since 2013 the league's social-media footprint has grown faster than that of any other U.S. sports league, claiming more than 5.26 million followers on Facebook, Twitter and Instagram, a jump of 687%.
Those numbers help offset 2016 TV ratings that, while showing double-digit growth with an average of about a quarter-million per game on ESPN, Fox and Univision/UniMas, were less than half of what Game 5 of the WNBA Finals drew on EPSN2.
Although the league has yet to turn a profit in 21 seasons, it says revenue is up — though it declined to release figures. The forecast is even healthier in some local markets, with a half-dozen teams finishing in the black this year and Forbes estimating seven teams are worth more than $200 million each.
The Seattle Sounders, the league's most valuable team, have a season-ticket base of more than 30,000 and have played to 144 consecutive sellouts, averaging more than 40,000 fans a game since joining the league in 2009. Among club teams in the Americas, only Monterrey of the Mexican league draws larger average crowds.
The Portland Timbers, who just finished their sixth season, have sold out all 107 of their games at Providence Park, which seats 21,144. The team, which capped season-ticket sales at 15,500, has a waiting list of more than 10,000.
Sporting Kansas City, an original MLS franchise, has a string of 87 consecutive sellouts at Children's Mercy Park while the Galaxy topped 20,000 in average attendance for the 14th straight year, a league record.
Or at least those are the numbers the teams claim. As the Orlando City example proves, there's no way to know for sure. And the league shares some of the blame for that.
"MLS is still not as transparent as it needs to be . . . to trust their proclamations," said Bank, the UCLA professor. "They don't release enough information that someone could evaluate how well they're doing. And when someone tries to do that, the counter is, 'You don't know the numbers.' MLS has grown up in a culture of secrecy.
"But I don't know that this distinguishes them from other leagues."
kevin.baxter@latimes.com
Twitter: @kbaxter11
---
All about the beautiful game
Go inside the L.A. pro soccer scene and beyond in Kevin Baxter's weekly newsletter.
You may occasionally receive promotional content from the Los Angeles Times.