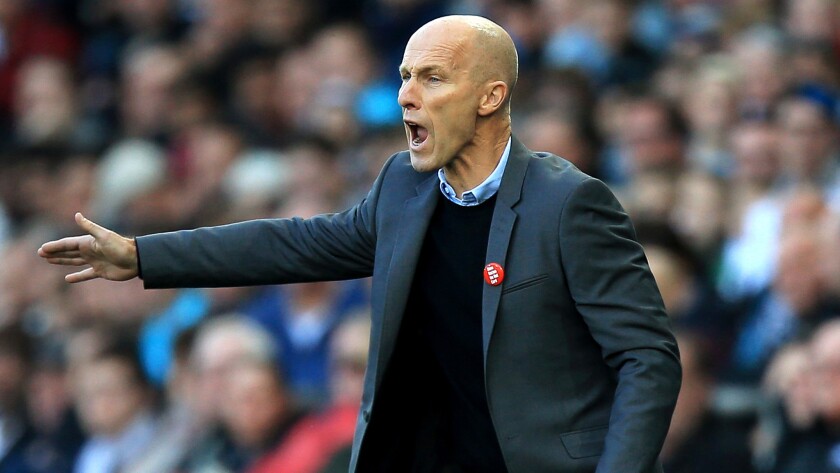 Bob Bradley's hiring by a struggling Swansea City club last fall was supposed to resolve a vexing question: could an American coach in the English Premier League?
His sacking Monday, 11 games and 85 days later, came too quickly to provide an answer.
What seems certain, however, is the quick hook means it could be a long time before another U.S. coach gets a chance to answer that question. And that seems unnecessary and unfair.
Americans such as Tim Howard, Clint Dempsey and Brad Friedel have proven capable as players in the EPL. Deep-pocketed Americans have succeeded as owners in England, winning at Manchester United, Liverpool and Arsenal. And more than $1 billion from NBC and Fox have helped swell the value of EPL's broadcast rights.
But until Bradley, that welcome mat had never extended to American coaches. Given the millions of dollars that could be lost in a relegation battle, which is where Swansea City finds itself halfway through the season, EPL teams have shown they are more comfortable sticking with the known rather than experimenting with the unknown.
Consider that 19 of the league's 20 coaches are European, and eight were hired by their current club after having been sacked by a league rival. Crystal Palace, two points ahead of Swansea City in the standings, recently gave Sam Allardyce his sixth chance as an EPL coach even though he has been with five clubs and the English national team since 2010. And Paul Clement, the man expected to replace Bradley, is a career assistant who was fired after 33 games with Derby County in the Championship — British soccer's second-tier league — in his only try as a coach.
Yet, Bradley, who had won everywhere he had coached — from Major League Soccer, where he won a league title with the Chicago Fire, to Norway, where he guided tiny Stabaek to the qualifying phase of the Europa League — got only 11 games and 85 days to prove himself.
A day after his firing, Bradley did two radio interviews in which he admitted he was angry and argued he may have succeeded given more time.
"I'm frustrated because I feel like every place I've been, I feel I've been able to put my stamp on the team in terms of the mentality, in terms of the football and the tactics," he said.
There's no doubt things didn't go well at Swansea, with the Swans winning only two games under Bradley, scoring more than a goal only three times and giving up three goals or more eight times. Over Bradley's final three games, all losses, the team was outscored ,10-2. (Swansea lost Saturday against Bournemouth, 3-0, to drop to the bottom of the standings at the season's halfway mark.)
But Swansea was a mess before Bradley was hired, which is why Clement will be the sixth man to serve as coach in less than 13 months. So in retrospect, the decision of Swansea's new American owners to give Bradley the job last fall might have gone better if management had also done more to give the coach a chance.
Instead, Steve Kaplan and Jason Levien, who lead an investor group that includes former Galaxy captain Landon Donovan, sent Bradley into a gunfight with a rubber knife. They spent little during a summer transfer window in which the team lost leading scorer Andre Ayew to West Ham United and sold center back Ashley Williams to Everton. The absence of Williams, the Welsh national team captain, was especially damaging for a defense that has given up a league-high 44 goals.
So when the predictable happened and Swansea struggled, ownership fired two coaches in the span of three months in an effort to deflect blame for its failures.
In retrospect, it's unlikely any coach could have saved Swansea. But Bradley deserved to stay long enough to unpack his suitcase before the team pulled the plug.
"He didn't get a fair chance at Swansea," Slaven Bilic, West Ham's Croatian coach, told London's Daily Star. "It was a short amount of time. It depended totally on luck, the people expecting something of you in two months. He didn't have any time."
It's possible Bradley's short stint did some good, perhaps laying the groundwork for the next American coach and assuring a softer landing for his successor. His stay was certainly long enough to show what the next American coach will have to deal with, though, with Bradley drawing as much criticism for his accent as for his coaching acumen.
It was a silly sideshow but it contributed to a climate of negativity, underscoring the narrative some still ascribe to, namely that Americans aren't qualified to coach in the English game, even if those Americans led the U.S. national team to a group title over England in the 2010 World Cup.
Bradley hopes that's not true, especially with young MLS coaches such as Caleb Porter, Jesse Marsch, Ben Olsen and Gregg Berhalter proving they may someday deserve a chance to work in the world's top league themselves.
"It's possible, but I think it's sad and ridiculous if that's the case," Bradley, speaking of the possible xenophobia, told a British radio interviewer. "You can look at even top managers and recognize that in a league as competitive as the Premier League, anyone can go through a stretch of 10 or 11 games where you don't get the results you should.
"I came in not with a top team. When people talk about even the adjustment that [Antonio] Conte or [Pep] Guardiola or [Jurgen] Klopp needed, it's also very different when you come in at a team towards the bottom of the table."
Twitter: @kbaxter11
---