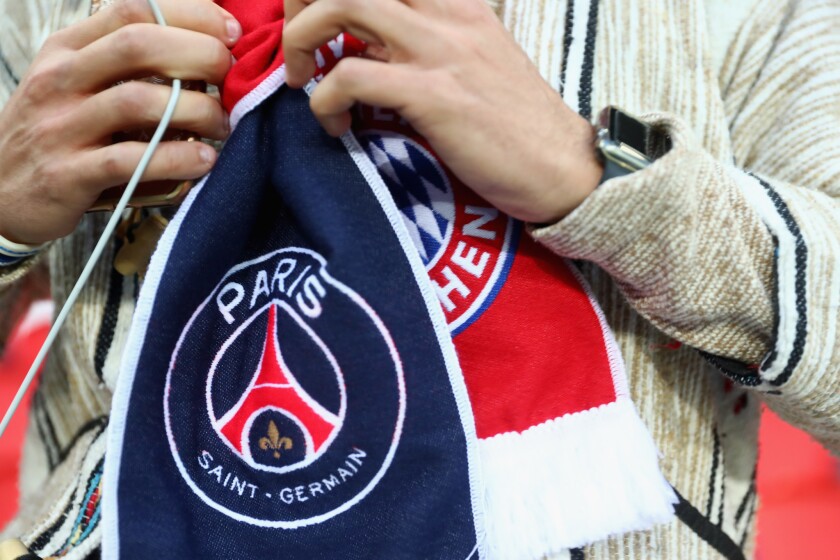 Reporting from Paris —
Marcus McDonald was at a hip-hop concert in Oakland last fall when rapper Sheck Wes peeled off his cap and threw it into the crowd. McDonald caught the hat and put it on.
It was all black, with a simple design, but McDonald loved it. It wasn't until weeks later that the 23-year-old learned the hat he had grown so attached to bore the logo of Paris Saint-Germain, a French soccer team he'd never heard of.
More than 5,000 miles away, in the corporate offices on the western edge of France's capital, that's not considered a snub. Rather, it's an indication of a healthy business plan.
Paris Saint-Germain, a perennial power in France's Ligue 1, has all the soccer fans it needs. It's people such as McDonald, who don't follow the game, whom the team is targeting for new business.
"We're working to talk to people who don't care about soccer," said Fabien Allegre, the club's director of merchandising and brand diversification. "Just to make the brand grow and grow."
Asked what he's selling, Allegre replies with a grin and a word: "Everything."
He's not exaggerating.
The club has collaborated on fashion lines with a dozen apparel designers, including Maison Labiche, Hugo Boss, Levi's and the Jordan brand, the Nike subsidiary created for Michael Jordan. The clothing is sold at places like the trendy Paris boutique Colette, Alchemist in Miami, the Dover Street Market in Singapore and PSG stores from the Champs-Elysees to Tokyo. There is also an online site that offers more than 3,000 items, including club-branded skateboards and exclusive merchandise produced for the Rolling Stones' tour stop in Paris last year.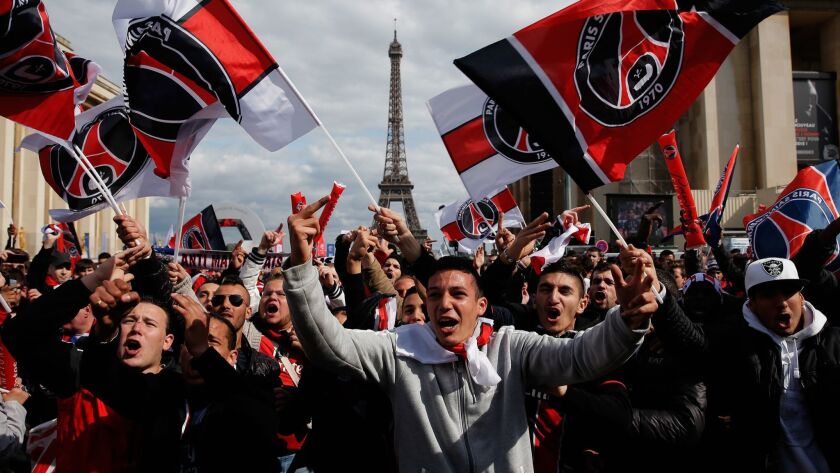 PSG has partnerships with a hatmaker, a shoemaker and watchmaker.
Christelle Kocher, founder of the eponymous French fashion line Koche, used the team's iconic crest — created by fashion designer Daniel Hechter, a former club president, and featuring the Eiffel Tower encircled by the words Paris Saint-Germain — in outfits made with silk and muslin and studded with Swarovski crystals.
It's all part of an ambitious plan to turn one of the most successful brands in sports into an international fashion brand as well.
"The objective would be for you to wear something PSG," said Allegre, who manages a staff of four full-time brand-diversification specialists from a first-floor office filled with club-branded objet d'art ranging from a motorcycle helmet and Beats headphones to a denim shirt and a Manish Arora jacket.
"Is it a cap? Is it a pair of shoes? Is it underwear? Is it a really cool jersey?" he asked in English. "When you go to New York and get a New York Yankees cap; not everybody's a fan of baseball. You go there, you want to get the New York cap. We want people to come and get the Paris cap and maybe other products because the products are really cool."
Cool can be hard to define and prone to subjective shifts, so it will be important to stay up with the latest trends.
"I would caution that fashion by its very nature is transient and will require PSG staff who are completely on top of it," cautioned Antony Marcou, CEO of Sports Revolution, a London-based marketing agency. "Failure to do this and they quickly become the dad at the disco."
Club executives don't seem to be worried. Paris Saint-Germain is cool enough right now to regularly fill the VIP boxes at Parc des Princes with A-list celebrities such as Naomi Campbell, Mick Jagger, Leonardo DiCaprio, Rihanna and Beyonce, whose social media accounts showed photos of her wearing a PSG shirt.
"You don't see her doing that with any other club," said Marc Armstrong, PSG's chief partnerships officer. "… We're right at the pinnacle of that coolness factor for sure."
PSG isn't alone in believing there is synergy between soccer and style. Last month, Major League Soccer and Adidas teamed with four influential street designers to stage a fashion show in the L.A. Fashion District. The models, including LAFC midfielder Lee Nguyen, walked a runway wearing 48 re-imagined versions of the league's game-day jerseys.
"A consumer can wear soccer product 24/7," said Jennifer Valentine, Adidas' senior director for soccer in North America. "We know it's not just about the game."
For PSG and other European clubs at its level, generating new streams of revenue is a matter of survival because of the costs associated with international soccer.
Real Madrid, the first club with an annual payroll of more than $450 million, recently signed a 10-year, $1.2-billion jersey sponsorship deal with Adidas. PSG's deal with Nike, which runs through 2027, is worth about half that.
And where the English Premier League's 20 clubs split more than $3.5 billion a year in TV revenue, Ligue 1,the French league in which PSG plays, has the worst broadcast deal of Europe's five major leagues, earning $692 million, according to a 2018 report from UEFA, the governing body for European soccer.
Still, PSG shelled out the largest transfer fees in history over the last two seasons, paying more than $525 million to acquire Neymar from Barcelona and Kylian Mbappe from Monaco and driving the team's average salary above $8 million a season, according to the annual Global Sports Salaries survey by Sporting Intelligence.
Even PSG president Nasser al-Khelaifi and his deep-pocketed Qatari partners don't have the resources to continue funding that level of spending.
The club has already wrung every euro it can out of sponsors and ticket buyers, increasing season-ticket sales from 8,000 to 35,000 and VIP sales from 500 to 5,000 since 2011. That spurred a revenue jump from $80 million to more $610 million, with financial services company Deloitte ranking PSG as the sixth-most valuable soccer team in the world.
The club has expanded too, going from 200 to 800 employees since al-Khelaifi took over in 2011 and moved the team's headquarters from the stadium to a new two-tower office complex in Boulogne-Billancourt.
That the investment has paid off on the field is unquestioned. With four games left in the season, the team has already clinched its sixth Ligue 1 title in seven years. Before al-Khelaifi bought the team, it had gone 19 years without a title.
PSG has also won 15 of the last 17 French domestic cup competitions and has made it to knockout rounds of the last seven Champions League tournaments. Barcelona, Real Madrid and Bayern Munich are the only other clubs to have done that.
All that success has been costly though, with al-Khelaifi investing more than $1.2 billion on players since buying the team. So now the club is selling what may be its most valuable asset — its brand — to make ends meet.
Sign up for our weekly soccer newsletter »
"We're chasing more business," said Jean-Martial Ribes, PSG's director for communications. "We need revenues to be able to pay for those players and the salaries that they have."
The team is also trying to manage its payroll by producing its own players rather than relying on budget-busting transfers. Paris and its suburbs make up the richest market in the world for young soccer talent, having sent 60 players to the last five World Cups, according to a study conducted by the Danish research company RunRepeat. Only Buenos Aires, with 50, is close.
French clubs have traditionally had little success hanging on to those players, though, with native sons including Paul Pogba, Anthony Martial, N'Golo Kante, Kingsley Coman and Thierry Henry leaving the French league for big-money deals in England or Germany.
PSG is making a concerted effort to harvest some of that talent and keep it home, investing $225 million in a new 75-acre training center outside Paris. It has already made progress with defender Presnel Kimpembe, goalkeeper Alphonse Areola, midfielder Adrien Rabiot and Mbappe — all of who were born in or around Paris — having each appeared in at least 14 league games this season.
Now PSG is attempting to leverage its brand in the U.S. and Asia, emerging soccer markets with a huge base of millennial, fashion-conscious consumers such as McDonald.
"Every club is out there maximizing their revenue. But we have to work with the right brands to elevate ours," said Armstrong, who worked in business and commercial development for both the NBA and NFL before joining PSG last spring. "We just can't go out and take money in from any old brand. It's got to be the right brands as well.
"There are football fans that love us all over the world. And there's kind of lifestyle-oriented fans and people who just love all things that are cool."
What's cool will be decided by the consumer, of course. But Allegre said PSG will continue redefining what it takes to be a successful soccer team.
"There's the IBMs; you know, the old clubs," he said. "And there's the new generation of clubs, like Amazon, looking for new ways of doing business, new ways of attracting customers.
"We're going to places that no other people are going to. We're doing deals that no other club is doing."
kevin.baxter@latimes.com | Twitter: @kbaxter11
---