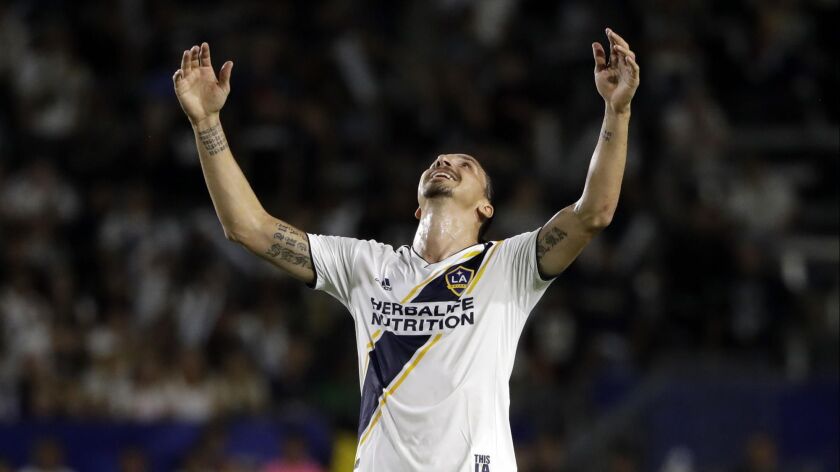 Hello, my name is Kevin Baxter and I get paid to watch soccer.
And yes, it really is a cool job.
I'd like to share my passion for the sport with you in this soccer newsletter (tell your friends to click here to subscribe), something we hope will become a regular part of your week. We'll meet here most Tuesdays to discuss a little bit of everything: the men's and women's national teams, the top international matches, the best leagues and club teams in Europe and Latin America, and Major League Soccer.
And that's where we're going to start, with MLS, since Southern California's two teams – the Galaxy and the Los Angeles Football Club – will meet Friday for the third time in their intra-city derby, known as El Trafico. (And please, if anybody has a better name, speak up now!)
The first two games were instant classics: With Zlatan Ibrahimovic scoring twice in his MLS debut, the Galaxy rallied from a three-goal deficit for a 4-3 win at the StubHub Center in the first meeting in March, and in July at the Banc of California Stadium, the Galaxy scored twice in the final eight minutes of regulation to steal a 2-2 draw.
That leaves LAFC needing a win in the rematch at StubHub Center to even the series, although it's a good bet the teams will meet again in the playoffs. And speaking of playoffs, with eight games left in the regular season for the Galaxy and nine remaining for LAFC, Friday's game looms large for both.
Here are the Western Conference standings:
Team ------ G-W-L-T-Pts.
FC Dallas --- 24 -13-5-6-45
Sporting KC - 24-12-6-6-42
LAFC --------- 25-12-7-6-42
Real Salt Lake 26-11-10-5-38
Galaxy -------- 26-10-9-7-37
Portland ------ 23-10-6-7-37
________________________________________________________
Seattle--------- 24-10-9-5-35
Vancouver ---- 25-9-9-7-34
Minnesota ---- 25-9-14-2-29
Houston------- 24-7-11-6-27
Colorado------ 25-6-13-6-24
San Jose------ 24-3-13-8-17
The top six teams – the ones above the line -- make the postseason, with the first- and second-place clubs receiving byes into the conference semifinals. The next four teams qualify for play-in games, with No. 3 playing host to No. 6 and No. 4 playing No. 5. Here's where the Galaxy and LAFC – moving in different directions – stand heading into Friday:
Galaxy: El Trafico may not be a must-win game for the Galaxy, but it's close. No playoff contender has fewer games remaining than the Galaxy, making every point crucial – especially since just one of the team's next six opponents has a losing record.
Coach Sigi Schmid said his team needs to average 1.5 points a game – the Galaxy are at 1.42 now -- to reach the postseason, and history says he's right. Since MLS went to a six-team playoff format in 2015, no club with at least 51 points has missed the postseason.
But here's where the math gets tough: With eight games left, the Galaxy can only afford to drop 10 points the rest of the way. And they've dropped 10 in the last two weeks alone.
But wait, it gets worse. The Galaxy are coming off a 5-0 loss in Seattle, equaling the most one-sided defeat in franchise history.
"It was embarrassing," Schmid said. "I apologize to our fans because they had to watch it."
The Galaxy were missing all three of their designated players – Giovani dos Santos, Jonathan dos Santos and Romain Alessandrini – to injury. Center back Michael Ciani was also sidelined with injury while Ibrahimovic, the team's leading scorer, skipped the game to avoid playing on CenturyLink Field's artificial turf surface.
Ibrahimovic will be back Friday and Schmid is hopeful a couple of the injured players will be available as well. But Giovani dos Santos probably won't return until the middle of next month, a maddening situation that has increasingly become a distraction for the team.
Dos Santos, guaranteed $6 million this season, is the fifth-highest-paid player in MLS but the Galaxy have received precious little for their investment. The midfielder has started just 10 of the team's 26 games and played a full 90 minutes in only two of those. He's played a third of the Galaxy's total minutes this season and even if you subtract the five weeks he was away with Mexico's World Cup team, he's been on the field for less than 42% of the minutes available to him.
Dos Santos hasn't been the community asset the team was hoping for either, regularly avoiding interactions with fans and the media, responsibilities that come with a $6-million contract. But the Galaxy appear stuck with him until that contract expires at the end of next season since their efforts to trade him have been roundly rejected.
Schmid has been understandably frustrated by the fact a Galaxy jersey appears to be Dos Santos' kryptonite. In a Mexican national team jersey he is always spry and fit but once he puts on his MLS shirt, his quads and hamstrings become brittle. Even more frustrating, though, is the fact the Galaxy, full up on DPs and with no wiggle room under the MLS salary cap, were unable to add much-needed defensive help during the summer transfer window.
"We have the defenders that we have," the coach said. "So it's difficult."
Of course the defense Schmid has is one he constructed in the offseason, paying Jorgen Skjelvik $1 million and bringing Ciani and Ashley Cole back for a combined $1.342 million, making the Galaxy's defense the most expensive in the league. And what has he gotten for his investment? The Galaxy have surrendered second-half leads five times in their last four games and their 47 goals allowed on the season is third-worst in the Western Conference.
There is a path forward for the Galaxy, but it's a narrow one that relies on a much-improved defensive performance – albeit from the same defenders – and a whole lot more heroics from Ibrahimovic. That path will become even more difficult to negotiate without at least a draw Friday.
LAFC: The team weathered a recent rough patch that saw it lose four times in five games in all competition, then rebounded with back-to-back shutouts, extending its season-high scoreless streak to 204 minutes.
But both those wins came at home; beginning with Friday's match in Carson, LAFC plays four of its next six on the road. Still, the deeper you delve into the numbers, the better LAFC looks.
Its 1.68 points per game has it on pace to finish a comfortable third in the conference while leading the West in goals and finishing second in goal differential. That would allow it to open the playoffs at Banc of California Stadium, where it has lost just once this season.
There's a chance that first postseason game could come against LAFC's cross-town rivals, though, and after blowing two late leads against the Galaxy – losing once in stoppage time and settling for a tie on a goal in the 86th minute the second time -- there's no doubt the Galaxy is in LAFC's head.
"It's not a good feeling when you see everyone hopping around, everybody scared like, 'I don't want the ball,'" Carlos Vela said after the second game. "You can feel it's not going to happen. If the game lasted for five more minutes, we lost for sure. This is not the way to be a great team.
"If we want to fight for the title, win good things here, we have to improve. We have to be a better team and don't let these points go in the game. It's not good."
After reading those comments, LAFC coach Bob Bradley had his own stern conversation with his Mexican playmaker but no one challenged the accuracy of what Vela said. That makes a win Friday necessary for LAFC's confidence, but not much else.
Only two of the nine teams remaining on LAFC's schedule have winning records. And while the Galaxy were spectators during the transfer period, LAFC was an active participant, landing forward Christian Ramirez for as much as $1 million in allocation money and acquiring defender Danilo Silva on loan and forward Josh Perez on a free transfer.
Ramirez had a brace in his first start for LAFC while Silva, a center back, has contributed to consecutive shutouts in his first three starts. The additions leave the team with an embarrassment of riches at every position including goalkeeper, where Tyler Miller, third in the league with eight clean sheets, is backed by Luis Lopez, the Honduran national team starter.
It's already been a magical season for LAFC, the second-best for an expansion team in MLS history. The only team that has done better was the 1998 Chicago Fire, which won the league title in its first season.
Bradley was its coach that year. But he's not resting on that history in Los Angeles.
"We now don't want to be satisfied with anything at this point," he said.
Podcast
Don't miss my weekly podcast on the Corner of the Galaxy site as co-host Josh Guesman and I discuss the Galaxy each Monday. You can listen to the most recent podcast here.
Schedules
All times Pacific
LAFC
Friday at Galaxy, 7:30 p.m., ESPN
Sept. 1 at Toronto, 5 p.m., Youtube TV, Unimas KFTR 46
Sept. 15 vs. New England, 7:30 p.m., Youtube TV, Unimas KFTR 46
Sept. 22 vs. San Jose, 12:30 p.m., Univision
Sept. 29 at Chicago, 12:30 p.m., Univision
Oct. 6 at Colorado, 6 p.m., Youtube TV, Unimas KFTR 46
Oct. 18 vs. Houston, 7 p.m., Youtube TV, Unimas KFTR 46
Oct. 21 vs. Vancouver, 2 p.m., Youtube TV, Unimas KFTR 46
Oct. 28 at Sporting Kansas City, Youtube TV, Unimas KFTR 46
Galaxy
Friday vs. LAFC, 7:30 p.m., ESPN
Sept. 1 at Real Salt Lake, 7 p.m., Spectrum SN, Spectrum Deportes
Sept. 15 at Toronto, 4:30 p.m., Spectrum SN, Spectrum Deportes
Sept. 23 vs. Seattle, 4 p.m. FS1
Sept. 29 vs. Vancouver, 7 p.m., Spectrum SN, Spectrum Deportes
Oct. 6 at Sporting Kansas City, 5:30 p.m., Spectrum SN, Spectrum Deportes
Oct. 21 at Minnesota, TBD, Spectrum SN, Spectrum Deportes
Oct. 28 vs. Houston, 1:30 p.m., Spectrum SN, Spectrum Deportes
Until next time
Stay tuned for future newsletters. Subscribe here, and I'll come right to your inbox. Something else you'd like to see? Email me. Or follow me on Twitter @kbaxter11
---