Newsletter: Soccer! Different offseasons in store for Galaxy and LAFC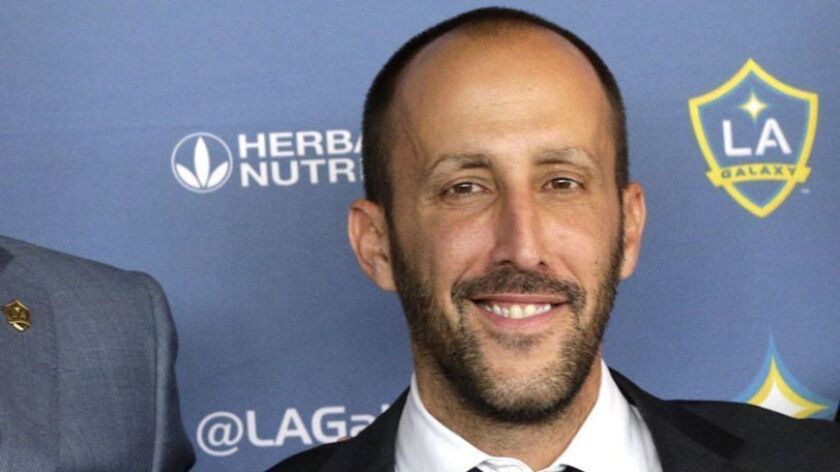 Hello and welcome to the L.A. Times weekly soccer newsletter. I'm Kevin Baxter, The Times' soccer writer.
The MLS season ended with a surprisingly loud thud for one team last Thursday when the Los Angeles Football Club, which had designs on a long postseason run, was tripped up by lowly Real Salt Lake in a first-round knockout game. The Galaxy's season ended four days earlier when the Houston Dynamo eliminated them from postseason consideration, opening the way for RSL to grab the Western Conference's final berth.
As a result, Salt Lake is now preparing for the second leg of its conference semifinal playoff series with Sporting Kansas City while the Galaxy and LAFC are beginning preparations for next season.
The Galaxy, who lost a franchise-record 30 games the last two seasons, missing the postseason both times, will have another busy winter. The team is looking for its third manager in 24 months and will have to shore up a suspect back line following the expected departure of captain Ashley Cole. But the first domino to fall was in the front office with the team announcing Tuesday that it had fired Pete Vagenas as vice president of soccer operations.
Vagenas' time in the front office was rocky. The former Galaxy midfielder was academy director before being promoted to general manager in the winter of 2016 only to be relieved of his player personnel duties after guiding a complete roster overhaul that resulted in a franchise-worst 18-loss season in 2017.
Vagenas was informed of the decision during a meeting with team president Chris Klein over the weekend. Klein said Vagenas wasn't being made a scapegoat for the worst two-year stretch in franchise history, and promised that there would be more front-office moves, including the addition of a general manager or director of soccer operations.
"We don't rest this at the feet of one person," said Klein, who added that he hopes to make the move quickly given the amount of work the team has to do this winter.
One nervous front-office official, speaking before Tuesday's announcement, said, "Things are quite a bit uncertain right now."
The biggest issue facing the team on the field is the future of leading scorer Zlatan Ibrahimovic, who has hinted repeatedly that he may not return without a new contract. The team held exit interviews for players and staff Tuesday but there was no resolution on Ibrahimovic's situation, with Klein saying that conversations are ongoing.
"Our plan is to have Zlatan back with the club," he said.
Finding the money to keep him could mean parting with one of the team's three designated players. For more than a month there has been talk of a trade that would send productive midfielder Romain Alessandrini to Montreal. Or the team could trade or buy out Mexican national team player Gio dos Santos, who has been a bust while pulling down a team-leading salary of $6 million a season.
Klein admitted that all those possibilities may have to be considered, but he refused to discuss any in detail.
"We're not going to comment on any individual players," he said.
As for the front office, the team and former coach Bruce Arena, who took the Galaxy to eight straight playoff appearances and three league titles between 2009 and 2016, have been talking, although it's unclear to what end. Yahoo Sports' Doug McIntyre reported last week the team has also expressed interest in bringing former player Todd Dunivant back to StubHub Center in an undefined role, most likely in the front office.
"We need to continue to take an honest look to see where and how we can get better," Klein said. "We need to have a club with a clearly defined structure, both internally and externally, that we can speak to and live by.
"I don't believe that we have had that. At least not the way that it needs to be … to move the club forward in the right way. We need to have the right people and the right structure to continue to make decisions to push us forward to live up to the standards that we have here at our club."
Given the results of the last two seasons, that sounds like a heavy lift.
LAFC has much less work to do. The team's three best players — attackers Adama Diomande, Carlos Vela and Diego Rossi, who combined for 38 of LAFC's 68 goals — will all be back, as will most of the rest of the team's core.
"There are very few decisions to make," said John Thorrington, LAFC's executive vice president for soccer operations. "It's a very, very different offseason."
LAFC made tremendous strides during a first season in which it became just the fifth expansion team to make the MLS playoffs. Only Atlanta, which played a similar short-passing, possession-oriented style, scored more goals, and LAFC went into the final half-hour of the regular season with a chance to become the only expansion team to finish atop the conference table.
But it lost to a shorthanded Sporting Kansas City, then had its season ended in a loss to RSL in a game it dominated.
For stretches this season LAFC looked like one of the best teams in the league. Three times the club put together six-game unbeaten streaks, and they lost just twice — each time by a goal — between early April and mid-July.
That was misleading, though, because LAFC was just .500 against playoff teams.
Off the field, however, the results were mixed. The team has a large, smart and enthusiastic ownership and an enterprising social media group that began engaging with its fan base long before the club had even signed a player.
But although the team sold out every home game, three matches were marred by scuffles in and around Banc of California Stadium, the chanting of an obnoxious homophobic chant or by debris being thrown on the field, which caused the playoff game with RSL to be halted twice.
LAFC officials have tried to have it both ways, creating a passionate, blue-collar, in-your-face fan culture, then feigning surprise when some of those fans took their passions a little too far. It's admittedly a tough line to walk — and it's hard to know you've crossed it until it's too late.
There were other factors at play in the RSL playoff game, though. It was a weekday night game, one many season-ticket holders couldn't attend so they gave away or sold their seats on the secondary market. As a result, many of the people in attendance were not fans who had been with the team all season.
"I've been to every match this season. There were a ton of first-time fans," supporter Kevin Blumenfeld wrote me. "The growth of LAFC is like a cultural movement and it felt like some of these people were not a part of that growth over the season or at least have zero idea of the standard we have come to hold ourselves to."
That was a lesson for management and for individual fans, who have accepted the team's challenge to help define and police the environment in the stadium. In the wake of the RSL game, social media lit up with fans expressing their disappointment at how the season ended — not on the field, but in the stands.
"We learned how easy it is to potentially lose our stadium to a few uninformed people and a horrible chant," Blumenfeld wrote. "That nonsense literally had me and my fellow season-ticket holders in shock. When people walk into the Banc or wear the LAFC crest, they should be humbled by the bar we set for this club to every degree. Knowing the LAFC community, we're not going to rest until that happens."
The front office deserves credit for standing up to the troublemakers. Less than 24 hours after the playoff debacle, President Tom Penn and Josef Zacher, head of the team's independent supporters union, issued a joint statement in which they said they "will not tolerate the offensive goal kick chant … and understand we have work to do." The statement went on to say that "any fans identified as participating in this offensive chanting or other prohibited acts will be removed from the stadium and permanently banned."
Strong stuff, right?
The problem is they've said that before. After July's game with the Galaxy, which was marred by fan altercations and the destruction of property inside and outside the stadium, Penn and Zacher released a statement in which they said "any fans identified as participating in illegal behavior will be removed from the stadium and the club will revoke their season membership." And after April's home opener, in which the anti-gay chant was heard repeatedly, Penn and Zacher promised "any fans identified as participating in this offensive chanting will be removed from the stadium and the club will revoke their season membership."
In talking to Penn, Zacher and season-ticket holders such as Blumenfeld, I have no doubt they are sincerely troubled by the antisocial behavior of some fans. They have an opportunity and an obligation to stop it because the club's nascent fan culture remains a work in progress.
"There was even more disappointment within the organization because we know more than anybody all the positive things that went into making our stadium environment second to none," Thorrington said. "We certainly need to address aggressively people who are not contributing to the environment."
Changes in latitudes, changes in attitudes
Gyasi Zardes was once among the top homegrown players in MLS, scoring 16 goals in his second season as a starter with the Galaxy, then adding another in the MLS Cup final.
But last season he struggled. Hindered by injury and a growing lack of confidence, he scored just twice and finished the season playing right back for a team that finished last for the first time in franchise history.
So it came as welcome — if slightly painful — news when Zardes was traded from his hometown club, the only one he had ever known, to the Columbus Crew during the winter. The change of scenery worked wonders though, with Zardes setting career highs for goals (19), starts (33) and minutes played (2,948) in taking the Crew to the Eastern Conference playoff semifinals.
"When I left the Galaxy, I was positive," said Zardes, whose goal total was the most by a U.S. player since Mike Magee scored 21 times in a 2013 season split between the Galaxy and Chicago Fire. "Sometimes players need change and sometimes a different environment can bring out different abilities in players.
"I thought it was just a great time for me to try something new and kind of get out of my comfort zone."
If the trade worked out well for Zardes, a finalist for the league's Comeback Player of the Year award, it may have worked out even better for Columbus. Zardes' hat trick against Minnesota in the final regular-season game lifted the Crew to a 3-2 victory and into the playoffs. And then in the first game of the two-leg conference semifinals with the New York Red Bulls, the best team in league history, Zardes scored the only goal in a 1-0 victory.
"This whole year I've been healthy, playing in top form, playing each and every single week," said Zardes, whose tireless work in the community made him one of the Galaxy's most popular players. "That's extremely important as a professional athlete, to not miss games and to not miss training sessions.
"In 2014, I was healthy and I was training and playing a lot so I think that correlates to the success I'm finding currently with my club."
And there isn't a locker room that could be happier for him than the Galaxy locker room he left.
Podcast
Don't miss my weekly podcast on the Corner of the Galaxy site as cohost Josh Guesman and I discuss the Galaxy each Monday. You can listen to the most recent podcast here.
Until next time
Stay tuned for future newsletters. Subscribe here, and I'll come right to your inbox. Something else you'd like to see? Email me. Or follow me on Twitter: @kbaxter11.
---
All about the beautiful game
Go inside the L.A. pro soccer scene and beyond in Kevin Baxter's weekly newsletter.
You may occasionally receive promotional content from the Los Angeles Times.