Soccer! California is a second home to Mexico's national team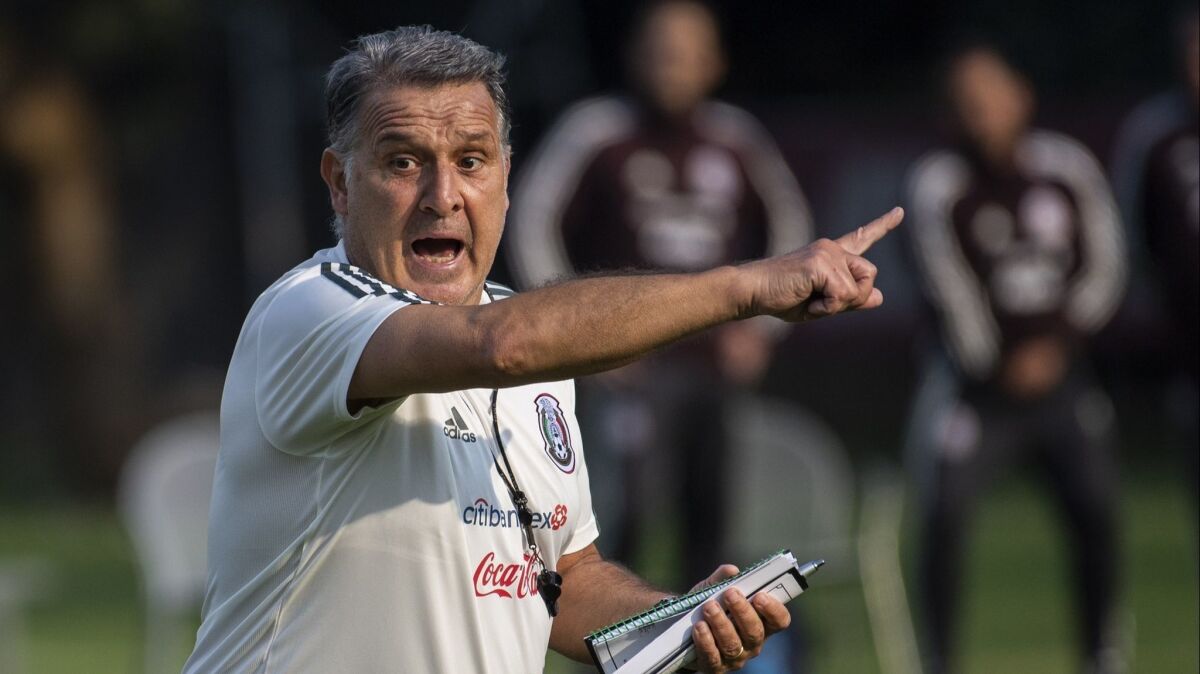 Hello and welcome to this week's edition of the L.A. Times soccer newsletter. I'm Kevin Baxter, the Times' soccer writer.
We start today with the Mexican national team, which is in Santa Clara to play Paraguay in its second game under new coach Tata Martino. And if there was ever any question what the real national soccer team is, at least in California, know that as of Monday afternoon more than 35,000 tickets had been sold for Tuesday's match. That's on top of the 49,617 Mexico drew for a friendly with Chile last week in San Diego.
The last time the U.S. got a crowd of more than 40,000 for a home game it was playing…well, Mexico, last year in Nashville. In fact with Tuesday's figures, Mexico will have played before more people in California in five days than the U.S. has drawn in its last seven months of home games.
So is it any wonder El Tri is starting to see California as what it once was: part of Mexico?
The national team has long scouted Mexican-American players in California. Sometimes with success, as in the case of midfielder Jonathan Gonzalez, who played for three U.S. age-group national teams before joining Mexico's senior team last year. And sometimes without success, as in the case of Galaxy midfielder Joe Corona, who played for a Mexican youth national team before declaring for the U.S. as a senior.
New Galaxy general manager Dennis te Kloese was in the center of some of those recruiting battles, having worked on both side of the border.
He became enamored with the youth talent in Southern California as a scout for Chivas of Guadalajara, then later helped develop some of that talent as scouting director at Chivas USA. And before returning to Carson and MLS, he worked for the Mexican soccer federation, most recently as director of national teams.
"I've always admired the amount of talent and high quality of players that come out of this area," Te Kloese said.
Not surprisingly, the Mexican federation has continued down the path he helped blaze and now has its eyes on three prizes that, ironically, are now under Te Kloese's command with the Galaxy.
Gerardo Torrado, Mexico's sporting director and a Te Kloese acolyte, said El Tri is working to keep midfielder Efrain Alvarez in its fold and has an eye on Galaxy teammate Julian Araujo, the son of Mexican parents who is playing for the U.S. U-23 national team.
"We are really close to him and we understand that he is a different player," Torrado said of Alvarez, 16, who has played for youth national teams in both countries. "We would love to have him playing for the [Mexican] national team. So we're going to be really close to him to make him understand that we want him to play for us, to continue playing for us."
Torrado said Araujo, a 17-year-old defender from Lompoc, is someone "we think is a good player…. We will be really close to them to make them understand that they can be part of this great team."
Another Galaxy player that has suddenly shown up on Mexico's radar is midfielder Uriel Antuna, who the team got on loan from Manchester City. Antuna, 21, played 15 games for Mexican youth teams and his recent form in MLS could earn him a call-up to Tata Martino's senior team.
Torrado say he pays little attention to which side of the border the players live on.
"They're Mexicans. They are not like, being born in Mexico or being born here and have the passport. They are good players," he said.
"And they are not young, old. They are good or bad players. And will always want to have the good players on your teams. So we will search for the players that fit and understand that they can make the difference for us."
How Te Kloese figures in all this is uncertain. A good word from the Galaxy GM could push the players toward one national team or the other – and it's clear where his past affections lie. But for the time being Te Kloese, who was born in the Netherlands, says his loyalties lie not with either national team but with the Galaxy.
"My role at this point," he said recently "is to take care of all the best interests and responsibilities and obligations that I have toward this club."
No place like home
LAFC defender Niko Hamalainen spent parts of four seasons playing in England and has traveled the world playing for various Finnish national teams. But he said he can't recall ever seeing anything like what he experienced in last Saturday's 2-1 victory over Real Salt Lake.
"I'm going to be honest," the Miami native said after his MLS debut, a nine-minute appearance off the bench in which he assisted on Walker Zimmerman's game-winning goal. "The Banc of California Stadium is probably one of the best atmospheres I've played in my whole career."
That's a theme that's been repeated often during the short history of the raucous downtown stadium, which sold out an MLS game for the 21st time Saturday. Yet the decibel level seemed exceptionally high for the rematch with RSL, especially in the north end, home to the 3252 supporters union.
And it's generally pretty loud there. Goalkeeper Tyler Miller, who plays for the home team, said before the game that when he's guarding the net on the north side he doesn't even try to yell out orders to his defenders because he know they can't hear him. Still, Miller and the rest of the team say the noise is more a help than a hindrance.
"I'm in awe of what happens every time we show up here," said coach Bob Bradley who, like Hamalainen, is well-traveled, having coached with five MLS teams, with clubs in Norway, France and the English Premier League and with national teams on two continents. "Every game, from start to finish, the atmosphere that we have, I remind the players all the time we're incredibly lucky that we have connected so well with our supporters."
That's why Bradley has made a point of walking to the north end after every game to personally thank the fans for their support, a tradition he followed again Saturday.
"We're in something together and I try to make sure that they know how important they are," he said.
That's reflected in the team's record at Banc of California, where the home field has certainly proven to be an advantage. Since entering the league last season LAFC is 12-1-7 at Banc of California in the regular season but has a losing record (7-8-3) on the road.
Two of the team's three home wins this season have come in stoppage time, and in all three matches the visiting team has seen a player sent off. That happened just four times in LAFC's 18 road matches over the last two years.
The Galaxy have been trying for nearly a decade to unite their major supporters groups into a single grandstand behind the north goal – partly to give them a louder, more forceful and intimidating presence and partly to free up a number of higher-priced corner seats on the south side currently used by supporters. The team even recruited Zlatan Ibrahimovic as part of the effort this winter, sending the captain to a meeting with the groups to press the point.
But the only thing the fans were unified by was their resistance to the idea. The strength of the LAFC supporters union, meanwhile, continues to grow.
"We love playing at home," Bradley continued. "We certainly feel the atmosphere and support of all of our fans so we go into every home game excited. The response is always on us to be sharp, good with the ball, try to control things, see how the game plays out."
It usually plays out with LAFC winning and the fans making a lot of noise.
(Click here to check out the noisy reaction to Zimmerman's game-winning goal, his fourth in two seasons at LAFC.)
Wounded lion
The Galaxy had Monday off, extending to 23 days the time Ibrahimovic has spent away from a soccer field since injuring an Achilles (we think) in the team's season-opening win over the Chicago Fire – a game in which Ibrahimovic scored the deciding goal.
Coach Guillermo Barros Schelotto has promised his captain will return to training this week and indicated he expects to have him available for Sunday's home game with the Portland Timbers. The match will be played on the one-year anniversary of Ibrahimovic's remarkable MLS debut, in which he came off the bench the score the tying and winning goals in the first El Trafico derby with LAFC.
Of course Schelotto promised Ibrahimovic would return to training last week and didn't, with the coach saying he was being extra cautious and giving his captain an extra week to heal.
Excuse us for being skeptical, especially since neither the coach nor the team have given any detailed information of exactly what's been ailing the lion, who hasn't been made available to the media since a postgame scrum after the Chicago game – an interview during which he said he began experiencing pain in his Achilles early in the game.
Those comments have since become the foundation for reports about Ibrahimovic's injury. Imagine the Lakers going three weeks without explaining LeBron James' absence or the Dodgers doing the same thing with Clayton Kershaw. Or how about the Rams not explaining what's wrong with Todd Gurley.
Oh, wait. The Rams actually did that.
One thing that makes Ibrahimovic's case curious is the fact his career was largely uninterrupted by injury before serious knee damage ended his 2017 season, leading to reconstructive surgery. Before that he had played in at least 41 games eight times in the previous nine seasons.
So for Ibrahimovic to sit out any training sessions or games – he's missed two matches already – the injury has to have been significant.
And his return, whether it comes this weekend against Portland or next month, will be significant as well because it will likely force the Galaxy to once again change the way it plays.
When Ibrahimovic is on the field, he is the focus of the offense. He is a supremely talented and unique player – just how much so was underscored in the first game he missed when Schelotto tried to replace him by simply inserting Chris Pontius into Ibrahimovic's spot in the formation.
It was a disaster with the Galaxy failing to get a shot on goal in regulation time of a 2-0 loss.
"When you look at Zlatan there's things he does that no one else in the world can do," Pontius said. "I'm certainly not going to try to do those things. I'm not Zlatan. I can't do the things he does."
So the next week Schelotto moved Pontius to a wing in a pressing 4-3-3 formation that freed Antuna to harass Minnesota United all night. The result was a 3-2 victory in perhaps the best game the Galaxy have played in more than two seasons, one that ended with Antuna setting Sebastian Lletget up for the game-winner.
That style and the furious tempo it requires is one the coach clearly prefers, but it doesn't suit a 37-year-old who only occasionally shows an interest in defending. Still, Schelotto winds up a winner no matter what happens with Ibrahimovic, which is perhaps why he's showing such patience.
If Ibrahimovic plays, he gets back arguably the most dominant player in the league. If he doesn't return Sunday, Schelotto gets to use his preferred strategy, one that showcases one of the most dynamic players on his team.
Now all he has to do it make sure he gets a win on the field as well, whichever way he goes.
It only hurts when he laughs
While Ibrahimovic has been rehabbing his injury, Lletget has gone more than three weeks without incurring one of his own. Which must seem like a lifetime for the Galaxy midfielder, who collects injuries the way his famous teammate gathers goals.
Lletget has missed more games than he's played over the last three seasons and each major injury has been preceded by a big moment with the U.S. national team. In 2017, his first international goal proved to be the game-winner in a World Cup qualifier in his hometown of San Jose. But the celebration was short-lived with Lletget sustaining a fracture in his left foot minutes later, costing him for the rest of the season.
This winter he returned to San Jose for the first time since the injury and scored the final goal in a win over Costa Rica, only to injure a hamstring in his first preseason appearance with the Galaxy, sidelining him until the second game of the regular season.
Then 59 minutes into his return, he broke his nose, forcing him to the sidelines again. That left Lletget wondering if someone might have put a spell on him.
"I ask myself that all the time," he said. "You can't step on a crack."
At least the absences are getting shorter, though, with Lletget returning a week after breaking his nose to score the final goal in a 3-2 win over Minnesota United.
"As long as I keep showing character, that's all I can ask of myself," Lletget said during a break in training with the U.S. national team last week in Orlando. "Whatever happens in any game or moving forward, I've just got to keep showing up.
"I want to be consistent. And I feel like I've shown that in little glimpses. But I need to obviously just keep being healthy."
Before the Minnesota game, Lletget said doctors recommended he not play because his nose had not fully healed.
"I said no. I've got to show up, I've got to play," he said. "Those are the kind of steps I'm going to have to take."
So the trainers asked him to wear a protective mask, which they strapped on just before kickoff. A minute into the game, Lletget ripped it off and threw it toward the team bench.
"It was uncomfortable," he said.
This being Lletget, you can probably guess what happened next: a ball him in the face again, bloodying his nose and briefly sending him back to the sidelines for repairs. He refused to come out though and six minutes later he scored the deciding goal.
"I'm happy that I showed the courage in myself to show up even if I'm not 100%," he said. "It's very uncomfortable, the conversations you have to have with the medical team, the coaches. But you sort of just have to fight through it."
Lletget is scheduled to risk injury – I mean, play – again Tuesday when the U.S. meets Chile in Houston. If he gets through that game healthy he'll then return to the Galaxy for Sunday's home game with the Portland Timbers.
(Check out Lletget's game-winner versus Minnesota, off the sweet cross from Antuna.)
Girl power
Remember that chart we stole – I mean reprinted – from Soccer America last week, the one that listed the 10 largest crowds for a women's match? It didn't even make it a week before it needed to be revised, with Juventus drawing an Italian-record of 39,027 for its women's game with Florentina on Sunday.
Juventus won the top-of-the table clash in Turin 1-0. The crowd was nearly three times as large as the previous Italian record of 14,000.
Tickets to Sunday's game were free. The Juventus women normally play at the club's training center in Vinovo.
(Watch the crowd react to the game-winning goal from Danish midfielder Sofie Pedersen.)
The explosion in popularity of the women's game, coming just three months before this summer's World Cup in France, is one reason why a record nine countries have expressed interest in playing host to the 2023 tournament.
So here's an updated version of the Soccer America chart. Don't bother memorizing it because it could change later this week.
Attendance Country. Match (Competition, Year)
60,739 Spain. Atletico Madrid vs. Barcelona (Liga Femenina, 2019)
51,211 Mexico. Monterrey vs. Tigres (Liga MX Femenil, 2018)
50,212 Germany. Lyon vs. FFC Frankfurt (UEFA WCL, 2012)
48,121 Spain. Athletic Bilbao vs. Atletico Madrid (Copa de la Reina, 2019)
45,423 England. Chelsea vs. Arsenal (FA Women's Cup, 2018)
41,121 Mexico. Tigres vs. Club America (Liga MX Femenil, 2018)
39,027 Italy. Juventus vs. Florentina (Serie A Women, 2019)
38,230 Mexico. Tigres vs. Monterrey (Liga MX Femenil, 2019)
37,601 Mexico. Tigres vs. Monterrey (Liga MX Femenil, 2018)
35,271 England. Man. City vs. Birmingham City (FA Women's Cup, 2017)
Podcast
Don't miss my weekly podcast on the Corner of the Galaxy site as co-host Josh Guesman and I discuss the Galaxy each Monday. You can listen to the most recent podcast here.
Until next time
Stay tuned for future newsletters. Subscribe here, and I'll come right to your inbox. Something else you'd like to see? Email me. Or follow me on Twitter: @kbaxter11.