Pushed to the Inland Empire by the high cost of living, LAFC's Benny Feilhaber learned to enjoy his hours-long commute by train
The railway platform was protected from the early afternoon sun by a freeway overpass. A couple of middle-aged men on neighboring benches were in conversation. Inside a nearby security booth, a guard reclined in her chair with her phone.
The elevator doors at the back of the otherwise vacant Metro station opened and Benny Feilhaber strode out in the most inconspicuous of outfits — sunglasses, a white T-shirt, a black backpack, grey shorts and sandals. He easily could have passed for a student from Cal State L.A., which sat at the top of the hill.
Feilhaber smiled. "That's the whole point," he said.
The Los Angeles Football Club player slipped into a Metrolink car unnoticed, blending in with the other commuters on the San Bernardino-bound train.
The 33-year-old Feilhaber spent his teenage years in Southern California and considered the area his home, but he nonetheless experienced a degree of sticker shock when he was acquired from Sporting Kansas City before the Major League Soccer season.
Feilhaber, a well-compensated midfielder who has played in a World Cup and made 44 appearances for the U.S. national team, felt the effects of the rising cost of living in the area. His search for spacious but affordable housing pushed him and his family into the Inland Empire. Rather than endure traffic on the freeways, particularly in the mornings, Feilhaber elected to use public transportation when LAFC practices at its training facility on the Cal State L.A. campus.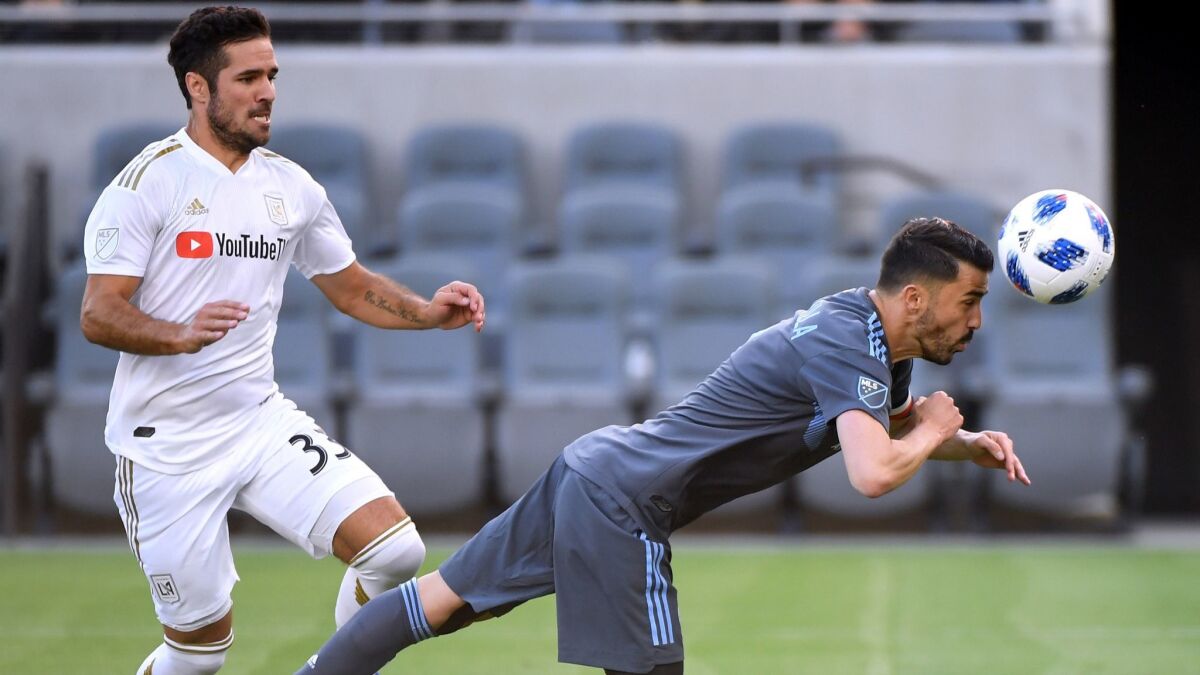 Feilhaber's near-daily commute has become a source of amusement for his teammates and coaches on the expansion team, which is tied for fourth place in the Western Conference entering Saturday's game at San Jose.
Coach Bob Bradley chuckled while recalling when Feilhaber informed him of his plans.
"Are you sure you know what you're doing?" Bradley asked.
While others remain puzzled by the idea of a making two hour-long train rides, it makes perfect sense to Feilhaber.
Shortly after his trade in January, Feilhaber and his wife started exploring housing options in the area. At his previous stop, he lived in a 4,600-square-foot house he purchased in the Kansas City suburb of Overland Park. He and his wife have two daughters, ages 4 and 2, as well as a dog. He wanted to provide them with as much space as they had in their old home.
Good luck.
"I'm from California, so I know I won't get the same bang for my buck here," Feilhaber said.
He owns a house in Irvine, where he attended high school. However, his disdain of traffic convinced him to continue leasing the property rather than live there.
"We tried to find somewhere that was semi-convenient," Feilhaber said. "I feel like L.A. traffic doesn't allow anything to be really convenient."
Feilhaber and his wife looked into Pasadena, only to receive confirmation that his $625,000 salary wouldn't afford them as much space as it did in the Midwest, especially with their house in Kansas still on the market. They would have to pay close to $5,000 a month for a house that was considerably smaller than what they were used to.
Then Feilhaber made a discovery.
"I realized there was a train that goes right to Cal State L.A.," he said.
On a train ride home from a training session this week, Feilhaber recalled how that changed his search. Pointing out the window, he said, "We started looking right down this track. On Google Maps, I looked where this track goes."
The Feilhabers started in West Covina and gradually made their way east until they found a reasonably priced, 4,200-square-foot rental property. (For the sake of his family's privacy, Feilhaber asked for the location to not be made public.) He pays around $300 a month to use public transportation, including $20 to park at the Metrolink station near his home.
Feilhaber is still waking up when making the crowded morning commute, but he's learned to treasure the rides home after practice. The trains are largely empty, as was the case Thursday, when he sat in the top level of a double decker car. Only one other person was seated in the section.
Feilhaber appreciates being in MLS at a time when franchises such as LAFC have first-class facilities, but the league's players remain relatively unknown. He recalls only one instance in which he was recognized. The anonymity offers him the opportunity to decompress, by catching up with friends on the phone or watching a Netflix program. He also started reading a book on bridge, which he plays with his father.
"An hour train ride for me is better for me than anything more than a 30-minute drive," Feilhaber said.
On this particular day, he recounted the details of his career, how he went from a walk-on at UCLA to the breakout performer for the U.S. at the under-20 World Cup in 2005, which landed him a contract with Hamburg of Germany. He later played in the English Premier League, as well as in Denmark. With Bradley as the U.S. coach, he made three substitute appearances at the 2010 World Cup.
As much as Feilhaber has spoken about the benefits of public transportation, many teammates remain skeptical. Feilhaber has a good sense of humor and doesn't take himself seriously, which invites teasing.
"We're waiting to see if he'll be late," defender Steven Beitashour joked.
Two months since the opening of LAFC's new training facility, Feilhaber is yet to be late for practice.
"We still think he's crazy," Beitashour said with a laugh.
Feilhaber returned the laughter when the sentiment was relayed to him.
"They don't see the positives," he said. "I love this. Every day, I'm on this train, I look at the freeway. Always traffic. These guys are driving and I'm just here with my feet up, watching my Netflix shows."
And he returns home to a six-bedroom house. He couldn't do that in Los Angeles.
---
All about the beautiful game
Go inside the L.A. pro soccer scene and beyond in Kevin Baxter's weekly newsletter.
You may occasionally receive promotional content from the Los Angeles Times.