Back with U.S. soccer team, Omar Gonzalez aims to show he's moved on from past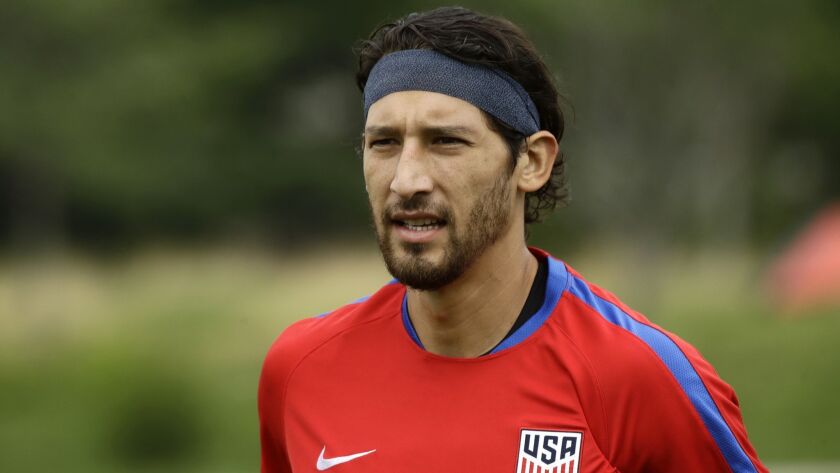 Reporting from Orlando —
Omar Gonzalez's last game with the U.S. national team was unforgettable. Only not in a good way.
Early in the first half of the team's World Cup qualifier against Trinidad and Tobago in October 2017, Gonzalez lazily tried to clear a cross only to have the ball carom off his leg and over goalkeeper Tim Howard for an own goal. The U.S. never recovered from the mistake, losing the game 2-1 and failing to advance to the World Cup for the first time since 1986.
"It stayed with me for a long time," remembered Gonzalez, who fought back tears after that game. "I don't think I'll ever be over it. But I am past it."
He might be the only one. On Tuesday, the former Galaxy defender was forced to relive that game and its aftermath with reporters in a hotel ballroom, a penance he knew he would pay after getting his first call-up to the national team since the failed qualifying campaign.
Now he hopes to use the rest of the team's 10-day training camp — which includes games against Ecuador on Thursday and Chile next week — to prove that not only has gotten past "that night in Trinidad and Tobago," but he's gotten better as well.
"The way I dealt with it was [with] a lot of questions like, 'Why did this happen?' Things that you could have done better. Things that you would have changed," he said. "But in the end, you have to realize that you have to learn from these situations.
"That's basically what I did: Find ways to learn from it. Find ways to make sure it doesn't happen again."
And that began, he said, with a call to Gregg Berhalter, a coach and former teammate. Berhalter had been Gonzalez's mentor with the Galaxy, guiding him on the path from precocious college player to MLS rookie of the year to stalwart center back on one of the best defenses in league history and finally to the starting lineup in the 2014 World Cup.
Now Gonzalez was asking Berhalter to help him start over by finding someone to tear down his game, then rebuild it. The results, he said, have been profound.
"I'm a totally different player than I was a year and a half ago," Gonzalez said. "I really took a look at myself and said, 'Where can I improve on my game? And the things I do well, can I do those even better?'
"It's a daily grind of putting in the work. Even though I went through that setback, that's not going to stop me from wanting to keep improving and striving for greatness."
Sign up for our weekly soccer newsletter »
Those weren't the only changes, though. Last summer, Gonzalez changed teams too, going from Mexican club Pachuca, which had bought him from the Galaxy after the 2015 season, to Atlas of Guadalajara — all the while waiting for a chance to return to the national team and erase one play that threatened to stain an otherwise solid career.
"He was very anxious to redeem himself," said Dave Sarachan, the interim coach of the national team, whose job was to identify new players, not redeem old ones. Be patient, he told Gonzalez.
Which is where Berhalter comes in again. In December, when he replaced Sarachan as permanent coach of the national team, he promised to strengthen the young U.S. roster with some veterans. And one of the first calls went to Gonzalez who, at 30, is the third-oldest player in camp.
"It's important to have players that have been through it," Berhalter said. "Guys that have been through it before and can share some of their experiences with a young group of players."
That part of Gonzalez's redemption tour has already begun.
"They give experience," Matt Miazga, 23, who is competing for playing time at center back, said of veterans such as Gonzalez. "Omar has a lot of years with the national team. It's always good to get his perspective on things."
A perspective that concedes the past can't be changed. But with hard work, it can be overcome.
"I was always hopeful I would get another opportunity to be with the national team," Gonzalez said. "And here it is."
kevin.baxter@latimes.com | Twitter: @kbaxter11
---
All about the beautiful game
Go inside the L.A. pro soccer scene and beyond in Kevin Baxter's weekly newsletter.
You may occasionally receive promotional content from the Los Angeles Times.