For U.S. and Mexico, there's a lot more than a soccer game on the line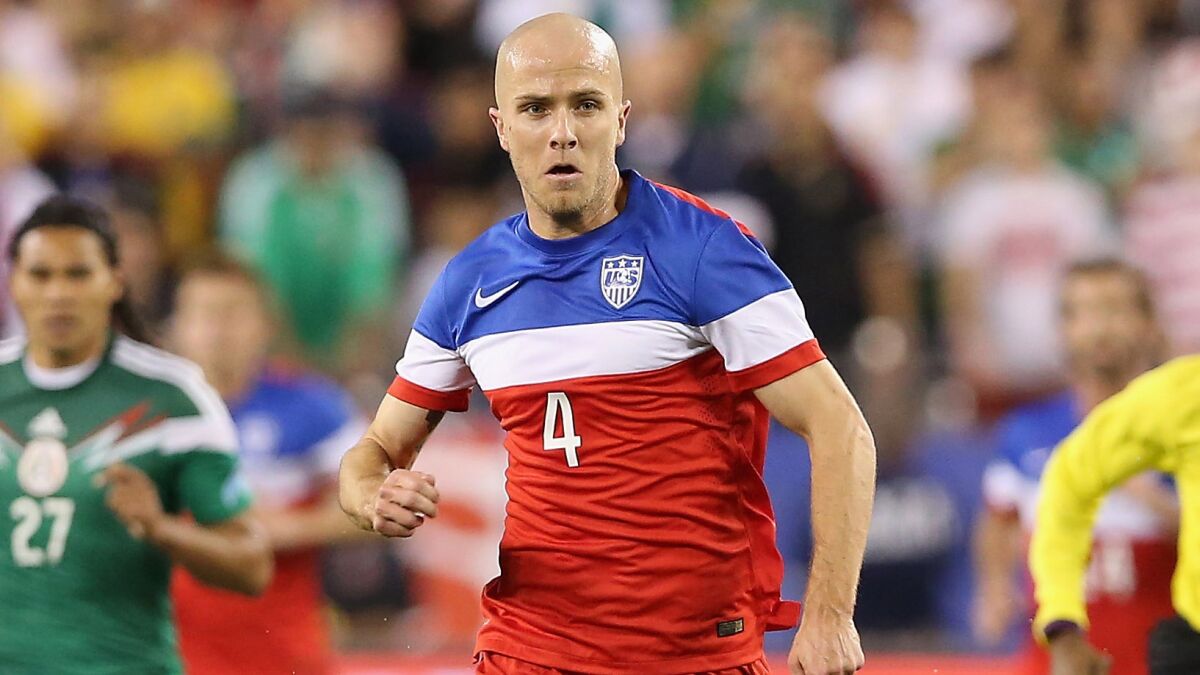 When Bruce Arena took over as coach of the U.S. national soccer team in 1998, games against Mexico were more rout than a rivalry.
"We were obviously light years behind," Arena remembered. "We were scared of them. We just had to change our mentality.
"That started with just simply stating that we've got to beat them."
And no U.S. coach did that more often than Arena, who won seven of 12 matches with Mexico in eight years, turning what had been a one-sided series into one of the most heated and competitive in international sport.
NEWSLETTER: Get the day's top headlines from Times Editor Davan Maharaj >>
"We started … saying we're going toe to toe with them," said Arena, who now coaches Major League Soccer's Galaxy. "Over time we had the upper hand."
Whether they keep it will be determined Saturday, when the U.S.-Mexico rivalry is renewed in the CONCACAF Cup playoff at a sold-out Rose Bowl. But there will be more than just regional bragging rights at stake. Also on the line is a berth in the 2017 Confederations Cup in Russia, an important tune-up for the 2018 World Cup.
And that has taken the rivalry to a whole new level.
"This is what you're hoping to experience as a coach, as a player, as a fan," said current U.S. Coach Juergen Klinsmann. "This will be a game that, for the next two or three years to come, is probably the biggest game because it decides who goes to Russia in 2017 and it gives you a CONCACAF title. So it's difficult to beat the importance of that one.
"It's a unique opportunity for every player to really write a piece of history."
The history of the U.S.-Mexico rivalry was still being transformed when Klinsmann, a World Cup winner as a player, moved from Germany to the U.S. in 1998.
But now, he said, it matches anything he experienced in Europe.
"It's comparable for me as a German to when you play Holland. The whole country rocks," said Klinsmann, who has yet to lose to Mexico as either a player or a coach. "For me, it was interesting over time to learn how much this rivalry really means to the people that really love soccer, whether it's the coaches, the fans, the kids, or the players."
It wasn't always that way.
After losing its first game with the U.S. in 1934, Mexico lost just once more over the next 57 years. And as the games grew more competitive in the 1990s, the rivalry grew more heated — and more physical.
During a game at the Rose Bowl in 1997, frustrated Mexican midfielder Ramon Ramirez kicked U.S. defender Alexi Lalas in the groin. Then in the 2002 World Cup, Cobi Jones took a head-butt from Mexico's Rafael Marquez — who drew a red card. And Jones said Mexico's Cuauhtemoc Blanco tried to injure him by stomping on his leg in the same game, which ended in a 2-0 U.S. victory.
In addition, U.S. players have been pelted with bottles, batteries, beer and worse by Mexican fans — not just in Mexico, but during games in California as well. Former Galaxy star Landon Donovan left his mark on the series by urinating on a practice field in Guadalajara.
Just don't take any of that personally, said Galaxy forward Giovani dos Santos, who scored a memorable goal for Mexico in the 2011 Gold Cup final, the last game between Mexico and the U.S. at the Rose Bowl.
"There's no hate," said Dos Santos, who will miss this week's game with an injury. "It's a great rivalry. Like always, there's a lot of passion. "
Sometimes the passion can spill over though, as it did during after that 2002 World Cup game.
A short distance from the stadium in South Korea, the team buses stopped side by side at an intersection. When players in the Mexico bus began cursing and flipping off the U.S. players, the Americans responded by dancing and chanting "USA! USA!"
"I definitely remember that," said Arena, who coached that game. "The Mexican players were still very heated. And our guys were on a high.
"It was a little bit tense."
Get the latest in sports with our free newsletter >>
The U.S. has lost just four of 17 games with Mexico since the tempest at the traffic light.
"There are a lot of political and economic issues with Mexico. So it's not just sports. And that makes the rivalry a tense one," Arena said. "The general thinking was for years, beating the U.S. in soccer was the only thing Mexico had ahead of the U.S.
"So they had a lot of national pride in that rivalry. We had to start to understand and realize that to compete and to be successful took an exceptional performance and effort."
That's a mind-set that's taken hold with Klinsmann's players, who have embraced the challenge that awaits them Saturday.
"The way that it's come together, the way that it's been built up, it has the potential to be one of the biggest U.S.-Mexico games in a long, long time," U.S. captain Michael Bradley said. "You don't need to say much more."
Twitter: @kbaxter11
ALSO
FIFA suspends President Sepp Blatter and other top officials
Art Rooney II expects an NFL vote on Los Angeles in January