For U.S. team, road to World Cup will get a lot easier with victory over Panama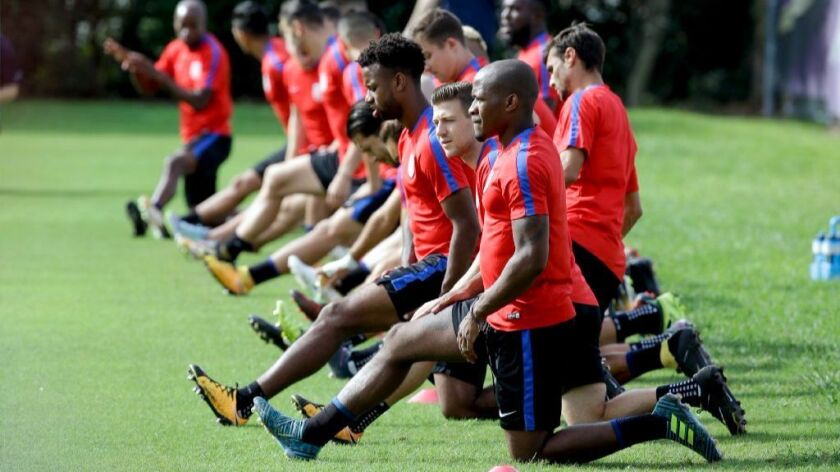 It may not look that way on a map, but the most direct route for the U.S. national team to reach Russia for next summer's World Cup is to go through Panama.
In fact, it may be the only way. Because if the U.S. doesn't beat Panama in Friday's qualifier at Orlando City Stadium (4:35 p.m. PDT, ESPN2, Univision), it could miss the World Cup for the first time since 1986.
"I don't need to lecture our players on the significance of the game," coach Bruce Arena said Thursday. "They understand that."
A draw won't eliminate the U.S. from World Cup contention. And even with a loss the Americans could still qualify by winning a two-leg intercontinental playoff with either Syria or Australia next month.
But in both scenarios the U.S. has to rely on help from others. Beat Panama, though, and the U.S. vaults over the Central Americans to grab CONCACAF's third and final automatic spot for next summer's World Cup, leaving it in charge of its own destiny heading into next week's final qualifier with Trinidad and Tobago.
"We're playing at home and the only thing acceptable is three points," midfielder Paul Arriola said. "We can't leave the field without three points."
Added captain Michael Bradley: "Games don't get much bigger than this. … There's no margin for error. And we understand that. We're looking forward to the challenge."
If the stakes are high for the U.S., one of seven countries to have qualified for the last seven World Cups, they may be even higher for Panama, which has never played in soccer's biggest event. It came close four years ago when, needing to beat the U.S. in its final qualifier to advance to the intercontinental playoff, it gave up a 2-1 lead in stoppage time and lost.
That leaves the Central Americans playing for both revenge and a World Cup berth on Friday.
"They're very motivated," Bradley said. "They have a group of players that have been together for a long time."
They may not be together much longer, though, which only adds to the urgency for Panamanian soccer's "Golden Generation." Thirteen players on the qualifying roster – including former Galaxy goalkeeper Jaime Penedo — are 29 years of age or older, making it unlikely many will be back for another shot at a World Cup berth four years from now.
"They realize this is maybe their last big chance as a group to do something special," Bradley continued. "So certainly from our standpoint we expect a very motivated team; a group of guys that are going to come in here and be ready to give everything to keep their dream of going to a World Cup alive."
Panama also has recent history on its side. It hasn't lost to the U.S. since that World Cup qualifier four years ago, playing the U.S. to four consecutive 1-1 draws, including a bruising match last March in which Panama pummeled young U.S. playmaker Christian Pulisic.
And while Pulisic hasn't forgotten the pounding, he says he's not intimidated by it, either.
"I'm going to continue [with] the same attacking style. I'm not going to change it because of how other teams are treating me," said Pulisic, who has scored or helped to set up nine of the 12 U.S. goals in the qualifying tournament. "It's to be expected in CONCACAF. These teams aren't going to give it to us easy."
Arena said the U.S. approach will be to come out aggressively and attack a well-structured defense that has allowed just five goals and given up multiple scores just once in eight qualifiers.
"We're going to go out there and try to win this game from minute 1," he said.
"We know, with the standings, the significance of getting three points. This is a game where players have to step up and perform. We expect big performances."
Friday's schedule
U.S. vs. Panama in Orlando, 4:35 p.m. (PDT). TV: ESPN2, Univision
Mexico vs. Trinidad and Tobago in San Luis, 6:30 p.m. (PDT) TV: FS1, Univision
Costa Rica vs. Honduras in San Jose, 7 p.m. TV: beIN Sports, Universo
Scenarios
1. U.S. beats Panama: A U.S. win would lift the Americans into third place and keep them in control of their own destiny since a win over Trinidad and Tobago next week would send them through to Russia.
2. U.S.-Panama tie: A draw would keep the U.S. no better than fourth heading into its final game and would leave it requiring help to qualify automatically for the World Cup. The U.S. would need a win in Trinidad, a Costa Rican win in Panama and, possibly, a Honduran loss next week to advance.
3. Panama wins: A Panama win would make it impossible for the U.S. to qualify automatically for Russia since it would leave the Americans four points out of third with only one match remaining. The U.S. could reach Russia by winning an intercontinental playoff with either Australia or Syria next month. But even that route could close depending on how Honduras fares in its final game with Mexico.
Follow Kevin Baxter on Twitter @kbaxter11
---
All about the beautiful game
Go inside the L.A. pro soccer scene and beyond in Kevin Baxter's weekly newsletter.
You may occasionally receive promotional content from the Los Angeles Times.