Future of U.S. Soccer hangs in the balance as presidential election approaches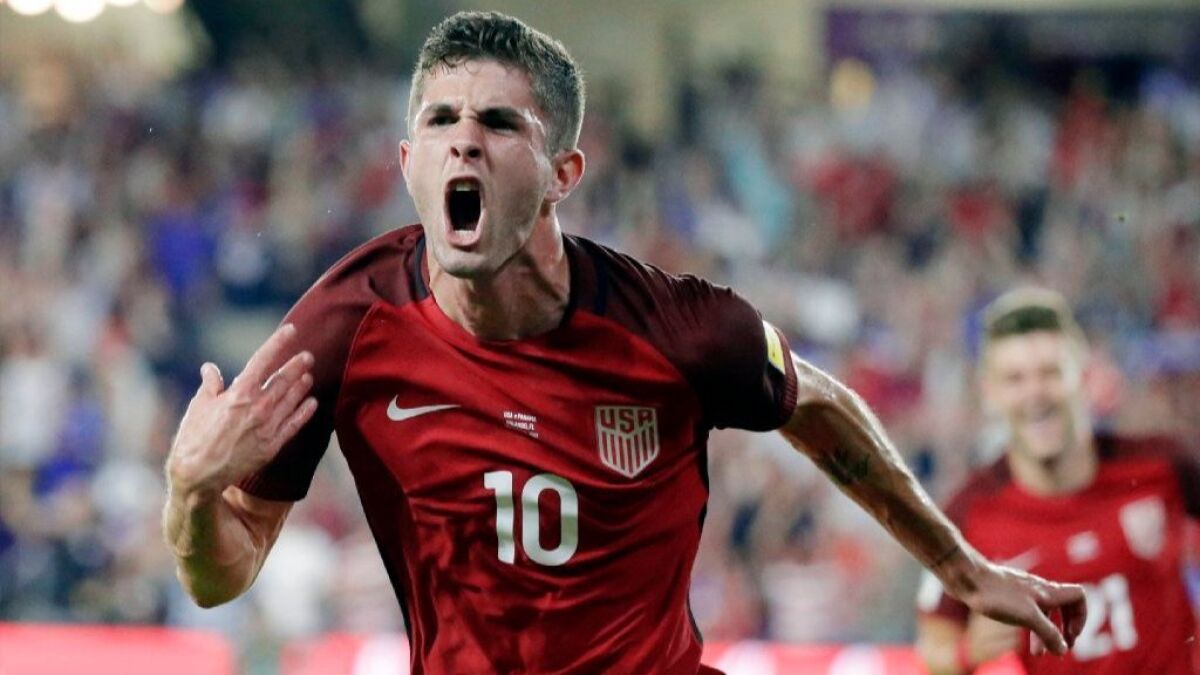 Reporting from SUNRISE, Fla. —
The U.S. Soccer Federation will hold its first contested presidential election in 20 years Saturday in Orlando. But given the tenor of the three-month campaign, picking a winner may do more to inflame than heal a federation still battered by missing the World Cup for the first time since 1986.
In the run-up to the vote, one candidate accused a rival campaign of urging him to drop out and support their person; another contestant sued the very federation she is seeking to lead. During last month's United Soccer Coaches Convention in Philadelphia, where seven of the eight people running for the presidency made presentations, a truck parked outside the convention center played a loud video that accused candidate Kathy Carter of being a puppet; attacked fellow candidate Carlos Cordeiro, the USSF vice-president; and excoriated MLS commissioner Don Garber, who isn't even on the ballot.
This campaign has gotten so ugly current president Sunil Gulati, who is not running for re-election to a post he has held since 2006, took to the convention podium and lamented the mud-slinging.
"The facts don't get changed by calling people names or saying they're not competent or having trucks outside," he said. "There's ways to have elections with a positive tone, and the tone in this election is far from that. To me, that's very disappointing."
The finger-pointing and blame-laying followed the national team's fifth-place finish in World Cup qualifying last fall. In the wake of that debacle, the field to succeed Gulati drew establishment candidates such as Cordeiro and Carter, who has deep ties to the current leadership as president of Soccer United Marketing, the commercial arm of U.S. Soccer and MLS. On the other end, there's Eric Wynalda and Hope Solo, two of the three World Cup veterans on the ballot.
Former Galaxy midfielder Kyle Martino, ex-national team star and Orange County coach Paul Caligiuri, and lawyers Steve Gans and Michael Winograd are also in the running.
All have campaigned for change, but Wynalda and Solo have the most radical platforms. Wynalda is calling for promotion and relegation and a European-style calendar for professional leagues. Solo closed her campaign by filing a complaint accusing USSF's governing body of neglecting youth development for the sake of self-serving financial gain.
That wide range of approaches could make it tough for U.S. Soccer's varied interests to unite behind whichever candidate wins.
Carter, the favorite, said she hoped membership would be brought together after the election, despite "a little bit of negative campaigning."
"There's more common interests out there then we may have even recognized," she added. "There's definitely a willingness for evolution and change.
"We've got eight people that are really excited about running U.S. Soccer and who are putting themselves out there. Whether I agree with everybody or not is irrelevant. We've got dialogue happening in our game that's never before happened."
Whether common threads will eventually bind is uncertain. On Thursday, six candidates or their representatives held a tense meeting one observer said seemed headed toward fisticuffs. Eventually cooler heads prevailed and the six camps reportedly agreed on a "solidarity statement" urging voters to reject Carter and Cordeiro, neither of whom, the statement said would, "bring about the change that is needed."
The election is the last item on the agenda at the federation's national council meeting and more than 500 people are expected to cast ballots. Most voters fall into one of four categories: youth soccer; adult and amateur soccer; the professional council, representing pro leagues for men and women; and the athletes' council, which represents players on various national teams.
Some votes count more than others. For example, the ballots of the youth, adult and professional councils each make up 25.8% of the total vote. The athletes' council will represent 20% and the final 2.6% will be made up of ballots cast by national associations, board members and two fan representatives.
A recent vote by the USSF board of directors gave MLS nine of the 16 votes in the pro council, leaving it in control of a race-changing 14.5% of the overall total. The North American Soccer League, which announced this week it is suing 14 of the 15 members of the USSF board, will get just 1.6% of the overall vote, lowest among the four pro council bodies. MLS has already thrown its support behind Carter, the only candidate believed to have a shot at winning on the first ballot.
Voting will be conducted by secret electronic ballot and will continue until one of the candidates receives more than 50% of the ballots cast, setting up the possibility of several runoffs.
"Voting for another candidate isn't necessarily a different mandate," Martino, one of four former national team players running for the presidency, said recently. "A lot of us have similar messages. But what's happening right now is this is becoming political, and I'm disappointed with the direction it's taken."
Twitter: @kbaxter11
---
All about the beautiful game
Go inside the L.A. pro soccer scene and beyond in Kevin Baxter's weekly newsletter.
You may occasionally receive promotional content from the Los Angeles Times.