Hurricane worries and unites players on U.S. national team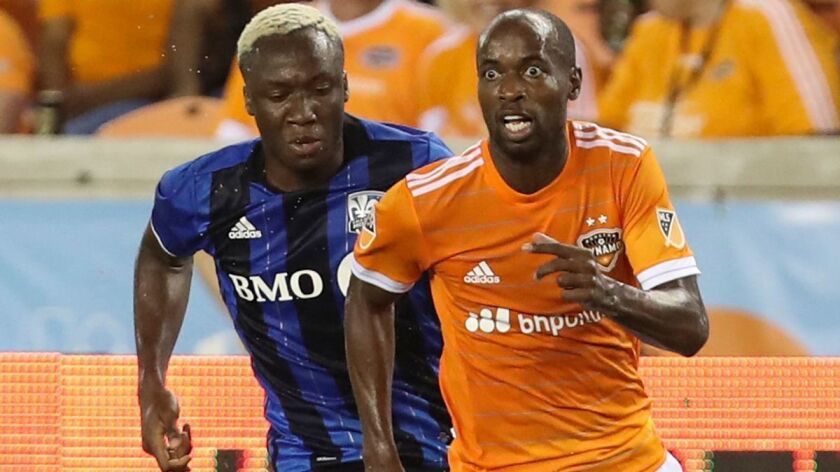 Houston was still dry when DaMarcus Beasley got on a plane for New Jersey, where he would join the U.S. men's national team. By the time he landed, many of his neighbors were packing their belongings and beginning to plot their escapes before Hurricane Harvey dumped the worst of its deadly wrath on the city.
A year's worth of rain — more than 50 inches and counting — has fallen on Houston since Friday. And while Beasley, one of five national team players with ties to Texas, was fortunate in his timing, those he left behind haven't been forgotten.
"I was able to get out before the real rain started," said Beasley, who lives in Pearland, south of Houston, where more than 400 water rescues have been conducted in the past five days. "It's sad to see that people are in this kind of situation."
And that's making soccer games — even World Cup qualifiers — seem insignificant by comparison.
"Some of the images and videos that have come out of Texas have been heartbreaking," midfielder Michael Bradley, captain of the U.S. team, said Tuesday. "For all of us, as human beings, as fellow Americans, to find the right ways to show support and help that part of the country move on from this, that's very important."
Bradley said part of his contribution will come Friday when the U.S. plays Costa Rica in a World Cup qualifier at Red Bull Arena. The U.S. trails Mexico and Costa Rica and leads Panama by just a point in the six-team CONCACAF table with four games left. To qualify automatically for next summer's World Cup in Russia, the U.S. must finish in the top three — and beating Costa Rica would be a big step in that process.
"In our own little way, playing and representing the country in a really strong way and proud on Friday night is a little part of that," Bradley said of the U.S. team's approach to hurricane relief.
Beasley, a defender who is participating in a U.S.-record fifth qualifying tournament, plays his club soccer for MLS side the Houston Dynamo. But while Beasley got out of town before the storm hit, team president Chris Canetti spent a night hunkered down with his family in a closet as tornados ripped through the neighborhood.
Meanwhile Dynamo teammates Romell Quioto and Alberth Elis, who will play in qualifiers for Honduras, had to drive four hours to Dallas to catch flights on Monday after Houston's two airports were closed. And a team spokesman said Adolfo Machado stayed in Texas until Tuesday to make sure his pregnant girlfriend and young daughter were safe before leaving to join Panama's team.
Four other U.S. national team players – defenders Matt Hedges and Omar Gonzalez, midfielder Kellyn Acosta and forward Clint Dempsey – were either born or play in Texas although they all come from areas far north of Houston, where much of the damage has been centered. However interest in the disaster, and concern for its victims, isn't limited by geography said midfielder Christian Pulisic, who plays his club soccer in the German Bundesliga.
"We have the news on at team meals and stuff like that," he said. "We're athletes but we watch the same things that other people do. And of course we're fascinated and we hope for the best for everything down there."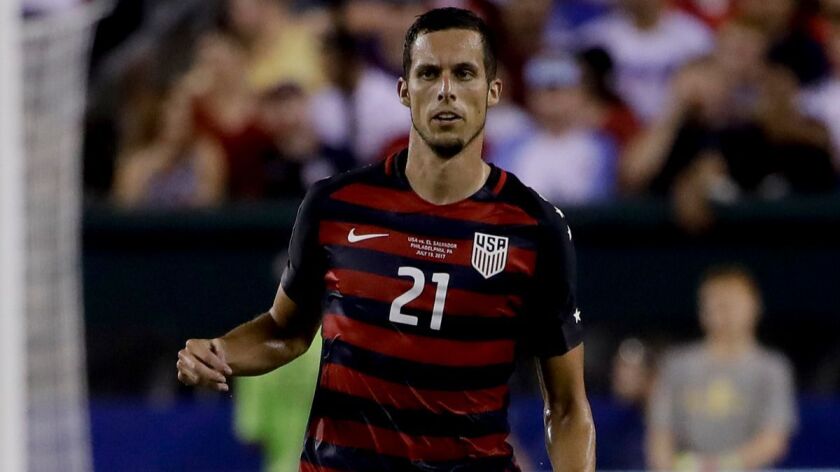 Pulisic, at 18 the youngest U.S. player, said he sought out Beasley, at 35 the oldest field player, to ask him how he was holding up. So did coach Bruce Arena, who selected Beasley for his first World Cup qualifying campaign in 2001.
"I know it's been a tough week. For DaMarcus in particular," said Arena, who called Beasley up four times this year, as much for his leadership as for his playing ability. "All we can do is hope the conditions improve and that everyone is safe."
The early news about Beasley's home in Brazoria County was good: The street and driveway were flooded but the house, which is elevated, had weathered the storm. However, that was before the levee at Columbia Lakes was breached, forcing county officials to order mandatory evacuations in some communities.
Still, Beasley said even the darkest storm clouds can have a silver lining. In this case, it's been the way his neighbors — like his teammates — have come together.
"It's nice to see that strangers are helping out in any way they can," he said. "Whoever had boats, they're in their boats trying to help people, save people. The city is really coming together."
Follow Kevin Baxter on Twitter @kbaxter11
---
Get our high school sports newsletter
Prep Rally is devoted to the SoCal high school sports experience, bringing you scores, stories and a behind-the-scenes look at what makes prep sports so popular.
You may occasionally receive promotional content from the Los Angeles Times.