U.S. men's soccer team fails to qualify for World Cup with stunning loss to Trinidad and Tobago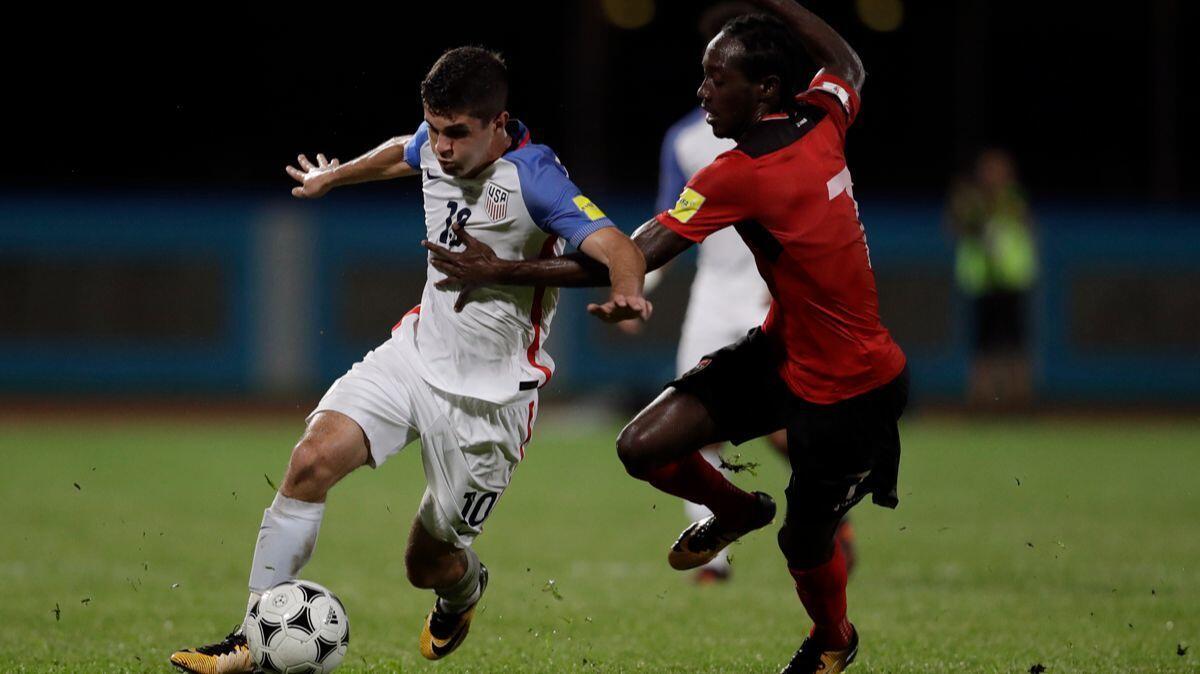 Reporting from COUVA, Trinidad —
The longest, most arduous journey for a U.S. national soccer team in a generation was stopped just short of the finish line Tuesday, with Trinidad and Tobago dealing the Americans a crushing 2-1 upset just minutes before both Panama and Honduras won their final qualifiers.
The U.S. started the day needing only a draw to reach its eighth consecutive World Cup. Instead, the three results combined to drop the Americans to fifth in the six-team CONCACAF tournament, ahead of only Trinidad.
"I never thought I'd see this day," said Omar Gonzalez, who hadn't been born the last time the U.S. missed soccer's biggest event.
"It's the worst day of my career," continued the former Galaxy defender, whose first-half own goal was the difference between the U.S. going on or going home. "I don't even know how to put into words what I'm feeling.
"We let down an entire nation today."
Mexico, Costa Rica and Panama advance directly to next summer's tournament — Panama with a controversial 2-1 win over Costa Rica — while Honduras, with a 3-2 victory over Mexico, qualified for a two-leg intercontinental playoff with Australia next month with an additional berth on the line.
The U.S., meanwhile, ends its qualifying campaign one point shy of the World Cup.
"We had everything there for us today," coach Bruce Arena said. "No excuses. We should not be staying home from this World Cup. And I take the responsibility for this."
Arena was hired last November, after the U.S. opened qualifying with consecutive losses under Jurgen Klinsmann. That left the new coach with eight games to rescue the program and though he lost just two of his 18 games in charge, both came in World Cup qualifiers — at home to Costa Rica last month and Tuesday in Trinidad.
"We didn't qualify for the World Cup," Arena said. "That was the job, to get us to qualify for the World Cup.
"We failed."
The last time the U.S. went to the final day of qualifying with its World Cup status uncertain was 1989, and that game was also played in Trinidad. That one ended more happily for the Americans, though, with Paul Caligiuri's first-half goal before a packed house in Trinidad's national stadium climaxing a Cinderella run that took the Americans to their first World Cup in 40 years.
Until Tuesday, they hadn't missed the tournament since.
But Caligiuri's goal also eliminated Trinidad, which had needed only a draw to advance to the World Cup — and the Soca Warriors haven't forgotten that.
The rematch didn't have near the atmosphere, though. Trinidad's soccer federation said electrical problems made the national stadium unusable, so they moved the game to a tiny 10,000-seat track stadium in Couva, about an hour south of Trinidad's capital. And the stadium was nowhere near filled.
It didn't take long for Trinidad to show the U.S. this wouldn't be its day. Arena, breaking from his usual practice of rotating his lineup, started the same 11 players he used last Friday in a rout of Panama and the team came out flat. Trinidad, with nothing but revenge to play for, was flying.
Shahdon Winchester appeared to put Trinidad up in the fourth minute, easily beating U.S. goalkeeper Tim Howard, but the goal was waved off because Winchester was offside.
Thirteen minutes later Winchester was back — this time well onside — and when Alvin Jones targeted him with a cross, Gonzalez stepped in front and the ball struck him in the shin, bounding over Howard and into his own goal to give Trinidad a lead it never gave back.
"One of the most unlucky goals ever," Gonzalez said. "It's one that will haunt me forever."
Jones got the second goal in more traditional, and spectacular, fashion, pulling up about 35 yards and curling a right-footed shot in near the far post in the 37th minute to give Trinidad a 2-0 lead before the U.S. had its first shot on goal.
Christian Pulisic pulled one of those back for the U.S. two minutes after the intermission, scoring a right-footed laser from about 20 yards.
It was the teenager's ninth goal in 20 games with the national team and his second in as many qualifiers.
But the U.S., finally showing some urgency, knew only frustration after that, with Clint Dempsey getting denied twice in a seven-minute span, first on a leaping save from Trinidad keeper Glenroy Samuel in the 69th minute and then by the goal post.
Samuel also made a splendid save on a Bobby Wood header in the center of the goal in the 87th minute.
"We weren't good enough," forward Jozy Altidore said. "We dug ourselves a big hole. We just weren't able to deal with Trinidad attacking-wise.
"We have nobody else to blame but ourselves."
Follow Kevin Baxter on Twitter @kbaxter11