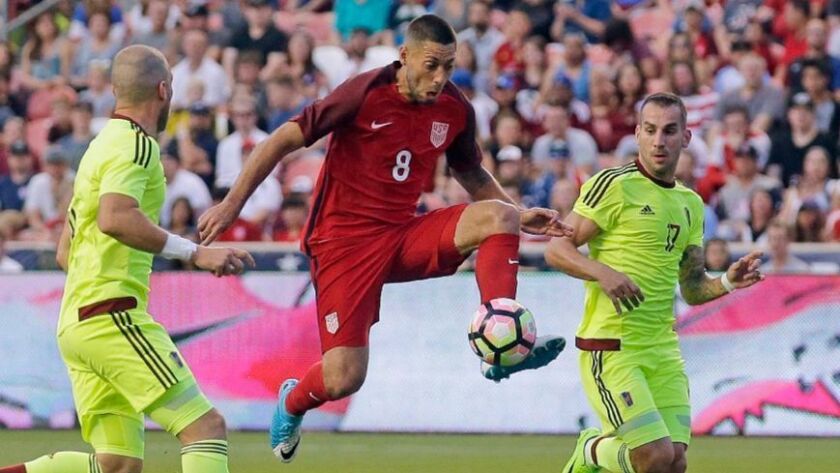 Reporting from COMMERCE CITY, Colo. —
For a soccer player as accomplished as Clint Dempsey, asking him to choose a favorite international goal can be a little like asking a parent to pick a favorite child. The answer you'll most likely get is "they're all special in their own way."
Plus Dempsey, who has scored 56 times for the national team, has so many to choose from. But if he had to pick just one, he said Tuesday, it would be his second competitive goal for the U.S., against Ghana in the 2006 World Cup.
"To score in the World Cup," he said "that was what I dreamed about as a kid."
Dempsey never could have dreamed of the achievement his next goal will bring, however, because with one more score he'll tie Landon Donovan's U.S. record. He has more international goals than Brazilians Romario and Neymar, England's Wayne Rooney and anyone who has played for Mexico.
And he's only two behind Argentina's Lionel Messi.
Dempsey gets his next chance at history Thursday, when the U.S. resumes World Cup qualifying against Trinidad and Tobago in suburban Denver. In the last two qualifiers in March, Dempsey had a hat trick in a win over Honduras and scored the only U.S. goal in a tie with Panama, giving him goals in the last three qualifiers in which he has played.
But Dempsey said his focus against Trinidad and Tobago will be on the scoreboard, not the scoresheet, since the U.S. needs a win to improve its chances of advancing to the 2018 tournament in Russia.
"The most important thing is qualifying for the World Cup. So that's what we're trying to do," he said.
If you can add a couple of records along the way, though, why not give it a shot?
Dempsey's resume from a 14-year career is impressive. His 18 goals in qualifying are the most in U.S. history and if he plays Thursday and also Sunday in Mexico, he'll match another Donovan mark by appearing in 40 qualifiers. And he's not the only one rewriting the record book.
Jozy Altidore's 16 goals in qualifying are second all-time and Tim Howard's 114 international appearances and 35 qualifying caps are the most by an American goalkeeper.
Yet, like Dempsey, Altidore said the focus Thursday will be on getting a result, not a record.
"It's an important game," he said. "Look at the table. We're still not where we want to be. We need three points. And that's the focus for everyone."
The U.S. will enter Thursday's game fourth in the hexagonal round of qualifying with six games to play. Only the top three countries in the six-team tournament receive automatic World Cup berths, so the Americans need to move up at least one place to guarantee themselves a spot in an eight-straight World Cup.
That's the least-acceptable goal, however. Because since Dempsey, 34, and Howard, 38, began playing together more than a decade ago, the U.S. has never finished anywhere but first in the CONCACAF qualifying tournament.
"It's not easy, for a long time, to stay at a certain level," said Altidore, 27. "You look at Clint and he's still putting in valuable minutes for his club and his country. That's not an easy thing to do.
"Same as Tim Howard. They come in and they do their job and they make no excuses. So as much as people can say 'oh, it's because of other people,' I disagree. Those guys keep themselves going at a high level."
Yet, both could consider themselves somewhat fortunate to be healthy enough to play Thursday. Howard missed four months last winter after undergoing surgery to repair a ruptured muscle in his groin, the most significant injury of his career.
Dempsey missed almost twice as much time with an irregular heartbeat, marking his return to the national team with the three goals against Honduras.
"It always feels good to be able to keep playing and keep going," he said. "Because there's thing that you want to accomplish."
On top of that list is another World Cup goal, the thing he dreamed about as a kid. And if he can accomplish that, the records will take care of themselves.
Twitter: kbaxter11
---