Column: USWNT once again shines on biggest stage at Women's World Cup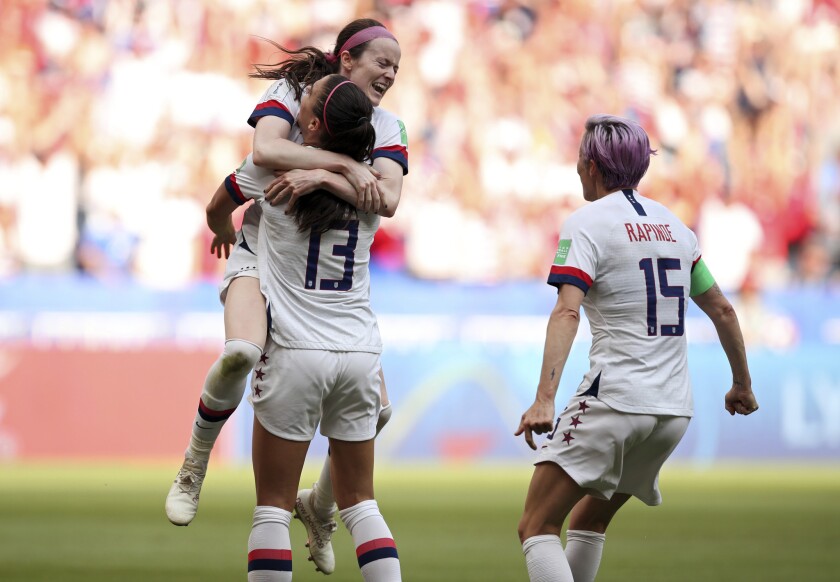 Reporting from lyon, france —
The slogan for this Women's World Cup tournament was "Dare to Shine," loaded words that carried the assumption it requires bravery for female soccer players to excel because being skillful and competitive are undesirable traits.
The top-ranked U.S. women didn't need a dare to be motivated. Being bold is in their DNA, and if that's taken as arrogance by people who are uncomfortable around strong, self-assured women, the Americans silenced them by backing it up on the field.
The Americans' confidence, coupled with a deep collection of talent that separates them from eager pursuers, allowed them to outshine everyone and cap a sometimes nerve-racking run with a 2-0 victory over the Netherlands in the final Sunday at an enjoyably noisy Stade de Lyon.
A penalty kick by Megan Rapinoe in the 61st minute and a left-footed strike by creative midfielder Rose Lavelle — one of the great discoveries for the US. in this tournament — in the 69th provided the margin as the American women won their second consecutive World Cup championship and fourth in the eight tournaments that have been played.
This one was the toughest to capture.
"Staying at the top, it's not easy. Especially in this generation of football where more and more teams are competitive in the tournament," said Tobin Heath, a gifted forward known for her dazzling footwork. "Where we are is a testament to the determination and hard work that goes into this."
The U.S. players shrieked and jumped for joy when the whistle blew, hugging each other and draping American flags around their shoulders as confetti rocketed through the air and the crowd roared. Some players cried, exhausted or wordlessly exhilarated. Midfielder Samantha Mewis, a former UCLA standout, sobbed as she stood on the field with a jersey that replaced her name with the word "Champions" on the back.
"We've gone against the best teams every three days, every four days, and we rose to the challenge. No one can say our path was easy or smooth sailing," backup goalkeeper Ashlyn Harris said. "We had to grind in ways we never had to before, and it shows the character of this team and I'm just so proud of this team."
While players celebrated and waited for the trophy presentation, many fans broke into loud chants of "equal pay," a reference to the lawsuit 28 U.S. players filed against the country's soccer federation in March alleging gender discrimination that affects their pay, training, travel, scheduling and medical treatment. FIFA, the sport's global governing body, will pay $30 million total in prize money to the women who competed here. The teams that participated in the men's World Cup last year got $400 million.
The lawsuit was scheduled to go to arbitration after the tournament, but the court of public opinion rendered an emphatic verdict Sunday: Pay them. The women win and they inspire while taking the responsibility of promoting a game that's still in its infancy.
"It was fantastic to be able to hear the support of the fans in the stadium for something we've been fighting so hard for, and especially on such a global stage," Heath said. "I think it's just the start of something massive and culture-changing."
Rapinoe, she of the purple hair and polarizing political views, has done enough culture changing of her own to stand out on a team of fierce and fearless women.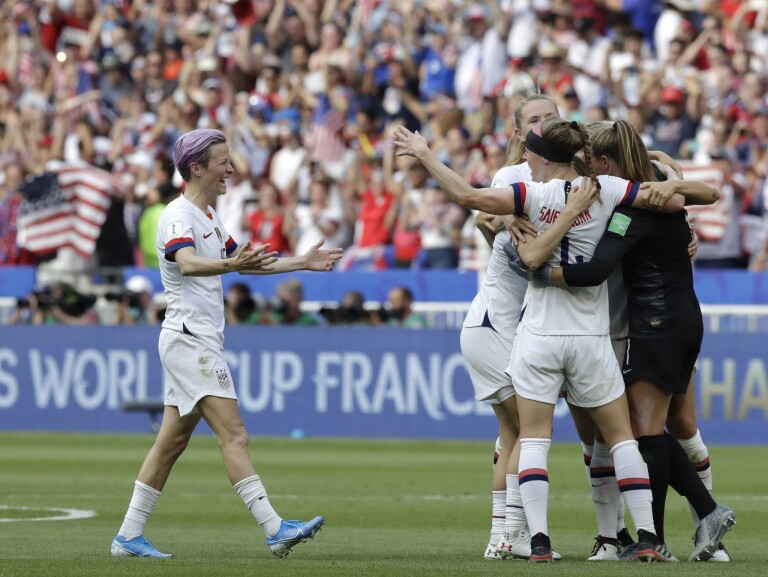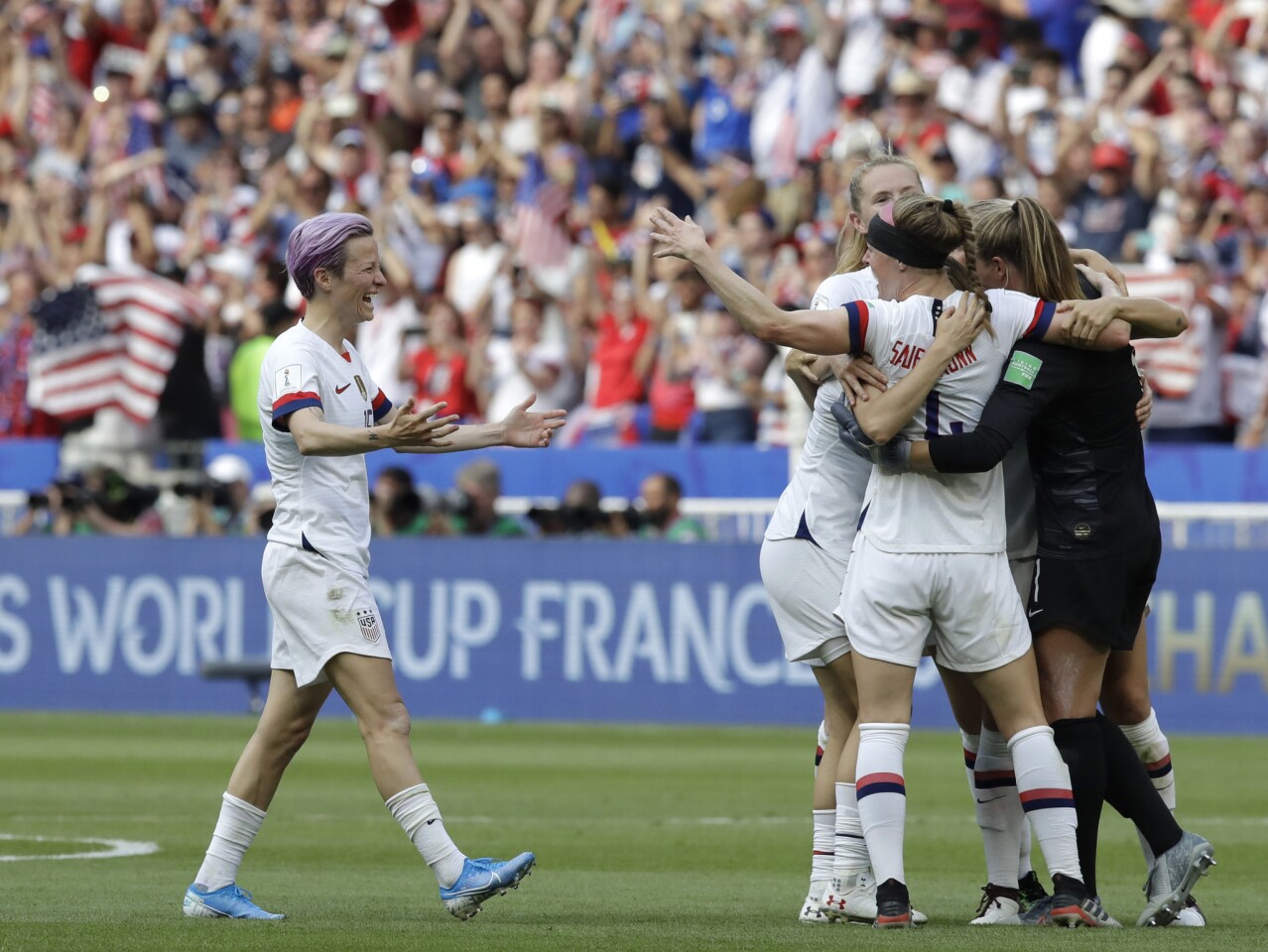 U.S. forward Megan Rapinoe, left, joins teammates in celebration after defeating the Netherlands in the Women's World Cup final on Sunday in Lyon, France.
(Alessandra Tarantino / Associated Press)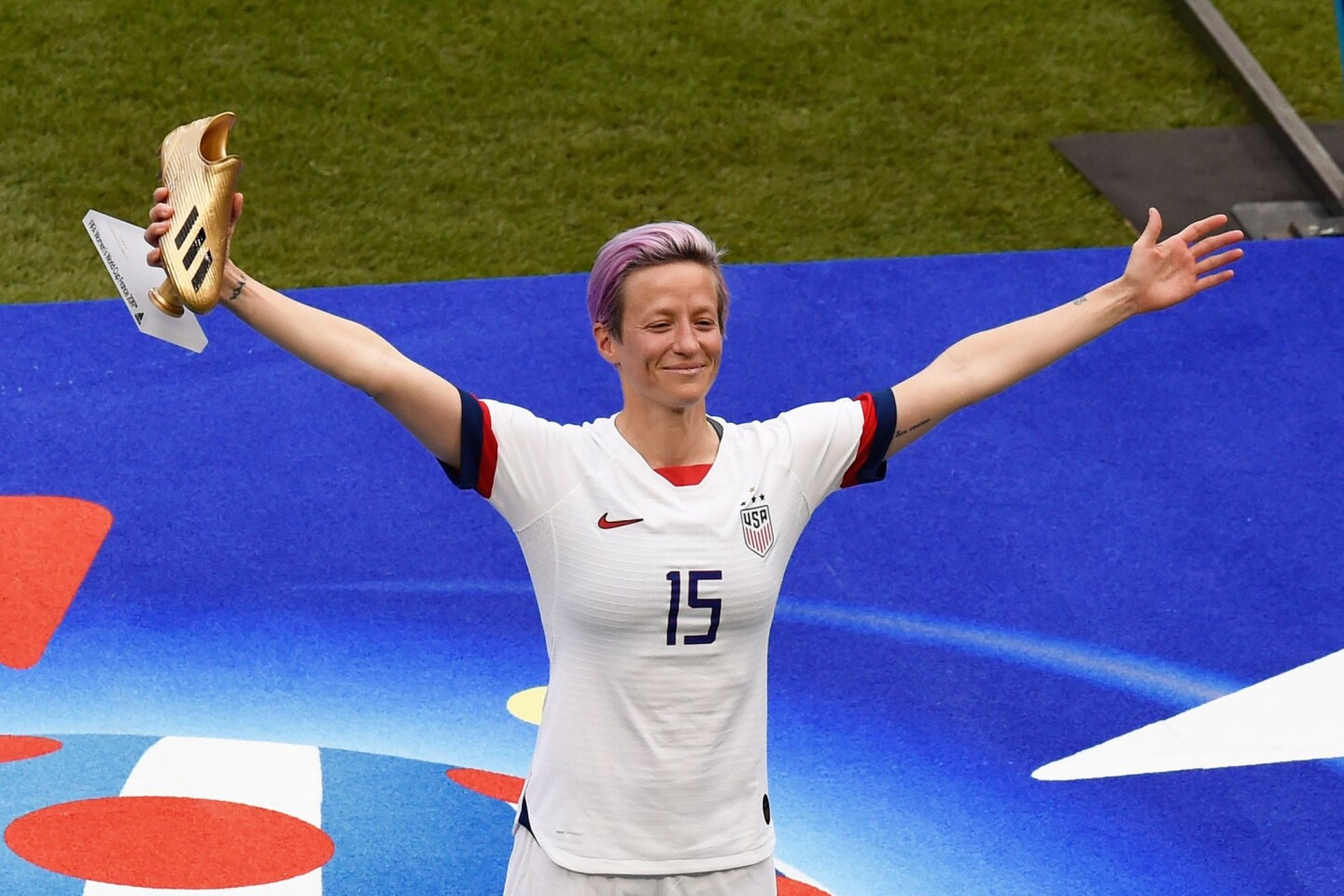 American forward Megan Rapinoe poses with the Golden Boot after scoring the most goals in the Women's World Cup.
(Jean-Philippe Ksiazek / AFP / Getty Images)
Members of the U.S. team celebrate after defeating Netherlands 2-0 in the Women's World Cup final.
(David Vincent / Associated Press)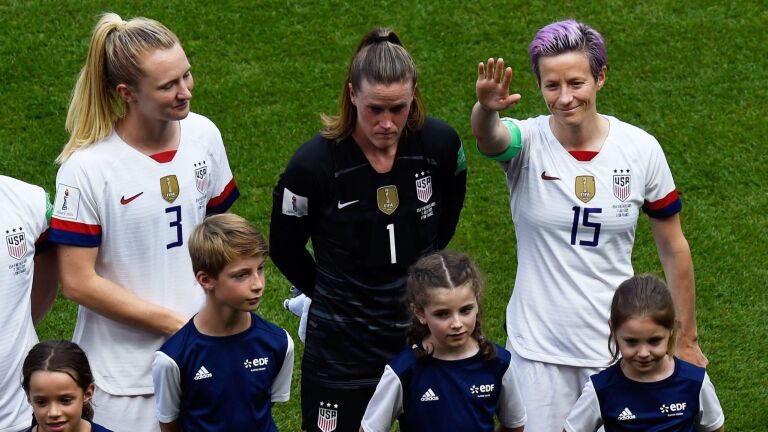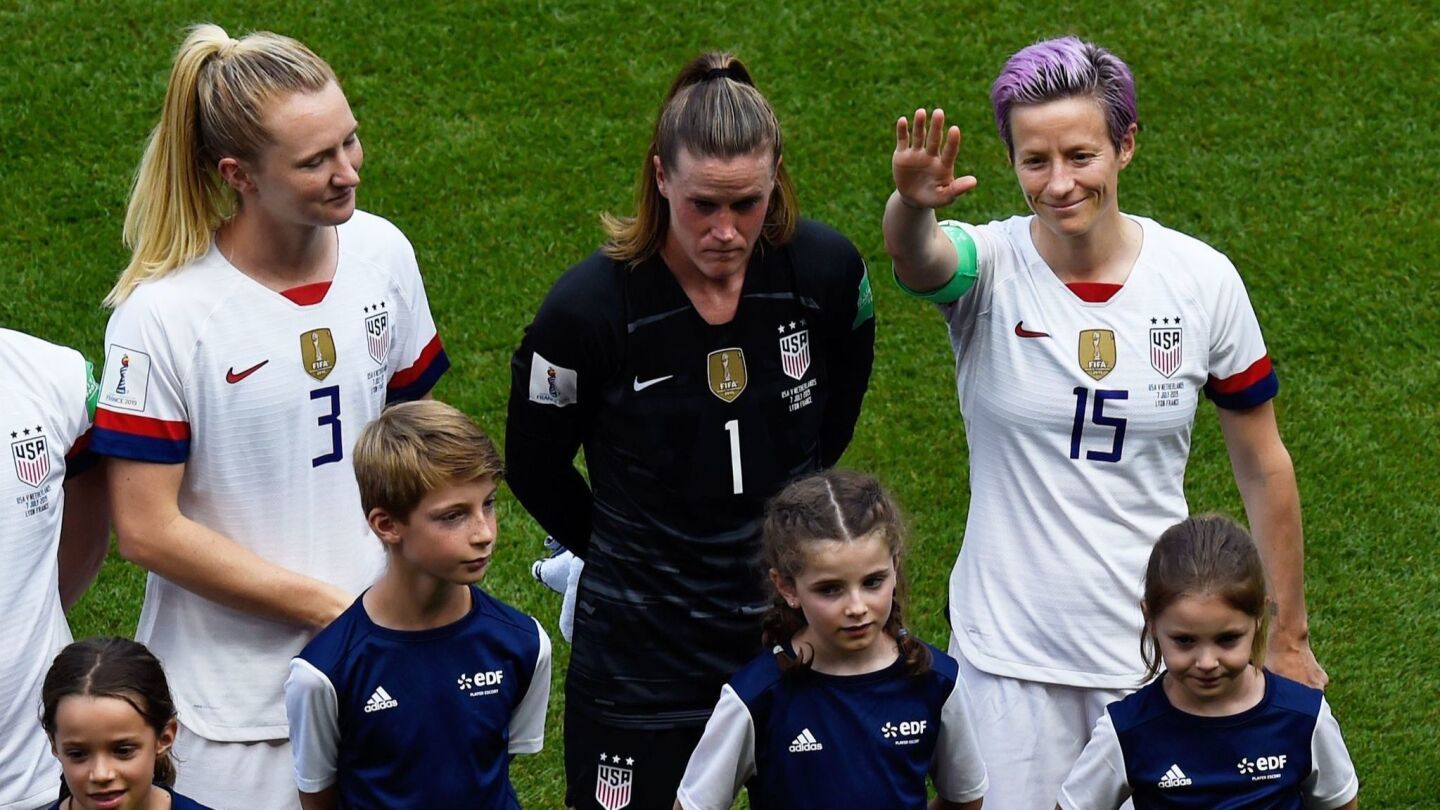 USWNT forward Megan Rapinoe, right, waves before the France 2019 Women's World Cup final match between the U.S. and Netherlands on July 7 at Lyon Stadium in Lyon, France.
(Jean Philippe Ksiazek / Getty Images)
USWNT defeats Netherlands to win fourth World Cup title
American midfielder Rose Lavelle leaps into the arms of Alex Morgan as they, along with Megan Rapinoe, celebrate a goal by Lavelle during the second half Sunday.
(Francisco Seco / Associated Press)
U.S. forward Megan Rapinoe scores her side's opening goal on a penalty shot during the second half to open the scoring against Netherlands.
(David Vincent / Associated Press)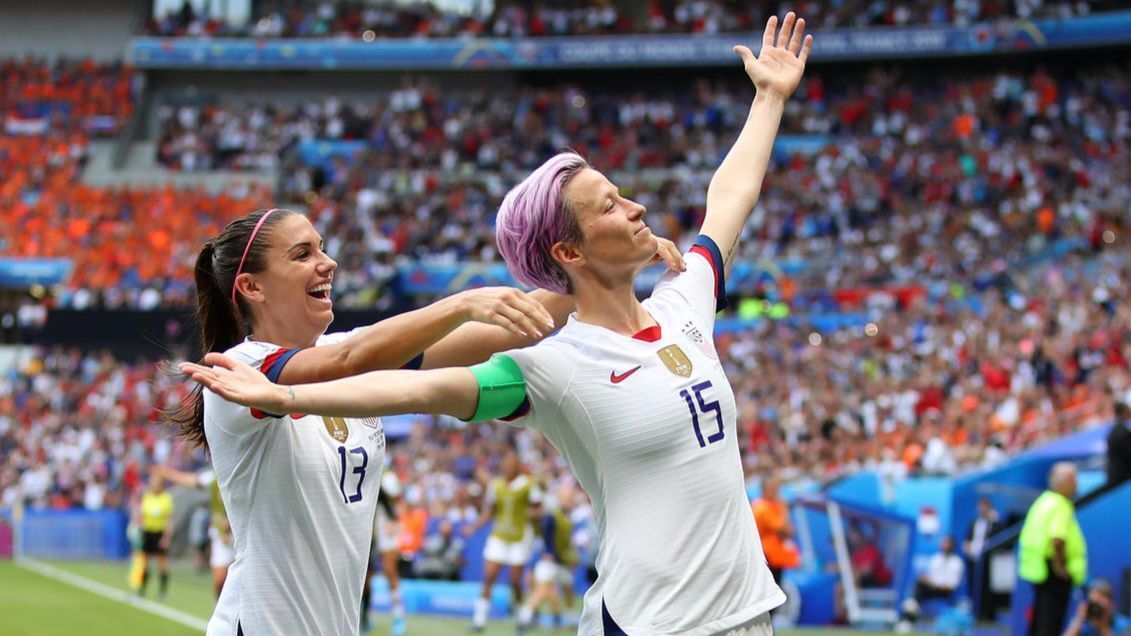 American forward Megan Rapinoe (15) celebrates with teammate Alex Morgan after scoring against Netherlands on a penalty kick.
U.S. forward Alex Morgan, center, battles for possession with Stefanie Van der Gragt, left, and Amouk Dekker of Netherlands during the FIFA Women's World Cup final in Lyon, France, on July 7.
(Alex Grimm / Getty Images)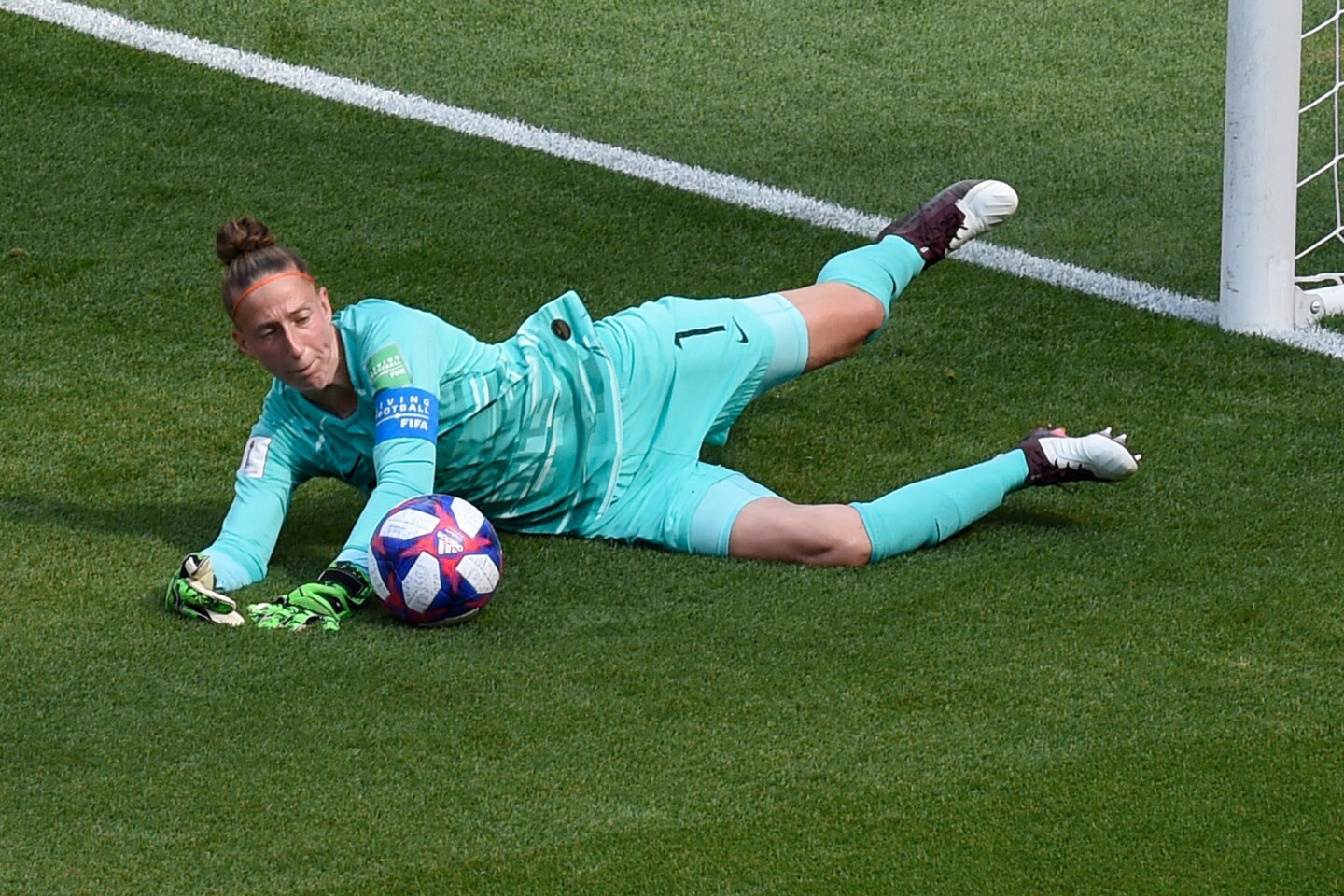 Netherlands goalkeeper Sari van Veenendaal makes a save during the FIFA Women's World Cup final against the United States in Lyon, France, on July 7.
(Jean-Philippe Ksiazek / AFP/Getty Images)
Netherlands goalkeeper Sari Van Veenendaal, right, leaps to make a save during the FIFA Women's World Cup final against the United States in Lyon, France, on July 7.
(Francisco Seco / Associated Press)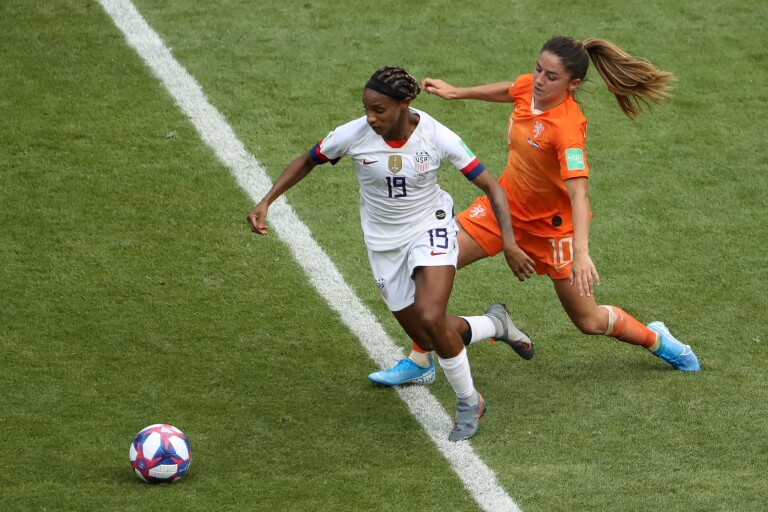 U.S. defender Crystal Dunn drives past Netherlands' Danielle Van de Donk during the FIFA Women's World Cup final against the United States in Lyon, France, on July 7.
(Robert Cianflone / Getty Images)
U.S. defender Abby Dahlkemper and Netherlands forward Lineth Beerensteyn compete for the ball during the FIFA Women's World Cup final.
(Philippe Desmazes / AFP/Getty Images)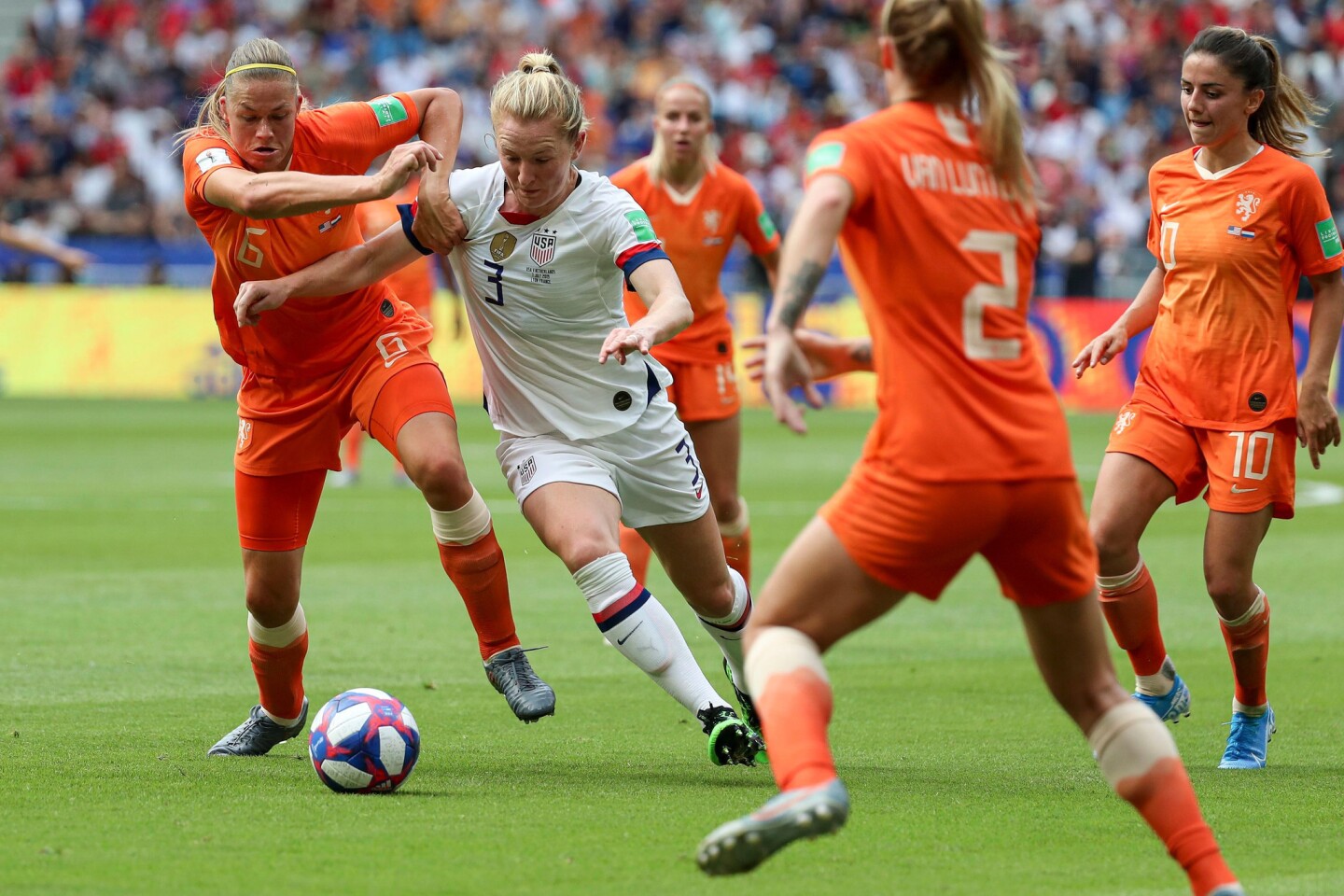 Midfielders Samantha Mewis of the U.S. and Anouk Dekker of the Netherlands battle for control of the ball.
(Srdjan Suki / EPA-EFE / REX)
Netherlands forward Lineth Beerensteyn and U.S. defender Abby Dahlkemper vie for the ball.
(Jean-Philippe Ksiazek / AFP/ Getty Images)
American goalkeeper Alyssa Naeher clears the ball on a centering pass before Netherlands forward Lineth Beerensteyn can attempt a shot.
(Francois Mori / Associated Press)
U.S. forward Megan Rapinoe is knocked to the pitch by Netherlands midfielder Anouk Dekker.
(Srdjan Suki / EPA-EFE / REX)
American midfielder Julie Ertz heads the ball toward a teammate.
(Franck Fife / AFP / Getty Images)
Netherlands midfielder Lieke Martens is challenged by American midfielder Julie Ertz.
(Richard Heathcote / Getty Images)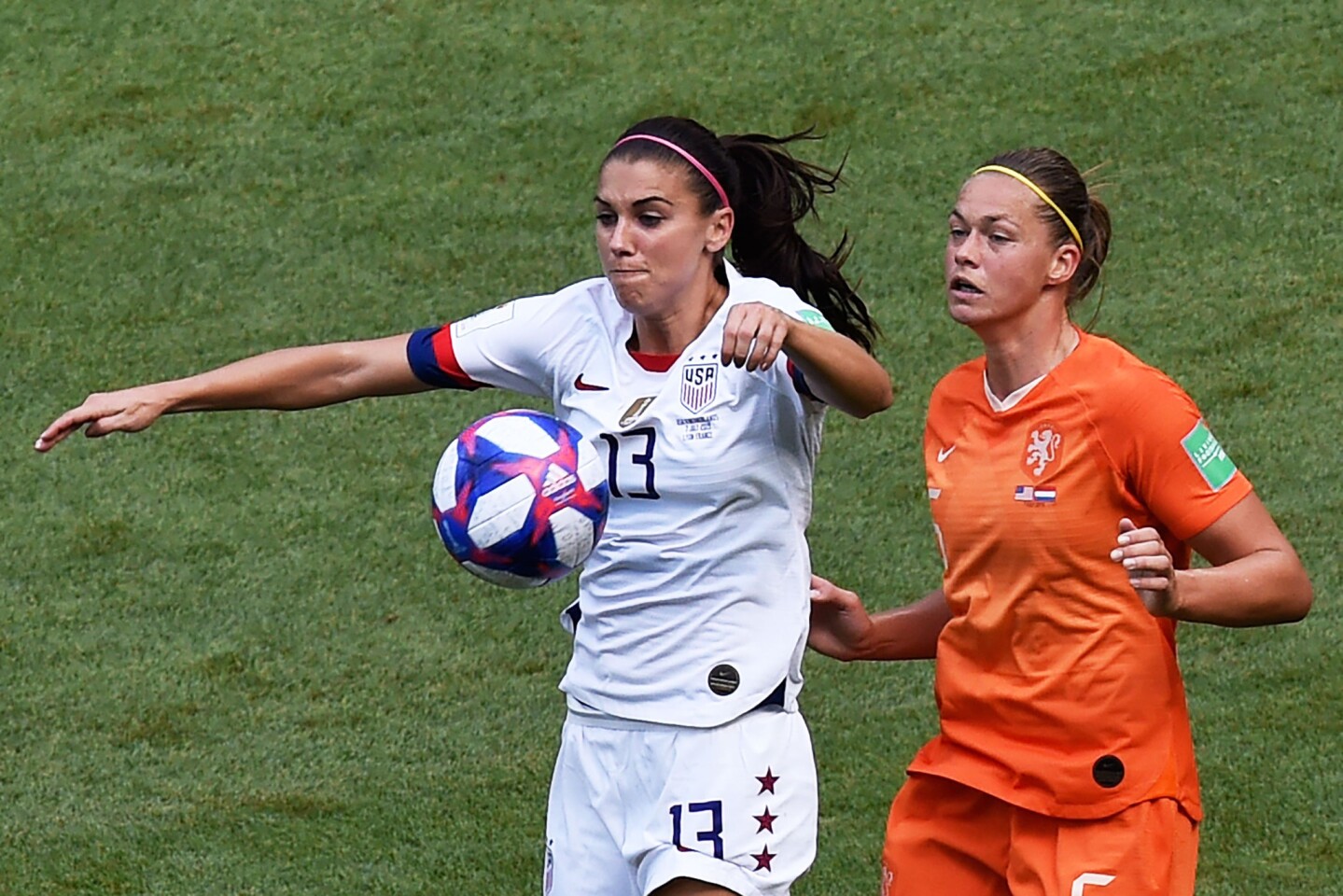 U.S. forward Alex Morgan brings down a pass while marked by Netherlands defender Anouk Dekker.
(Jean-Philippe Ksiazek / AFP / Getty Images)
Her refusal to sing or hold her hand over her heart during the national anthem to protest what she believes is the Trump administration's discrimination against LGBTQ rights triggered accusations she's unpatriotic. Her declaration that she wouldn't visit the White House if the team were invited was derided as disrespectful and drew a chiding Twitter storm from the president. Her insistence she's deeply patriotic in encouraging dialogue about the country's problems was scorned as stay-in-your-lane-honey blather.
But with the concentration that separates great athletes from the merely good, she tuned out the noise and did her job with uncanny cool, including her successful strike on that penalty kick Sunday. "She's magic. To be part of an era with a Megan Rapinoe and an Alex Morgan is fun, really," defender Ali Krieger said of the team's two scoring leaders. "Megan, she's unmatched."
Coach Jill Ellis has never tried to muzzle Rapinoe. Not that Ellis could if she wanted to. "I never had any issue with that because the past four and a half, five years I've seen what she's capable of," Ellis said. "The bigger the spotlight, the more she shines. Sometimes spotlights can burn, but Megan, it just highlights who she is."
The 24 teams that competed here shined in different degrees. Some cast small, hopeful glows while taking their first wobbly steps on an international stage. Others beamed with bright intensity as they made strides toward contention. Support from national federations that had until recently ignored women's soccer paid visible dividends, especially among the European countries that comprised seven of the final eight teams.
It seemed possible one of them could knock out the top-ranked Americans, who had gone through an array of players, formations and strategies in an attempt to rebound from their shocking quarterfinal elimination in the 2016 Rio Olympics.
Unsure of the team's direction while Ellis tried to refresh the talent pool, several players went to U.S Soccer Federation officials in 2017 to express their concerns and said if those concerns weren't addressed, they wanted a new coach. Ellis survived, to her credit and the credit of players who learned to be patient while she created the right balance of attacking and team-wide defending.
Sign up for our soccer newsletter »
The team bonded tightly, with older players mentoring the youngsters instead of seeing them as threats. They played together and sometimes prayed together, united for a cause more important than who started which game. "It's hard at times, but it's this whole team that makes us win. Every single person on the team contributed," midfielder Lindsey Horan said. "It's amazing what this team has done, all 23 players."
Next up for the Americans is a ticker tape parade in New York on Wednesday. Heath is sure of where their path leads after that. "The only place to go is back to try and do it again," she said. "It's going to be an incredible experience to reflect on this. It's very raw right now, but the amount of work that goes in to be able to do something like this, the tournament was very difficult with incredible teams.
"We didn't have much rest. It's been a journey, and to say we did it together the way that we have is special."
They shined. Oh, did they shine.
Follow Helene Elliott on Twitter @helenenothelen
---
Get our high school sports newsletter
Prep Rally is devoted to the SoCal high school sports experience, bringing you scores, stories and a behind-the-scenes look at what makes prep sports so popular.
You may occasionally receive promotional content from the Los Angeles Times.