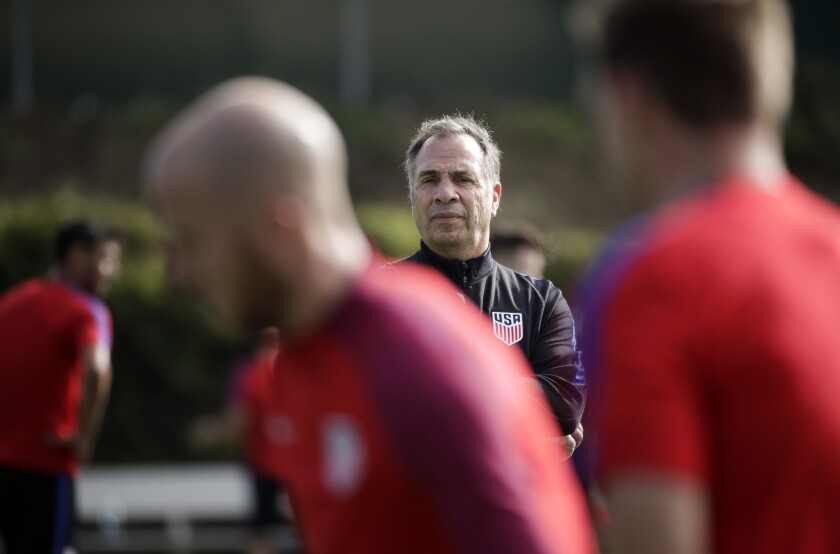 Michael Bradley has played for three coaches with the U.S. national team, one of whom was his father, Bob Bradley. But family ties notwithstanding, Bradley made little effort Wednesday to hide his enthusiasm over Bruce Arena's return as manager.
"I'm very excited to be back playing for Bruce," said Bradley, the U.S. captain. "He was the one who gave me my first opportunity with the national team. And that's not something you ever forget."
The reunion, though, could have come in happier circumstances. Arena was rehired last month to rescue a team in danger of missing the World Cup for the first time since Bradley, 29, was born. The U.S. is last in the six-team CONCACAF standings two games into the hexagonal round of World Cup qualifying, leaving little margin for error when qualifying resumes in March.
And that filled Wednesday morning's training session at StubHub Center, the first of Arena's second stint with U.S. Soccer, with both hope and urgency.
"Everybody knows the situation," Bradley said. "It's exciting again to get going. Any time there's a new coach, it gives the whole thing new energy, new life. I can see it in everybody's eyes that we're excited for the next few weeks."
So is Arena, who spent the last 81/2 years building the Galaxy into an MLS dynasty.
"I'm having the time of my life," he deadpanned.
He's certainly facing the biggest challenge of his coaching life, one that has already seen him win five NCAA titles, five MLS titles and a record 71 games with the national team from 1998 to 2006, when he became the only American to coach in two World Cups.
For Arena to have a shot at a third in 2018 in Russia, the U.S. will have to finish in the top three in the 10-game qualifying tournament, which means it can ill afford a loss in March games with Honduras and Panama.
Less than half the 31 MLS players Arena will have in the month-long winter camp, his first with the national team in more than a decade, are likely to be on the roster for those games.
Because the January camp conflicts with club seasons in Europe and Mexico, Arena was unable to call up such foreign-based players as Christian Pulisic, John Brooks or Fabian Johnson, who are all likely starters.
But the camp is still valuable, he said, because it allows him put his own stamp on the team, differentiating himself and his style from that of former coach Jurgen Klinsmann, who was fired in November after 51/2 years.
Whereas Klinsmann's training sessions were closed, for example, Arena's first practice Wednesday was open to the media. Arena also ditched Klinsmann's elaborate — and unpopular — fitness and diet regime and called up a handful of players who were either ignored or had fallen out of favor with the old coach.
"I have an open mind about how we're going to look at this group and the other players that are in our pool as well," said Arena, who said he's looking to build depth at left back, right back and goalkeeper. He also wants to find a creative, playmaking midfielder, something the national team has long lacked.
He found none of those things in Wednesday's brisk training session, which lasted about an hour. But Bradley is convinced Arena has already made his presence felt.
"Obviously, it's Day 1. There's only so much you can do early on," Bradley said. "But right away the mood and the spirit and the mentality was very good."
---