Column: It's time for Sunil Gulati to give someone else a chance to run U.S. Soccer
It's been a bad week for U.S. Soccer.
Six days ago, the men's national team had a coach and a wide-open path to the World Cup. By Friday morning, it had neither.
And there seems to be little in the way of ideas from the sport's stakeholders on how to revive U.S. Soccer after its first failed World Cup qualifying campaign in a generation.
Major League Soccer was first out of the gate Wednesday, releasing a vague statement in which it pledged to "take stock" and determine how it can help the national team "become strong and more successful."
Two days later, Sunil Gulati, president of the U.S. Soccer Federation, held a contentious 40-minute conference call that was long on rhetoric and short on specifics.
"This is a big shock to the system. We understand that," Gulati said. "We understand how much frustration, anger, disappointment, hurt there is."
However, Gulati offered no immediate remedies for healing those wounds, promising instead to take a "deeper dive" review of the entire national team program.
"We'll look at everything, from our player development programs to our coaching to our refereeing to our facilities to the pay-to-play model to the role of education and universities," he said. "Where we need to make major changes, we'll do that. Where we need to make incremental changes, we'll do that."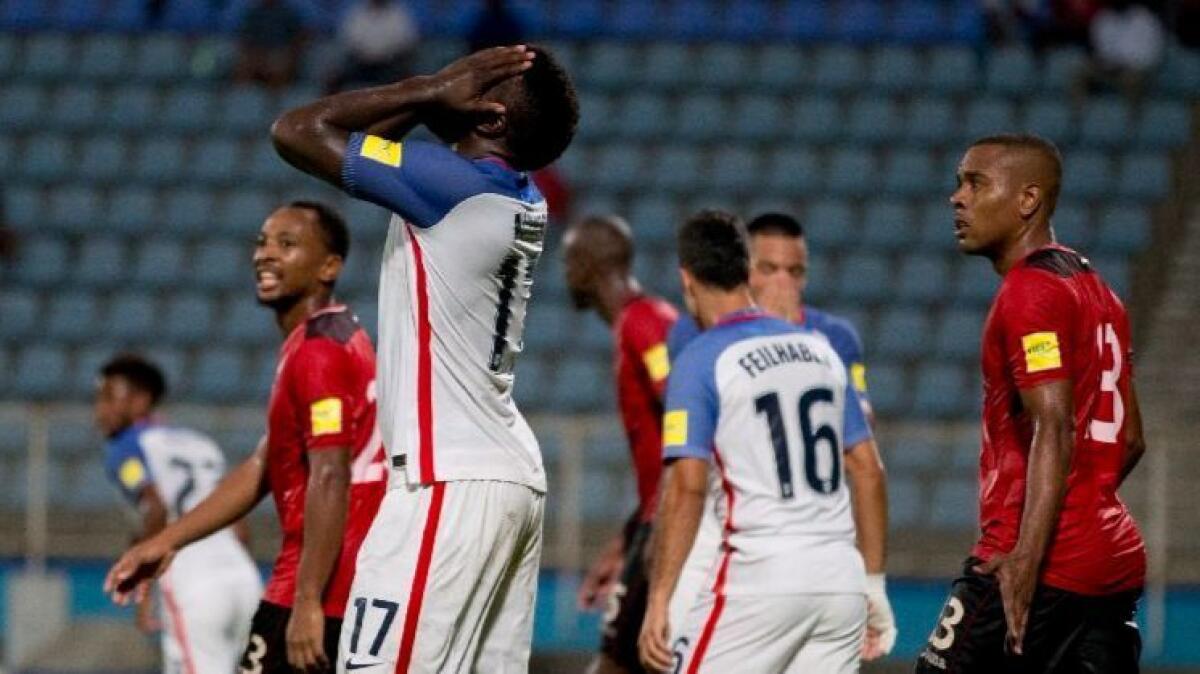 When that study will happen, who will lead it, how it will be organized and when it might be completed were all questions that went unanswered. Yet Gulati made clear he's not going anywhere — at least not willingly.
"I take full responsibility," Gulati said of the qualifying fiasco. But, he added, "I don't plan to resign. And it's not the right day for me to talk about my personal future plans in terms of the federation's presidency."
That's important because many of U.S. Soccer's critics — and their numbers are multiplying rapidly — insist true reform may not be possible as long as Gulati is calling the shots. It's not so much that Gulati's time has passed as it is that Gulati has spent too much time in charge. It's not so much that Gulati's ideas are bad as it is that many of them have already been tried.
And some of them have failed. Now it's time to give new blood and new vision a chance.
A Columbia economics professor, Gulati, 58, has served three four-year terms as USSF president, running each time unopposed. Before that he served more than a decade in important posts throughout U.S. Soccer, becoming one of the game's most influential leaders — not just in this country, but globally.
And he remains a valuable resource for the game, one who should continue to contribute to U.S. Soccer. Just not as its president.
As a member of the FIFA executive council, he played a vital role in getting Gianni Infantino elected president of global soccer's ruling organization last year. He also served on the bid committee for the 1994 World Cup, the only one held in the U.S., and is leading the push to have the 2026 World Cup shared between the U.S., Mexico and Canada.
Gulati helped nurture the explosive growth of MLS, oversaw the hugely successful Copa America Centenario, which was staged in the U.S. in 2016, and brought the sport into the mainstream in the U.S., with a record 11.9 million Americans now playing soccer, according to the Sports & Fitness Industry Assn.
"The sport is in a very, very different place than it was 10 years ago or 30 years ago, when I first got involved," Gulati said.
True enough. But Gulati's legacy already has been tarnished by the first unsuccessful qualifying campaign since 1986, ending a string of seven consecutive trips to the World Cup. And it's one that could be further tarnished if Gulati insists on hanging around, igniting an ugly power struggle at the top of U.S. Soccer.
He declined to say Friday whether he would stand for reelection for a fourth term as USSF president in February, although he tipped his hand when he confirmed he has approached people about supporting his candidacy, should he decide to run.
And if he does, he won't be unopposed this time. Steve Gans, a Boston attorney who has a long association with soccer, and Paul Lapointe, a coach and administrator from western Massachusetts, both have indicated they plan to run. A bruising election fight he is likely to lose could weaken Gulati's efforts to land the 2026 World Cup and lessen his influence in FIFA circles.
The last three coaches Gulati chose to lead the national team are already gone. Bob Bradley, hired in Gulati's first term as president, was fired in 2011 and replaced by Jurgen Klinsmann, whose tumultuous reign ended in November with losses in consecutive World Cup qualifiers.
In an effort to rescue that qualifying campaign, Gulati pried Bruce Arena away from the Galaxy. And though Arena lost just two of 18 games as U.S. manager, both came in World Cup qualifiers in the last six weeks, leading to his resignation Friday.
"When I took the job … I knew there was a great challenge ahead, probably more than most people could appreciate. And in the end, we came up short. No excuses. We didn't get the job done, and I accept responsibility," Arena said in stepping down.
Gulati joined Arena in accepting responsibility. Now it's time to join him in stepping down as well.
Follow Kevin Baxter on Twitter @kbaxter11